How Steemit can save millions of lives?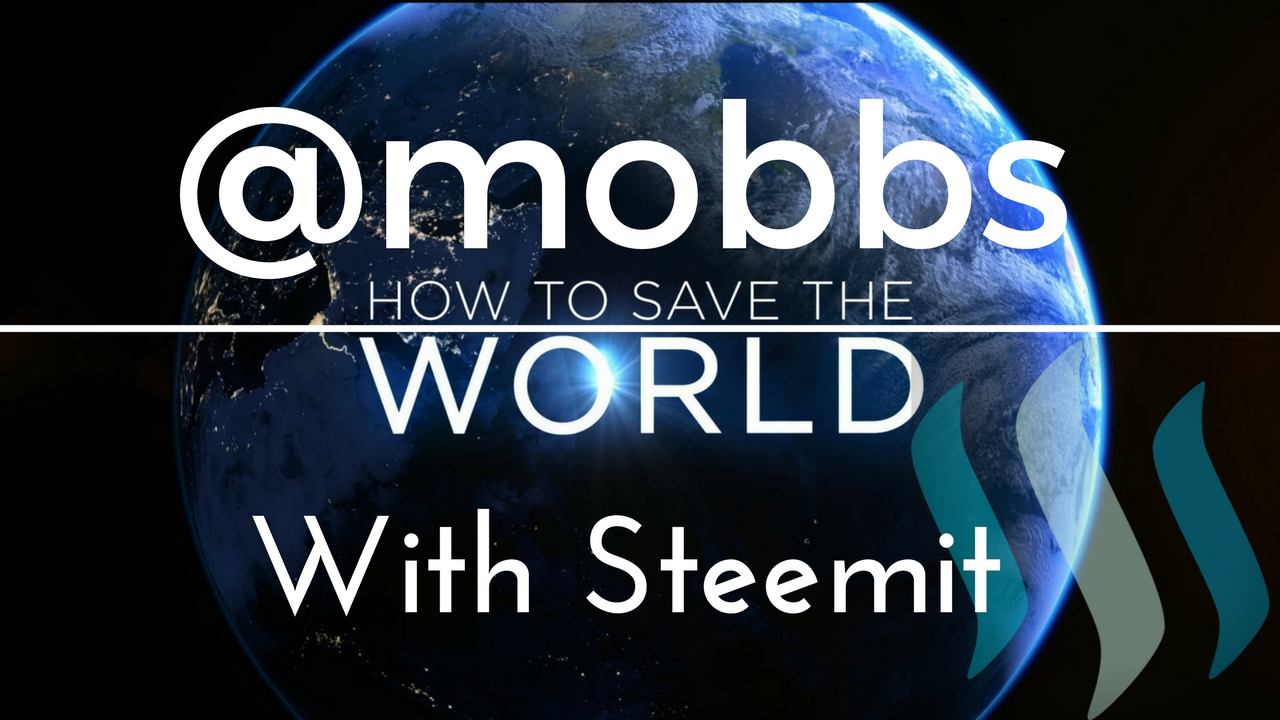 I'd like to just put my thoughts on paper, so to speak, an aside from the science and the fiction, because there's something that bothers me on this site. I think this site can prevent countless deaths if used correctly.
Now I'm a big fan of free speech, and I really appreciate the magical aspect of this site which brings people from all walks of life together. People who would otherwise hate other people on Facebook are essentially forced to come together in an amicable way with open ears.
Otherwise how would you get paid?
So I never want that to actually stop. I don't want the site to start filtering out people I happen to disagree with.
Having said that, the pseudoscience that plagues the website is potentially life threatening. This might seem sensationalistic, but it has happened numerous times and continues to do so all over the world: misinformed believers killing themselves or their babies or their boyfriends based on insane beliefs.
But these beliefs don't typically sound insane to those who haven't spent years of their life building their critical thinking skills. And that's the issue. It's not that these people are complete morons, what they're doing is falling for something all humans are vulnerable to; herd mentality.
Put a baby alone in a room of Hindus and that kid will grow up a Hindu, believing in everything Hindu. If you put a baby alone with a bunch of biologists, and you'll get yourself a biologist. Like father, like son, as they say.
But that in itself doesn't represent what is true. Of course it doesn't. But that doesn't matter. When that baby becomes a young child and starts to be inquisitive about the world, those questions asked that go out of line with what all the other Hindus believe will be quickly stamped out and suppressed. They will teach the child in a direction that they are most familiar and comfortable with.
When he asks a question that can be answered with ease by them, they will all quickly jump to attention with enthusiasm and teach him 'the way'. This gives confidence and that child suddenly has no doubt that he had a good question, he learned something valuable, and that he is a good boy.
Lap it up.
But we all fall for this. I remember in school; it was a CoE (Church of England) school. My parents weren't religious, as far as I could tell, and I guess in England nobody actually cares about religion for the most part, but either way, between our real classes teaching real subjects, we had some assemblies where we would sing church music, sing parts of the bible, have bibles handed out to us once in a while. I think there was even a cross on the uniform!
To this day, I still have those songs ringing around in my head 'thy Kingdom come, thy will be done on earth as it is in heav'n'. It wouldn't take much for that to actually make a lasting impression on a child, who goes to seek answers to the principle.
The principle will decide to be impartial and simply forward the child to the local vicar and that's the end of that.
The same goes for pseudoscience. Thanks to the wonderful revolution of the internet, anyone can find that room of Hindus, wherever they are. Anybody can find that vicar. If you love cars, you go to a mechanic forum. If you love cars, you go to exhaustiveromance.com. There you will feel at home, surrounded by others with the same mind as you. You'll support each other and recognize that you're all correct.
But why does the rest of the world say otherwise?
Well obviously there's a reason. It's because… the world is against us. It's a conspiracy. Obviously nobody would believe car lovemaking is wrong in a logical world, but the government, yes, the government is behind all this because… well we don't know right now but it's true.
When you read Huckleberry Finn, you'll often laugh at the stupidity of the King and the Duke trying to fool Huck with their pseudo intellect. How absurd! But that's a terrifying reflection of what's actually going on in the world today. Two big grown men who have convinced themselves they are great, passing their knowledge onto one small child from a place of authority. In most cases around the world, that kid doesn't stand a chance. Thankfully Huck was at least a little savvier than that.
Just recently, I saw a post about how a doctor claims 97% of chemo doesn't actually work, according to a 12-year study of people all over the world with cancer. 97%.
The ONLY reason we're still treating patients with it is because chemo is expensive and it lines the pockets of doctors with lovely cash, much more than simply prescribing natural medicine.
Instantly I was a believer in the evil intent of Big Pharma. But then I accidentally typed 'snopes.com' into google, and within seconds, I came across this: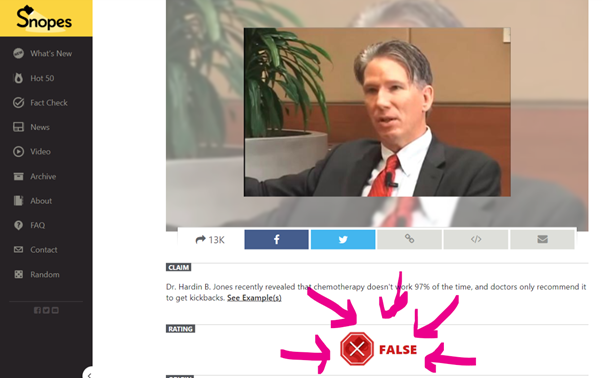 FALSE? Well, I just had to read more. So I scrolled and I read. And I discovered after about 1 minute of skimming that the study was not only incredibly questionable, but it also took place in the 1950's! My dad was barely a year old. HIV was not even heard of.
Even worse, the paper in question discusses data from the 1920's, with a sample size of people barely over 100 in number.
Additionally, the data was then cherry picked and misunderstood, and incredibly biased.
Snopes goes on and on about this one instance of pseudoscience. It's all there, plain to see, open to check and scrutinize for yourself.
Snopes is essentially the best and in my opinion most important website on the internet and we should all have it bookmarked.
There are 50 million views on the above video. There are going to be some people in that 50 million that will refuse chemo because of that video they once saw saying Doctors just want to be rich. Those people may die.
Anti-vaxxers have already on numerous occasions been imprisoned by endangering and sometimes killing their child by refusing to vaccinate and even further, to get treatment for their sick, dying child.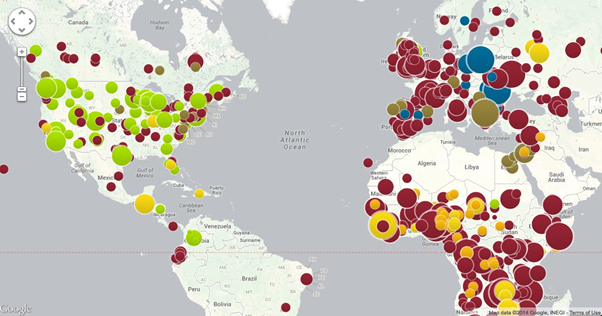 Source
Damage caused by the anti-vaccination movement. Measles in red, Mumps in brown, Rubella in blue, Polio in gold, Whooping cough in green, other in yellow
People have died or become very sick with the belief that they are breatharians – people who do not need to eat or drink, and can survive on the energy of the universe alone.
David Wolfe, the food babe, Anita Sarkeesian, Donald Trump. These people aren't scientists. They're murdering people.
In less developed countries, it's even worse. Between 1999 and 2007, 343,000 people lost their lives to AIDS in South Africa because the government embraced AIDS denialism.
In the middle east, Pakistan and other Muslim countries, vaccine workers trying to cure polio are literally being shot dead by anti-vaxxers.

These people, these deniers, these pseudoscientists are not mentally disabled. As shocking as that is to say, but they have been surrounded by other believers; friendly, calming people with white shirts and clean ties. They're supportive and help them, guide them to the way of the all-natural lifestyle. They warn them about those scary sounding chemicals in expensive medicine that we don't even have information about (if you don't know about snopes). Stay away from that, and come to me they say.
And the result is literally, without adding any exaggeration, the loss of millions of lives that did not need to be lost.
The internet is the single most powerful tool in helping kill these individuals by having misrepresented and false science instantly at your fingertips at any given time. In India, more people have access to smartphones than toilets. We need to, as individuals, do what we can to protect them.
Steemit is a fantastic community and nowhere else have I seen people actually listen to others, at least on some level, that oppose them than I do on here. The most unique thing about this site is that members are actively encouraged to listen on here in hope for monetary reward.
That's not to say that they will actually be open to those ideas, the human brain is flawed and there are numerous battles going on within that makes it very uncomfortable for the brain to be wrong. But if we just do our part, we can literally save lives.
If people don't listen to people, just drop a link from Snopes.com, or a print screen. Show evidence, not patronization. People are more open to change if the feel they are the ones doing the searching themselves.
That's all I have to say. I hope this place can grow and change the world. Thanks for reading!