INTRODUCING @SBDRAFFLE — 100% TRANSPARENT DAILY SBD LOTTERIES!
HOW TO ENTER?
To enter the daily draw, simply transfer x-times 0.100 SBD to @sbdraffle with memo=RAFFLE or memo=[email protected] if you want to purchase tokens/tickets for your friends. You can check the latest jackpot by clicking HERE. House-take is 10% and daily draws occur everyday at 00:00:00 UTC—Coordinated Universal Time.
HOW IS THE WINNER SELECTED?
The winner is selected based on the first transaction id of the next day. I have implemented a custom random functionality which reads its seed from the first transaction id of the day draw occurs. This is what makes the selection 100% random and transparent as I am fully releasing the code on github and everyone who knows a bit about javascript can look into my custom random functionality that works based upon the first transaction id of the day.
HOW TO VIEW THE LATEST JACKPOT?
You can view the latest jackpot and information about the previous day's jackpot extracted from @sbdraffle's wallet and blockchain by clicking HERE. The information is live and refreshes every second; so once you make a transfer to @sbdraffle and purchase your token(s), you should be able to see the jackpot increase almost instantly.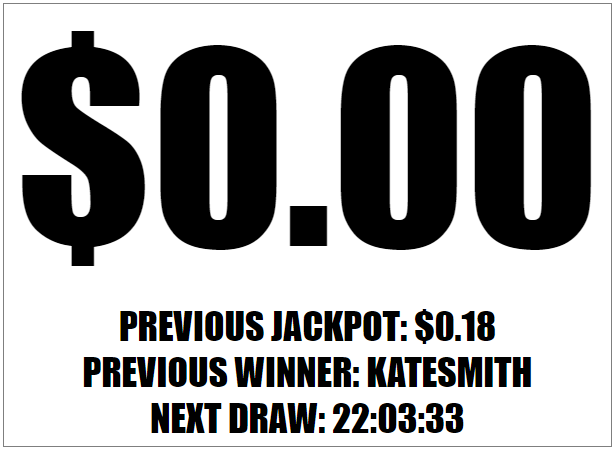 SELECTION ALGORITHM
Get the first bock of the day.
Get the first transaction id in the block.
Cut the first 10 characters of the transaction id.
Convert the result to an integer.
Use this integer as the seed in customRand function.
Shuffle the list of players.
Select the winner.
WHAT IS CUSTOMRAND FUNCTION?
It is a custom function that is used to randomize things but the result depends on the seed. Therefore, to randomize things, I send it a different seed everyday. Where do I get the seed from? As explained above, I get the seed from the first transaction id of the day in UTC—Coordinated Universal Time. No one knows what the first transaction id of the next day is going to be, so no one can rig the game :]

QUESTIONS ARE WELCOME!
If you have any questions or feedback, let me know in the comment section below. If you're going to play, make sure you don't misspell the account name or memo as there will be no refunds! Make sure you only transfer the appropriate funds to @sbdraffle and also make sure that you use the appropriate memo which is either RAFFLE or [email protected] in case you want to purchase tokens for others.
SOURCE CODE
As part of it being 100% transparent, I have put the source code for all to see on github and the sbdraffle app also runs straight from github. You can view my profile on github by clicking HERE. You can run the front-end app to view the latest jackpot and the previous day's winner by clicking HERE. You can also view the main source code for the front-end app and selection algorithm by clicking HERE.
---
Don't forget to UPVOTE, COMMENT, and/or RESTEEM!
---

---
Ⓒ COPYRIGHT - ALL RIGHTS RESERVED BY @MSG768