Rani Kadam in the flower kingdom during the rainy season.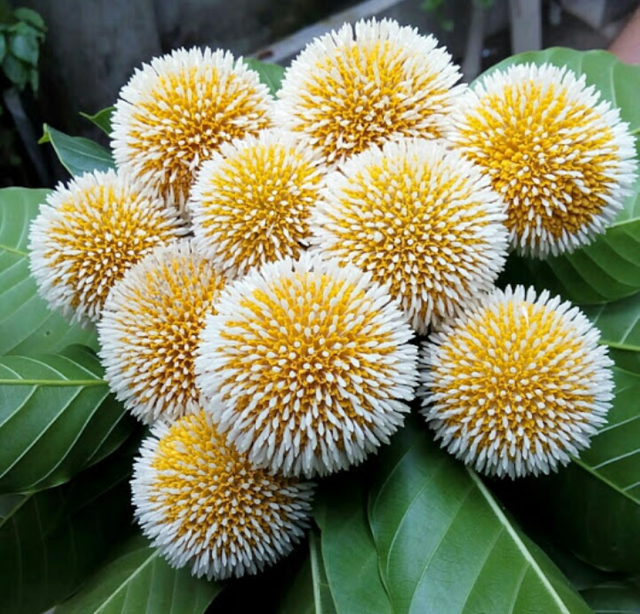 image source
It is a burden to find Bersik unpopular with the beauty of Kadam's history. During the rainy season, there are no two steps to pleasing a loved one. Dwijen Sharma, an extinct biologist, wrote about this unique flower in his book 'Shyamoli Nisarg' - 'Kadam is one of the most beautiful flowers in the country.'
The rainy season has brought softness to Bengali literature. There are many stories, novels, poems and songs written about the gift of rain, the golden flower Kadam. World poet Rabindranath Tagore wrote the song 'Badal Din Prothom Kadam Phul' in his beautiful rain song. Well-known novelist Humayun Ahmed wrote this first romantic novel using the term as a 'word'. He wrote 'The second step of the rainy day' based on this novel. Our national poet Kazi Nazrul Islam is also generous in his mind. Ubhale - 'Dole shihre kadam, bidare keya / namil deya'. Kadam's other name is 'Neep'. The name finds its place in one of Rabindranath's songs - 'Come under the shadows of Nipban'.
In the field of literature, in the writings of these leading men, the place of the golden step is in the form of a queen. After all, the only difference between the gold step and the red step is color. The flowers we usually see in the full-fledged shrubs are a mixture of white and yellow / gold, but the missing red stripes are red / yellow instead of yellow. This intertwined flowering plant, with its many branches, is one of the most beautiful. Its stems are light, well developed, gray and ugly. Many branches continue to level with the ground. The large green-shaped leaves are shiny in appearance and contrast in format. The tree has a shade of thick leaves. In winter the dam leaves fall and in the spring the young leaves sprout. The small leaves are green in color. The full bud of the foot usually looks like a flower, but basically a scattered arrangement of countless flowers in a round fleshy inflorescence. Meat and sour fruits are a popular food for bats and squirrels. They are carriers of seed dispersal.