New Olympia Steem Meetup Location Accepts Cryptocurrency
Good news, folks! The new location for the Olympia Steem Meetup accepts bitcoin.
That's right, last week I was joking about convincing the management to start accepting crypto. This week, I held the first meet up in the new location and found out they already do. The café uses the same point-of-sale system, POSaBIT, as the recreational cannabis store next door.
Green Lady Shoppe Accepts & Sells Bitcoin Via POSaBIT
Cannabis stores in Washington, like in most places, are cash-only businesses, due to card processors not wanting to run into trouble with the feds. It's one of the absurdities of this middle stage of cannabis legalization that we're in, with conflicting laws in various jurisdictions. The system is useful for any small business wanting to offer more payment options without absorbing the many fees that go along with card payments.
POSaBIT solves this problem for retailers, especially cannabis resellers, by acting as essentially a two-way bitcoin ATM. Customers can pay their bill with crypto through the machine, either using their own crypto wallet or using their credit card to buy the exact amount of cryptocurrency to cover their purchase amount. Or, the customer can buy cryptocurrency just to keep and leave the store with it.
That last feature, the ability to purchase the cryptocurrency as a product all its own, rather than only as a go-between for card payments, made all the legal difference when the payment method was challenged legislatively.
POSaBIT's founders testified before the legislative committee. Their testimony dispelled some myths about bitcoin. Testimony from the Division of Financial Institutions also supported bitcoin's use. The legislation never made it out of that committee. Even the senator who introduced the legislation withdrew her support.
Bitcoin and POSaBIT were deemed A-OK!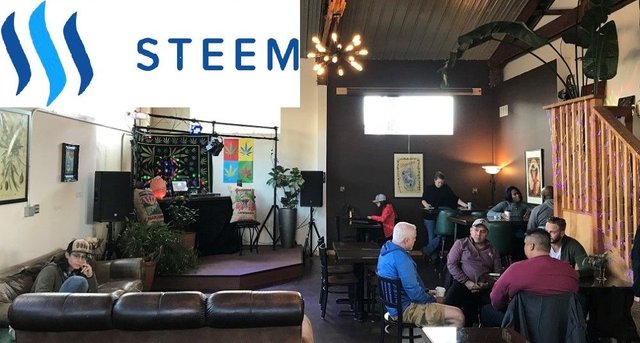 Meet Up At Green Lady Shoppe Every Saturday In March 2-4pm
Join us at the Olympia Steem Meetup every Saturday in March from 2pm to 4pm at the Green Lady Shoppe. Remember to bring a little bit of cash or bitcoin with you if you want to avoid the fees for using cards. Last time, I had a CBD latte and a salted caramel chocolate cupcake, and they were both awesome.
All in all, I'm happier all the time about my decision to move the meetup to the Green Lady Shoppe. The new spot is fun and low-key. This is a cafe that you can hang out in for a while without feeling pressured. Good coffee, nice tunes, laid-back atmosphere, and they accept crypto.
If the law ever changes to allow public cannabis consumption, this place is ready to go. Someday...