You are viewing a single comment's thread from:
RE: The long-awaited "International Steemit Music Video"
Its great to know there are lots of people after making the world a better place. Truly love is the best feeling. I would definitely go on YouTube on a better device.
For now I think I would cast my vote for @jerrybanfield and @surpassinggoogle as I have geard of their goodness and kindness. I hope to recieve it someday.
a life lived in service of others is a life worth living.
I am proud to be a steemian.
If there is any minnow like me here. Id love to invite the minnow in the house to a minnow support community of which generosity i have enjoyef. The #dynamicsteemians by. @dynamicgreentk, @dynamicrypto. This is no bluff. You can check out my blog for validity.
Join us by clicking the image.
God bless us all.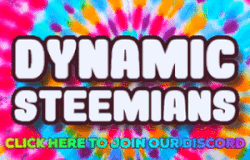 Steemit is more about community and growth not just money.