A Challenge: Make STEEM Great Again...
Nearly three years after its inception, here Steem is...
It's been a rollercoaster ride for those who've been here from the start. Things started off great. There have been ups and downs. And enough turbulence to make us wanna puke at times.
From bots to kindergarten-esque dramas to significant flaws in the economic & rewards systems, things haven't exactly turned out as excellent as we all wished for.
Sure, the number of dapps has grown. Though to be frank, many of them are shit and have no significant value beyond basic novelty - leaving little question as to why the majority of the professional cryptosphere hasn't taken Steem all too seriously.
We've probably all read the long list of complaints, and perhaps even spewed out our own grievances onto the blockchain along with countless others. And from the extended, pessimistic critiques to the abundance of "shitposts," the substance-rich, inspiring content that used to make this place great back in the day has become harder and harder to find.
But this post isn't meant to add to those list of complaints.
Rather, it's an invitation:
To make Steem great again.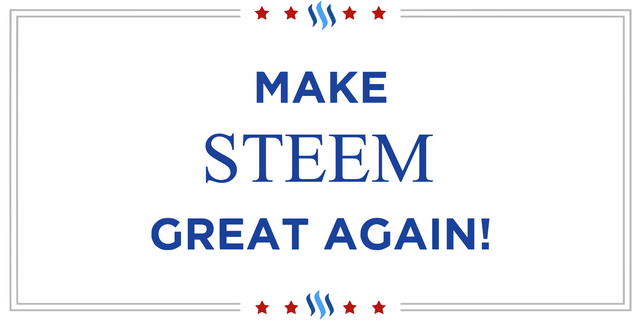 How?
Beats the fuck out me.
Hence, the challenge.
Undoubtedly, it would entail each of us taking on some increased sense of responsibility for upping the quality of our contributions.
Without question, making Steem great again would require far less shitposts and far more originality, intellect, heart, and soul.
And perhaps, it'd require not only an identification of all the things that have gone wrong with the platform - as has been done over and over - but the introduction and implementation of solutions.
Got ideas?
Share them in a post with a #makesteemgreatagain tag.
Got solutions?
Share them in a post with a #makesteemgreatagain tag.
Dig this idea?
Help promote and share it with a resteem and/or rehash in your own words using a #makesteemgreatagain tag.
Invitation initiated. Challenge begin...