Trial complete. Week 2 results
The @savest two week trail is complete.
Members consistently produced at least one quality post per day
Thank you @patelincho, @jphenderson, @fuzzyvest @chetwithersby and @nepd for donating your votes.
You made it all possible.
Thank you
@akrid, @paulag, @saywha, @krazykrista, @road2wisdom, @steempowerpics, @nepd, @steemitadventure, @whatsup, @artedellavita and @eirik
We apprectiate your participation in the trial
A special thank you goes out to @paulag for helping us collect and organize the data.
---
Here's some of the feedback we received
~"I liked the upvotes"

~"Its a bit complex if someone doesn't know what whaleshares etc are, but if someone wants to go thru the effort it was great. 10/10 would bang again!"

~"I made $26.64... and I'm up 16 followers this week... You are my favorite."

~"It has been a good deal... I sent 10 bucks and I got some extra votes! That seemed to work out well for me."

~"I liked it and know I came out ahead and would do it again. I do wish it was easier to track what the votes got you just for sake of clarity. I am sure you could charge a little more but would need the numbers to double check."

~"thanks for including me in this trail. I enjoyed it and enjoyed helping out"

"I liked everything about the trial, I do think you should charge more if it ever gets picked up."

~"Man, I was liking my weekly shares. Now what will I do?" (now that the trial is over)
---
Let's take a look at the results from our second week.

Here we have calculated the value of each daily vote from our trial trail.
and added it to the vote value of our supplemental shares.
After accounting for the 25% curator cut and 50% powerup
We approximated a return of just about 16 SBD by the end of the week.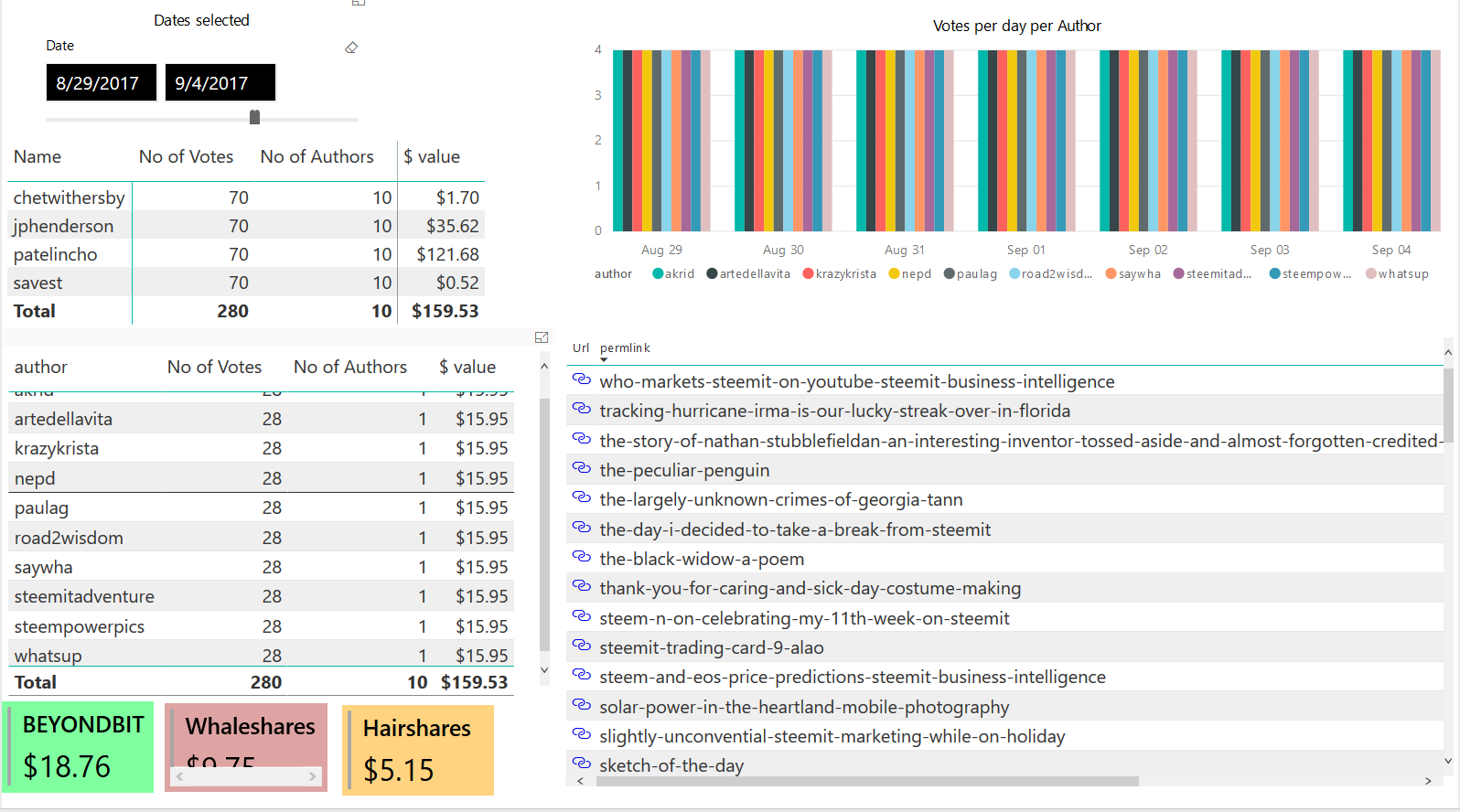 I didn't mess up any votes during the second week like I did on the first
I consider that a success by itself!
As you can see, the results were very close to our approximated calculations again!
---
We encourage you to share your thoughts, suggestions and questions in the comments.
We are looking for an SP delegate sponsor or trailers
Please contact me or @akrid with any offers.