You're Invited to the Spinbot Release Party!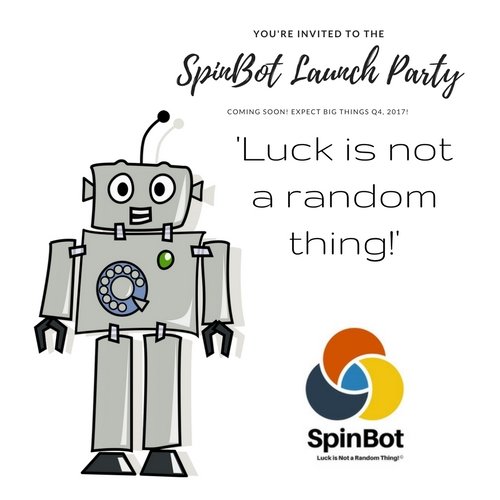 Spinbot would like to formally invite you to join our movement. If you'd like to join the party just send 1STEEM to @spinbot to gain a place in Spinny's heart. Every user who sends a minimum of 1STEEM to @spinbot will be remembered forever and earns a chance to randomly receive one of 10 Spinny upvotes per day.
Spinny is a Steem Robot providing value to the Steemit community. It's sole purpose is to help members reach their goals and assist others in need. There's much to be learned from helping others and giving back to the community is a primary concern of @spinbot.
Stay tuned for exciting new announcements!
For more information about Spinny, please read Spinny's introduction letter here:
https://steemit.com/introduceyourself/@spinbot/introduction-a-letter-from-spinny
---
What can Spinbot do for you?!
| What? | Currency | Advantages |
| --- | --- | --- |
| Upvote Posts | SBD / STEEM | Earn a higher percentage chance of upvote based on total Steem investment |
| Comment on Posts | NA | Promote your blog when Spinny upvotes on other people's posts |
| Donations / Charitable Contributions | STEEM | Donates a minimum of 10% of all earnings to worthy causes |
---
CURRENT PARAMETERS:
| Parameter | Value | Remarks |
| --- | --- | --- |
| Minimum Feeding Amount | 1 STEEM | Minimum STEEM you can send to @spinbot to be remembered |
| Daily Feeding Limits | 1 STEEM - 10STEEM | Maximum STEEM limit you can send to @spinbot is 10STEEM per day |
| Chance of gaining upvote | 10 Random Votes Per Day | Chance of Upvote depends on the amount of STEEM you have fed Spinny with. One day per week Spinny ignores the amount you have fed him (assuming user has fed him a minimum of 1 STEEM) and votes randomly regardless of total contribution. |
---

Provide us with feedback
We are happy to hear your feedback about where we can improve.
Join our Discord chat
Get support and connect with us and other Spinny fans!