We are growing!
After we decided to dedicate our time and resources on the steem ecosystem, we have got much love and respect and we want to thank everyone for this awesome support. We have completed lots of projects and few big projects are still in development and it will be released very soon. Here is the review of our running projects and future.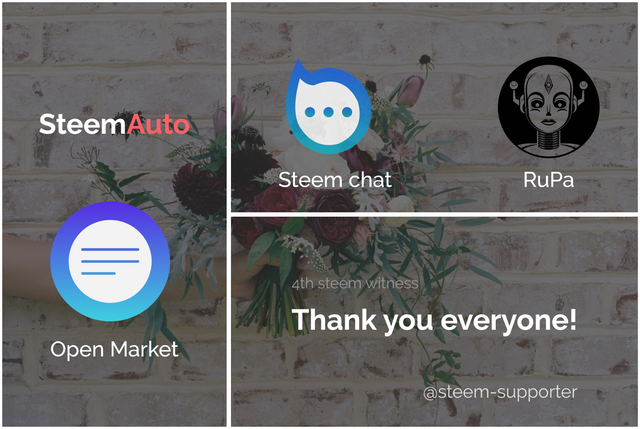 Steem auto
As of now one of our major product, a revised edition of steem auto has reached 900 trial members and we are now processing upto a 40K upvotes daily through steem auto. We currently have 2451 Fan base setup which process upto 60k upvotes daily. This is a very good achivement to us as per the time frame we started here. Downvote trail is being complete and will release anytime this week.
RuPa
For the memo, we have a discord notification bot which helps you get all onchain notification in your discord account. Please do join our discord.
Openmarket
We would also release the beta version of our most waited project, openmarket anytime this week. Openmarket is decentralised market place for steem.
Steemchat
Steem chat is where you can chat and discuss about steem with other steemians.
We need your love and support
We have topped to the 4th ranking witness which is yet another respect and love we have got. We want to tell everyone that we want to do more things and help this eco system as much as possible.
We have applied for a 500K SP delegation from @steemitblog, @steemcurator01 which we expect to be a successfull appeal. We will be using our delegation to vote for programmers contrubuting to the steem blockchain by using the hashtag #codeonsteem, we expect your support as well. Right now we are using our own power to vote and promote programmers in steem, which is not enough.
If you like what we are doing please support our witness!