Introducing STEEMFOUNDERS - a new, FREE method of creating accounts

Thirteen...
This is how many accounts have been opened with the help of the tool created by our team. Perhaps it's still not much, but we think that in the Steem network, sending EVERY single user is extremely valuable. That's why Steemfounders was created and that's why, today, we decide to introduce this tool to the entire Steem network and beyond.
The goal of Steemfounders is to reduce the time of waiting for the opening of new accounts for creators to a definite minium. With our mechanism, a potential new user can submit their first post to the blockchain within minutes of visiting our website. Thanks to us, a person who wants to publish and monetize their content in Steem blockchain will no longer have to wait 2-4 weeks to create an account.
---
How does it work?
We wondered how natural and organic the process of creating new accounts in the Steem network could work. Still, creating an account is still a certain cost incurred in
STEEM
tokens. But why can't the user get the tokens required to create an account on his own, in the way that the network anticipates - by writing text that the community will find valuable?
How do submit an application? Simply go to Steemfounders.com and enter your e-mail address (which will be needed to send you your Steem login details). Then prepare your post ( make it as good as possible ) and send it - your post should soon be noticed by the moderator and published on @steemfounders, ready to collect votes from the community.
Steemfounders allows someone who does not have a Steem account to place their post to the blockchain using @steemfounders account. Part of the funds earned in this way will be used to create an account, while the rest will be transferred to the user after 7 days from publication.
The task of the community is to vote for the best posts presented by @steemfounders. ALL of the funds earned by the posts we have published will be used as soon as we have received the appropriate amount of tokens to create and power up accounts for their author.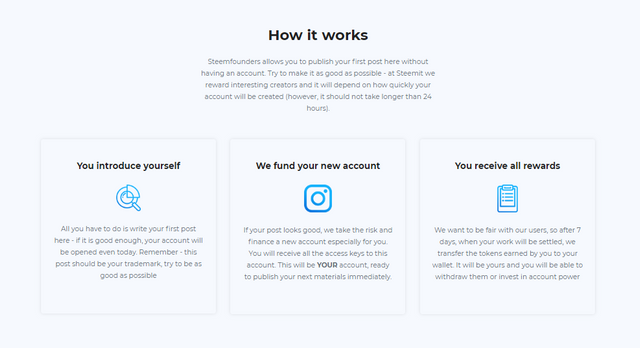 Today, if you earn the equivalent of 3 STEEM by post, your account will be automatically created, while the remaining earned tokens will be transferred to your account after 7 days from publication. However, creating accounts with Steemfounders will be even easier with the coming of HF 20. Surely one thing will remain the same - the fact that creating an account will require the user to present himself in his post in the best possible way. You will be informed about all Steemfounders updates.
---
For whom was Steemfounders created?
We are sure that everyone can answer this question their own way. It's not us who are Steemfounders - it's you who are! We are making our tool available and declare to support communities (also using other languages) that want Steemfounders to make it easier for them to gain new and interesting creators.
Which content will be best rewarded depends on the specific communities interested in welcoming new creators. However, we have prepared a set of the most important tips, which should be followed by the creators, before sending to Steemfounders their application. We invite you to read it here:
 
Maybe you are a member of the language community and want to see it grow? Please contact us - we are looking for moderators responsible for the control of posts published in languages other than English and the promotion of Steemfounders to those communities.
Contact with us is possible both through our Discord channel and steem.chat website (all questions should be addressed to me - my nickname on steem.chat is @Santarius).
Users interested in supporting our moderators are strongly encouraged to vote not only for @steemfounders posts, but also for special comments published under the posts, the prize of which will be fully distributed to people responsible for formatting, tagging and publishing applications.

Remember - these people work hard and voting for them may turn out to be a good idea (if the comment before voting did not earn anything, you will receive 25% of the curator reward).
---
It's not us who are Steemfounders - it's you who are!
 
I strongly encourage everyone to support their favourite creators publishing their entries on @steemfounders. I invite everyone who wants to get involved in the project to contact me - as I mentioned earlier, we will be very happy to receive language moderators.
We would like to encourage you to follow our project on my account as well as on our Steemprojects.com page.
---
For the incredible drawing - the Steemfounders logo, we would like to thank @fukako very much - we still can't believe that she created something so wonderful for us.

Would you like to discover many other great projects at Steem soon? You should definitely follow @nicniezgrublem, the co-founder of Steemfounders, the person responsible for the technical side of the project.
---
Steemfounders is sponsored by @noisy. If you like the way he does things, follow him and consider voting for @noisy.witness.
---