Introducing STEEMLOOKUP Filtering Tool
https://steemlookup.com/#/ is a filtering tool, connected directly to blockchain, which allows you to filter Steemit content in any possible way you want.
Motivation for developing this tool was inefficient browsing and limited filtering that Steemit offers.
If you are tired of searching posts only by one tag, and if you are tired of New, Hot and Trending pages, then you are at the right place. Continue reading to see what Steemlookup is offering to you!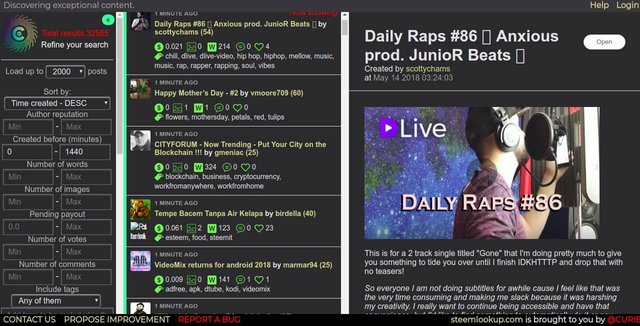 HOW TO USE STEEMLOOKUP?
Your filtering adventure should start at left panel. 
You can filter content by author reputation. You can input minimum value, and display only posts created by authors with reputation higher than minimum value. You can input maximum value, and display only posts created by authors with reputation lower than maximum. You can, also, input minimum and maximum value, and then display only posts created by author with reputation between two values.
You can also filter content by time of creation. You can display only posts younger than x minutes, or older than x minutes, or posts older than x, but younger than y minutes.

You can filter posts by number of words/images/upvotes/comments or pending payout. It works the same way as explained above.

Of course, you can filter posts by tags. You can input multiple tags, and then choose to display posts including all of the tags or any of the tags. For example, if you input art, travel and choose include all, you will only see posts having both of the tags. If you choose include any, you will see posts having any of the tags.
Same logic works for exclude any/all of the tags. Tags should be divided with space!


If you don't want to have foreign language posts in your results list you can easily choose to display only posts written in one of the offered languages, using language filter.

You can also search for posts containing specific words in title or body, by using title/body contains filter.

By checking  Exclude Mackbot List, you are excluding all authors reported at Steemcleaners for plagiarism.
You can also create Custom Exclude Lists, and exclude authors you don't want to see in your results.

If you like your filter so much, you can save it and use it later.

For example, let's search for posts created by authors with reputation between 27 and 62, created in last 24 hours, having between 300 and 1000 words, and at least 5 photos, including any of the 'art', 'photography', 'sport' and 'travel' tags and excluding Mackbot List Authors, written in English language.
Our search returns 94 results!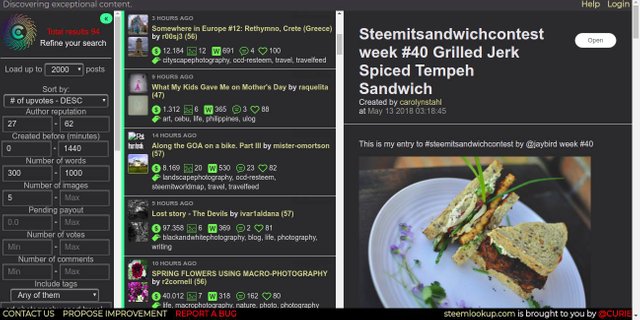 Now you have the option to sort the results in one of many ways. Let's try sorting these 94 results by descending number of upvotes. 
Powerful and efficient!

Load up to x posts controls how many results will be displayed. 2000 is default value, but you can choose whatever value you want.
UNDERSTANDING RESULTS
Steemlookup allows you to get certain insight to what post looks like without even opening it. In results panel you will see all relevant information about author and post (author rep, number of upvotes/comments, payout, tags etc.). You can also see two small post thumbnails on the left side of results panel.
By clicking the post, it will open in preview panel, full post as it is in reality.

All relevant post information are marked with appropriate symbols (payout with dollar sign, upvote with heart sign etc.) 
CONCLUSION AND SPECIAL THANKS
Steemlookup was created by @djordjeparovic and @laniakea1.
Development was initiated and sponsored by Curie. Thanks to Curie, Steemlookup is, and will be, free forever for all.
Now you can browse Steemit and search for exceptional content in your own way. Steemlookup gives you so many different ways to find exactly what you are searching for.
If you like our project, follow us to get informed about updates and weekly reports. Also, please resteem, so this can reach as many people as possible.

Let us know what you think about Steemlookup in comments below.

Join us on Discord   discordapp.com/invite/jQtWbfj