🔥 RESULTS OF DAY 3: 50 STEEMs go to... 💰 LAST CALL to get part from 200 STEEM! 💰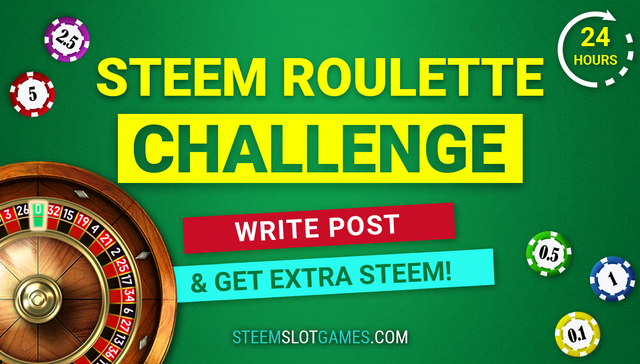 The third day of the SteemRoulette Challenge is over!
We distributed the upvots with total value of 50 STEEM!
Here are the players who received the votes for their posts via @tipu:
🔥 First place and upvote worth 30 STEEM goes to
@expand.your.mind
!
🔥 Second place and upvote worth 10 STEEM goes to
@coinbelly
!
🔥 Third place and upvote worth 10 STEEM goes to
@oivas
!
Congratulations and thank you for your support! 🎉
Only 1 days left to take part in the Challenge, so...
Now it's your turn! 😎
Take part in our Challenge and get upvote for your post!💰
Click on the link below for more details! ⤵

SteemSlotGames.com is the first slot games platform based on the Steem Blockchain!
To provide our players the maximum level of security the login is possible through SteemConnect. Thanks to this all your keys are encrypted on your cookie file and they remains 100% private. You can learn more about safety and rules of the game on
www.steemslotgames.com
in "How to Play" tab.