Blockchain Is A More Powerful Tool Even As A Mentality-Adjuster Than As A Reward/Income-Distrubutor. @surpassinggoogle
 Start Here
See the last 4 (still open) #ulog-contests:
Around two days ago, i managed to react to a comment on Facebook. A small discussion ensued in the comments to a post, where a certain blockchain model was being discussed and one that is designed to distribute rewards to everyone, in a way that at least everyone earns something for sustenance and feeding per day etc.
The post contained a video explaining this model. Now, this is great.
However, the truth is, with blockchain in general, the creators created something of elegance but even this creators can't see blockchain technology in the full expanse of its beauty, without really intently looking. However, even just intently looking may not do the magic, as you may have to be able to see. 
Many look; seeing is different!
Well, i am still in a very mute-state but i managed to leave a comment. The person who posted is a steemian etc and this i cared about. So i left a short comment.
In truth, there has never really been a money problem all along. Reward distribution (models) thus, isn't the exact solution. 
IF the application of blockchain is mostly as "another tech", then it will soon become "generic". @surpassinggoogle
I will explain these things in details over the course of time, in the voice of a legit illiterate. For now, here was my comment:
   I haven't checked the video and I am not against it or against anything but in truth, even the makers of blockchain haven't come to know the beauty of  blockchain in the full extent of its spanlessness. and people who are suppose to quickly grasp this beauty aren't seeing it either because they are looking but aren't seeing. 
The world revolves  around hand-to-mouthism and till date; and blockchain is there to create beautiful disruptions and adjust matters but the world itself is oblivious to the true state of the world. Blockchain reveals this sole Intel but it this aspect of blockchain's beauty that isn't being seen. 
The techs been built on blockchain are re-building hand-to-mouthism (obliviously). Check again! The  talents on blockchain are applying themselves to this. Blockchain however can truly shake the world and become an entire movement attaining mainstreamity because it has become indispensable in the changes it can bring (till then), but many of the already existing tech models are replaying out on blockchain and same things are re-happening.
Blockchain in truth is not a Tech. It is bigger things! "A CCTV into the true state of the world". @surpassinggoogle
The tech it thus produces should have real edge besides a means to distribute income or rewards. The world is bigger than that. The world itself thinks reward or income distribution is what the world needs. The world is bigger than that. 
In truth, not a soul is truly ever poor. Not a soul. @surpassinggoogle
Much cant be said in this small text comment....hahaha. 
For blockchain to attain its full beauty, the legit illiterates in the world must get on the  podium as well to create a balance. Then, really historical-history-like use of blockchain will begin to appear as should be the case and a real indispensable reason for everyone, to not any longer be able to circumvent blockchain and cryptocurency's beauty. @surpassinggoogle
Blockchain has simplified matters! The world has complicated things and create that cycle, so much so that some give and others are proner to receive. Now if you adjust matters and turn everyone into givers, then givers suddenly all become receivers too; a balance. @surpassinggoogle
Blockchain is a more powerful tool even as a mentality adjuster than as a reward/income distrubutor. @surpassinggoogle
Matters less if you have all the coins your way, if each person knows deeply-rootedly that he is rich and knows that he has brothers next to him who are deeplyrootedly rich and who he can turn to, bulls or bears etc @surpassinggoogle
Your Boy Terry
Kindly vote for the "steemgigs" witness. 
Dedicating My Entire Steem/Steemit Journey To My Mum
If you want to support an extra witness and you support mine "steemgigs", it will be really helpful. 
To vote my witness, simply visit https://steemit.com/~witnesses and upvote "steemgigs" or simply click Here to do it on one click!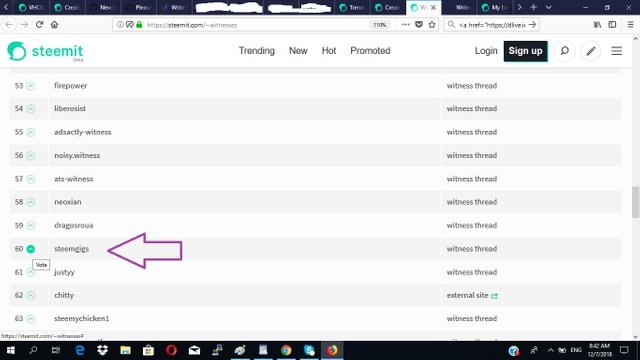 If you want me to make witness voting decisions on your behalf, simply visit https://steemit.com/~witnesses and type in "surpassinggoogle" in the second box for proxy.  

Subscribe to us on YouTube: UloggersTV