Blockchain Isn't To Fix Matters! We Are To Use Blockchain To Grow In Our Shine, To Where Blockchain Starts To Shine Because Of Us.
Start Here
ULOG
Yesterday, the steemgigs talk happened! 
@mermaidvampire was there to administer it and yes, it was successful. I am working hard to be present starting next week, so i have to start my preparation and much of my healing from today. Well, it's night already.
During the talks, there were games and prizes to be distributed in the form of steem. Overall, that goes to show that "value" can be created behind-the-scene and rewarded in steem. 
Look past the blogging. There is ulogging and other aspects to beautiful steem
"Community" creates much value on its own" but not exactly community(s) in terms of isolation as those can cause rifts instead.
Today was spent with minimal activity. I am always in a state of brainstorming though and that is much of what i did, with less eating or movement.
I tried some coding but with many errors and i kept trying and trying. Alot learned and instead of failing completely i went #teardrops (mode) but with un-fell tears. What this means, is that amidst the hassle, i attained a measure of breakthrough by building-on on the model for an enterprise called macrohard, that i have been working on, aimed at adding "SWAG into the world of coding", which i believe is lacking. 
In general much of what is celebrated in the secular world in general, is "success". But much of SWAG is in the stories from failure, much of which go on undocumented for the sake of "not being celebrated".
This i figured out more of, in the course of today. When you are stuck as you code, there is limited resources online to unstuck you. Not like there isn't but the right search query to bring these resources just out, may be the missing piece. What you have much of thus, are very general resources.
Well, today i added more to the model that will constitute the enterprise Macrohard. I have added a feature that will incentivize documenting coding errors or #teardrops moments in the world of coding, celebrating these types of contributions.
We want many more programming #teardrops stories.
Hahaha, this is much of what i do and did today and i end up not having slept for years and even when i am resting, i am not fully resting. My being isn't!
We are so far into time and it looks thus, like the world has made so much advancement and jets and all but looking really intently, in the "real world", we haven't really advanced. 
e.g
In the world of legit illiteracy, the world renown literates will suddenly find out that they have become very illiterate.
There are tons of avenue to create balance and blockchain has come close but blockchain can easily go back into that same unbalance over time except we have come to identify this imbalance and apply the blockchain to its beautifulest use in bringing about and sustaining this balance.
Beautiful humans will be involved in blockchain see its own true beauty.
This is my path on steem but an entire curriculum plays this out.
Since "blockchain", i have brainstormed way more. Because the world is suddenly open and restored to beginning-hood. Yes, and blockchain highlights the beauty of a once-world without technology and bares everything and everyone more out into "bareness", to where i can see many more things and many more beautiful avenues to apply blockchain technology
Trade by barter for instance is happening all over and this simple thing that may have been seen as old-school in even the near-past, has "beauty" tied to it and as much it can create rifts and all; can stir love, adulthood and personal growth among other things like love and all. 
On steem we can exchange steem by virtue of things like "reputation", without third party etc. 
Anyway, just look more intently and almost every concept or enterprise, school-of-thought etc that have ever existence can be looked at in new eyes by virtue of blockchain technology and especially, with the steem blockchain and the steem blockchain in this case, because it has an existing sustained community.
There is alot of beauty by virtue of the steem blockchain and even, the "world of brainstorming" has seen more beauty as a result, if you check again
Overall, it is not about a flawless blockchain. While you may haste seeking the flawless blockchain, expand your search to Mars because you won't find that on Mama Earth, for every blockchain created on Mama Earth hosts humans.
The blockchain isn't to fix matters! We are to use the blockchain to grow in our shine, to where blockchain starts to shine because of us.
I am your boy terry and whenever i go into-the-box, it is only for the sake of coming back out astrong. Jehovah very much in charge.
Your Boy Terry once again
Kindly vote for the "steemgigs" witness. 
Dedicating My Entire Steem/Steemit Journey To My Mum
If you want to support an extra witness and you support mine "steemgigs", it will be really helpful. 
To vote my witness, simply visit https://steemit.com/~witnesses and upvote "steemgigs" or simply click Here to do it on one click!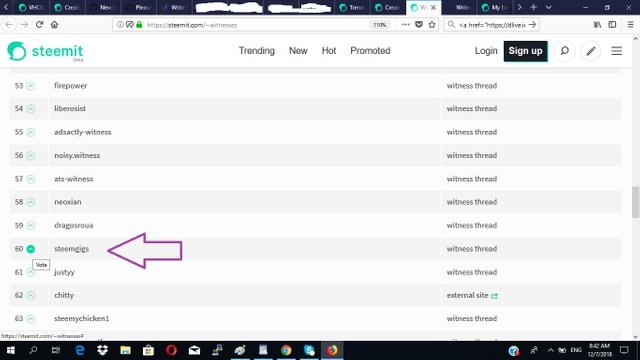 If you want me to make witness voting decisions on your behalf, simply visit https://steemit.com/~witnesses and type in "surpassinggoogle" in the second box for proxy. 

Subscribe to us on YouTube: UloggersTV