Kindly Join In Voting On Steem To Be Listed On Coinex. This Is How You Can Do So!
This post is a short post asking us to join in voting for "steem listing" on Coinex. 
I don't have much details about the exchange as i wasn't able to do intense research but @ankarlie was able to create a profile for steem on the exchange, allowing us to easily vote for steem to be listed. 
Well, it requires a bit of effort to vote but that is what community and especially the "steem community" is about.
I am not very into trading and all overall, so i will be keep this post simple, showing the process of voting. 
If you have to use them as a trading platform, kindly do your own research.
You can read more about the exchange here:
It is a relatively new exchange hailing from China. Its volumes etc is find-able on coinmarketcap: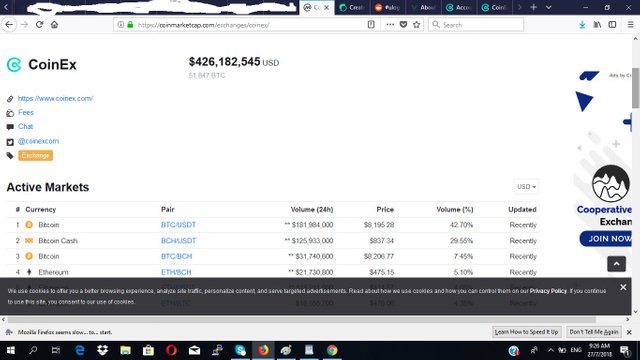 https://coinmarketcap.com/exchanges/coinex/
Voting requires signing-up and ID verification i.e it is not a very instant process as you will had to complete the ID verification process and will have had to have been approved, after which you can vote for steem instantly.
Below i will document the process:
You will start by clicking on this link: https://www.coinex.com/vote/project?id=540, leading you to this page: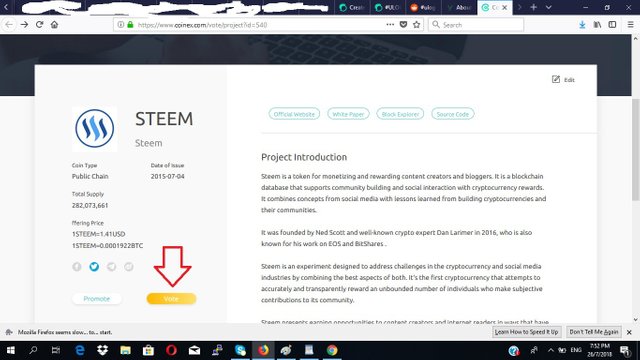 Then, when you click on "Vote" and it will lead you to a sign-in/sign-up page as seen below: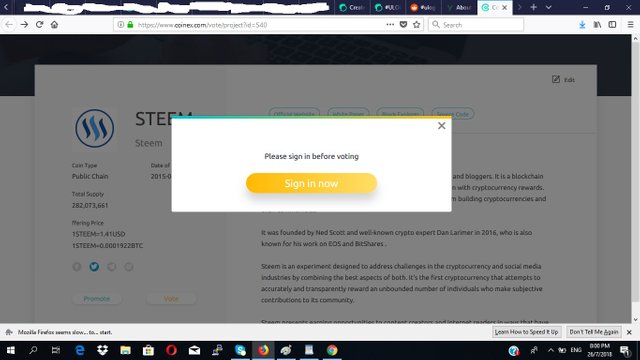 If you already have an account on coinex and are verified, you will be able to vote instantly upon returning to the voting page, else you will need to sign-up and the sign-up page looks like this: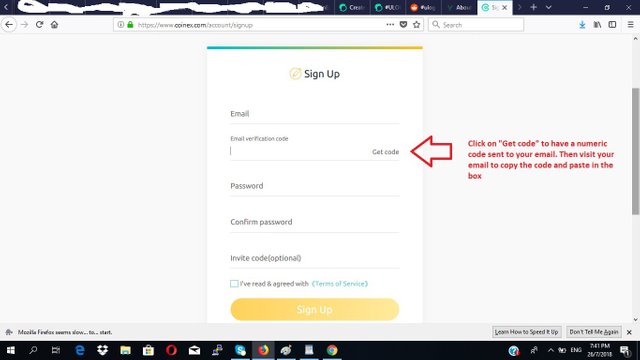 Fill in your details! Then, for the "email" part, click on "Get Code" after you have filled in your email address and visit your email inbox to retrieve the "numeric (not tumeric) code" sent to you and paste or type it into the box. Next, complete sign-up and login.
If you are met with this screen while logging-in: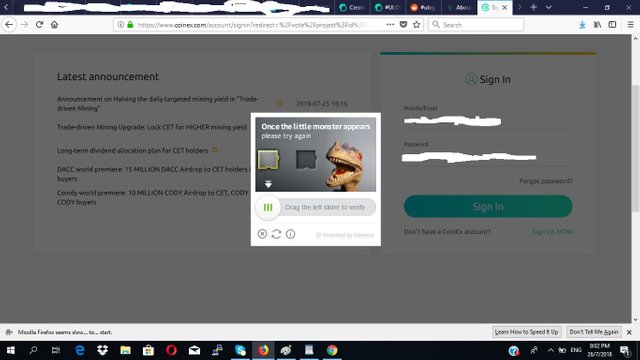 Fix the puzzle
Now that you are signed-in, if you go back to the voting page here: https://www.coinex.com/vote/project?id=540, the screen will indicate that you need to complete verification. So, let's proceed with verification process below:
First you are told to bind either a mobile number or google authenticator to your account as seen below: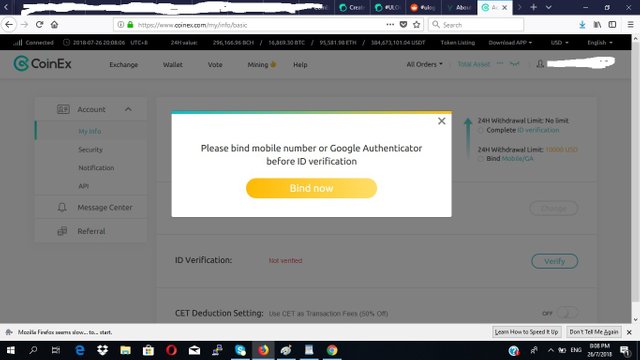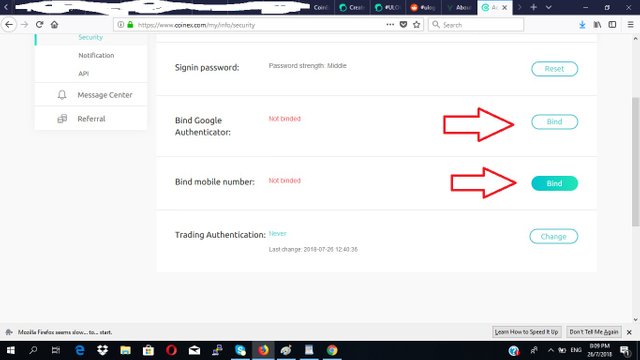 I chose to bind my mobile number, so i am led to this screen: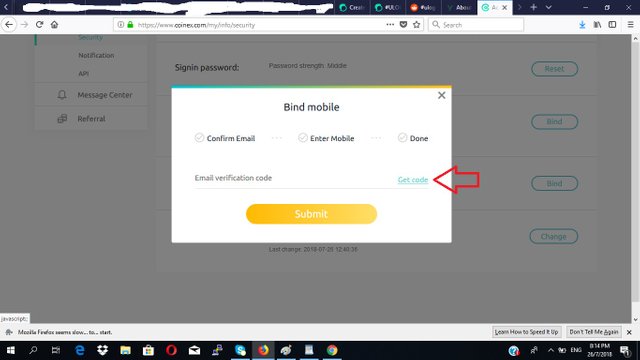 On the screen above, you will need to "get code" one more time, after which you will need to retrieve a "numeric code" from your email. Fill the code in and you are led to the next screen seen below: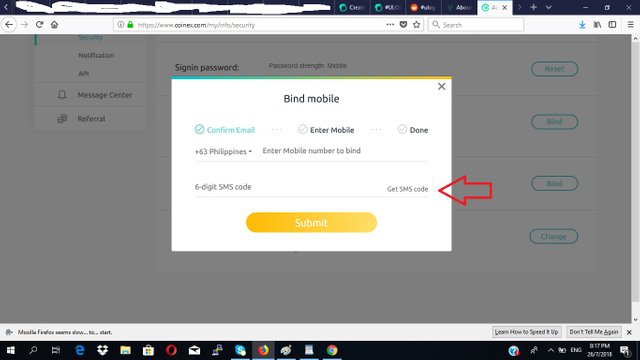 After filling in your number, click on "Get SMS code" and a text will be sent to your fone containing a "numeric code". Fill this code in and submit.
Now the final step is ID verification. For this, you will to need click on "my info" and select "ID verification" as seen below: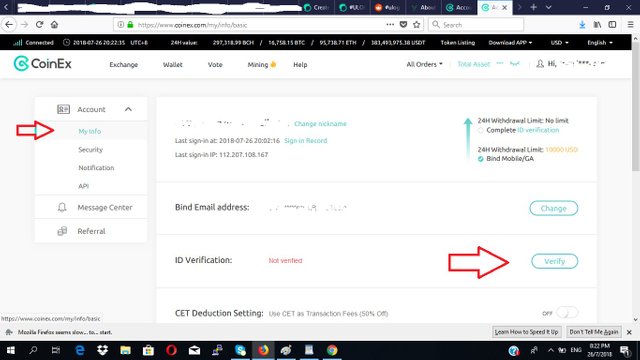 Then you are met with these screens: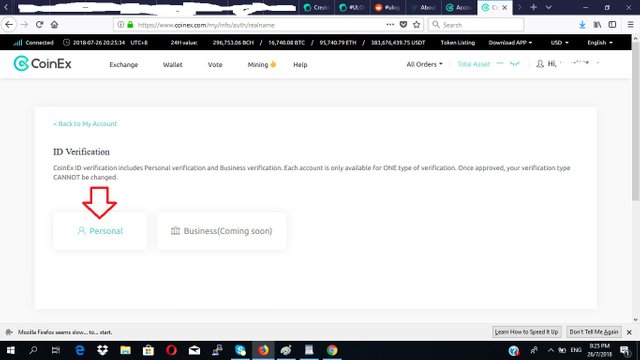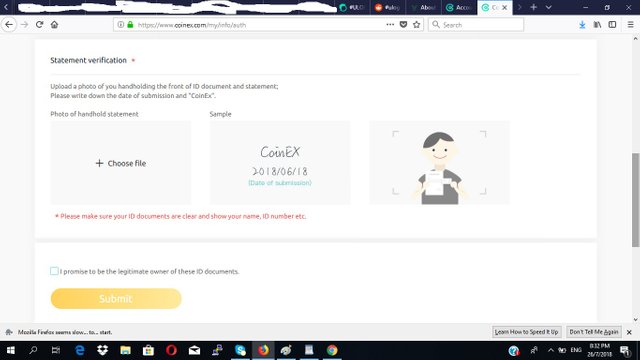 Complete verification, then wait for an indication of approval, which you will receive in your email and then your ready to vote!
Go back to https://www.coinex.com/vote/project?id=540 and vote for steem.
Do well to create a post regarding this and share with friends. You can also share this link https://www.coinex.com/vote/project?id=540 directly on your social media pages.
For general questions join us on Telegram: https://t.me/teardrops_smt
Finally got a sub-reddit for ULOGGERS and ULOGS; kindly subscribe to it if you have a reddit account and do well to share as many ULOGS from #ulog as you can each day to our sub-reddit:
https://www.reddit.com/r/uloggers
Your Boy Terry
Before We Go 
Overall, a lot of beautiful things will play out on  ulogs.org and growth will be very organic born out of "serious fun" i.e  fun that has "serious" coded into it i.e is directional fun.
Yes, overall we will play and we will fly, shine, re-tap into lost shine, re-erupt buried shine etc, attaining "true celebrity-hood once  and for all" and we will see that "light inside the tunnel". 
Then, we there will be an ever-ongoing climax at the Teardrops SMT, where will reward "proof of tears".
I am glad at organic growth so far. It has been around 3 months or  less now and there have been more than 30,000 posts related to #ulog but more interesting is the "beautiful-to-see-fact", that more than 4,000 steemians have already used #ulog globally and this is without "real promotion" and without having announced the open-use of https://ulogs.org 
Before i go today, i want something to stick, resound and stick a very particular word into your minds, hearts and cores and it is called,  "ULOG".  Kindly, listen to this video below with love and listen to the word "ULOG" on and on and on. 
@sunnylife 
I do need strength
Dedicating My Entire Steem/Steemit Journey To My Mum
If you want to support an extra witness and you support mine "steemgigs", it will be really helpful. 
To vote my witness, simply visit https://steemit.com/~witnesses and upvote "steemgigs" or simply click Here to do it on one click!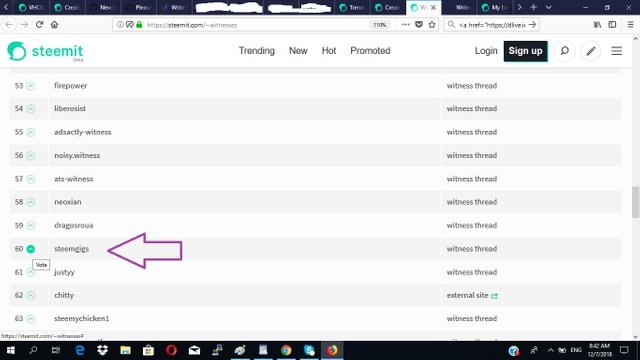 If you want me to make witness voting decisions on your behalf, simply visit https://steemit.com/~witnesses and type in "surpassinggoogle" in the second box for proxy.  

 Join the community here: https://discord.gg/gvGc6fj  
Join us on Telegram: https://t.me/teardrops_smt