Starting The Push For "SteemFest 4 In The Philippines". (I Had Plans Be SteemFest 3 But Plans Fail!)
Late last year, my mum was dying. Before i knew of her illness, i had had plans of attending SteemFest 2. I had money for this too as a steemian had sent me money to fund the experience. 
I ended up applying for a visa but i didn't get it. I knew i won't get the visa though because there was no real way of preparing. 
Days before my visa application for Europe, my passport was still in another embassy. During this period, i had news that my mum was critically ill, i may have just once chance of seeing her (incase she passed away).
So instead of SteemFest 2, i was going to apply for a visa to go see my mum instead. However, just two days before my visa was ready for pick-up, news came that my mum has been declared "free of cancer" etc and she had returned home and that i should wait in the Philippines, since she will be coming over. 
All this relief and it felt like "signs" that against all odds, i should attempt the visa application for SteemFest 2 (Europe) even though, i had no real preparation. 
I retrieved my passport from the other embassy and just a day before my interview date for a Schengen visa, was when i started to gather "papers" that were required for a Schengen visa application. 
I went to embassy the next day and even though the counter insisted that i shouldn't waste money for the visa application as i won't get the visa, i paid the fee and asked for an interview.
I spent 30 mins in this interview, with the interviewer carrying a friendly face. I knew though, that there will be no visa.
This year, i had plans once again for SteemFest 3! Someone wanted to fund this trip too but days flew drastically (again). 
My dad arrived here in the beginning of the year. This was after my mum had died and my dad is critically ill too. I am ill as well. 
Inanycase, days flew fast but i still maintained my plans. I knew i wasn't going to be able to prepare but i wanted to go back to that same Schengen embassy to be interview by that same woman.
First things first, i had to get an interview date! However, even that can be an issue here in the Philippines. I had applied for a date in August as you can only seek a date, at least 90 days before your intended departure date. 
The earliest date i got was for OCT 25, 2018 and this is entirely late, considering that you need a "15-days" interval between your interview date and departure date and SteemFest 3 is early November.
This was frustrating as i would definitely miss SteemFest 3 even if i got a visa but i accepted the date.
Surprisingly, in September this embassy sent me an email asking if i will be available OCT 11, 2018. Ofcourse i accepted this as this favors "the SteemFest 3 dates". 
Days flew and i couldn't prepare. 
I have had too much expenses this year and each day is filled with expenses. A few days before OCT 11, 2018, i got too tired and i cancelled the scheduled interview. 
I sent an email to the embassy to that effect.
This year, i contacted @roelandp  about considering South East Asia for SteemFest, "the Philippines" in this case. 
I feel it is time now to start pushing for SteemFest 4 to happen in the Philippines and there are many, many valuable reasons for this.
One being "visa attainment". 
The beauty of the steem blockchain and blockchain in general is "decentralization" and i feel this should begin to translate into vaster dimensions. The world should become smaller in the presence of the steem blockchain.
SteemFest is a good way to display's steem's beauty, also in this regard.
"Visa attainment" is a hassle and in many cases even impossible in the nations that the world calls "developing". 
I see many SteemFest tickets being given away and in some cases "full expenses paid" but this doesn't mean that the parties involved will be at SteemFest.
There are many other amazing reasons for considering that SteemFest 4 is held in the Philippines. I will write a full-blown proposal to this effect, in due time.
In general, the Philippines is very well-posed to host a successful and even "news worthy" SteemFest 4, considering also that "blockchain industry" is undergoing substantial growth here and ofcourse, with the presence of thousands of steemians located in the Philippines.
The Philippines is also very accessible to vaster range of the world population and is a popular tourist attraction on its own and may have been on the bucket list of many as a travel destination.
More will be said in my "proposal post" in due time....
Your boy Terry 
Kindly vote for the "steemgigs" witness. 
Dedicating My Entire Steem/Steemit Journey To My Mum
If you want to support an extra witness and you support mine "steemgigs", it will be really helpful.  
To vote my witness, simply visit https://steemit.com/~witnesses and upvote "steemgigs" or simply click Here to do it on one click!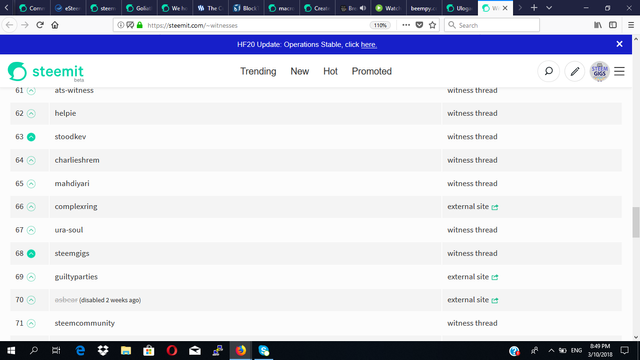 If you want me to make witness voting decisions on your behalf, simply visit https://steemit.com/~witnesses and type in "surpassinggoogle" in the second box for proxy. 

 Subscribe to us on YouTube: UloggersTV   
Also Please Note
We are in first position in the voting contest by http://contest.gonetcoins.com/ and voting close Oct 20, 2018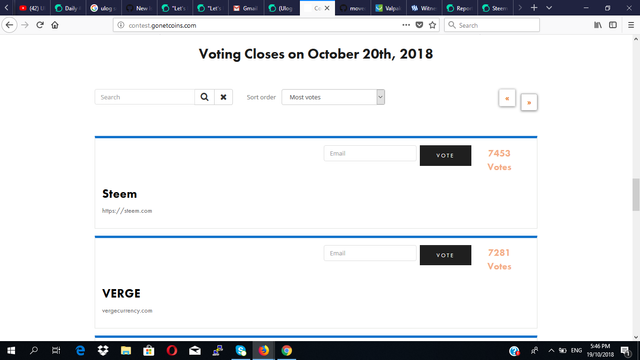 So let's maintain first.
If you haven't voted at all, simply visit http://contest.gonetcoins.com/ and scroll down till you find a listing of coins. Steem is the currently the second coin on the list. 
Your "first vote" simply requires your email. After you have entered your email and proceeded to vote, you will need to confirm your vote. This means that gonetcoins will send you an email. 
Check your inbox and complete confirmation.
Note that you can vote "once a day" till voting ends. 
As for everyone who has voted once or more-than-once, please vote again.