(Ulog + Bobbylee): Did You Know You Can Be Doing This To Further Enjoy Steem/Steemit & While Reshaping The Internet & The World Altogether? (Before Hivemind, Ulogs.org Plays Out "Communities").
Ulogs.org will play out "communities" before the actual birth of Hivemind. By means of ulog-subtags, ulog-communities will emanate. With ulogs.org it is "true celebrity-hood for "everyone" once and for all". This means that you won't need to ask for it; at the very least ulogs.org with constitute your ultimate "true fan" and will try to stir a community of "true fans" your way.
We will stir further community by uniting projects. Instead of competition, we have a means to integrating every steem project in and rebirth every existing hashtag and this will play out on ulogs.org
While you ulog, do well to share your ulogs with family and friends even though they are not yet steemians. 
Share this ulogs on every wall, online and offline, home and abroad. Let's create an appeal for "human".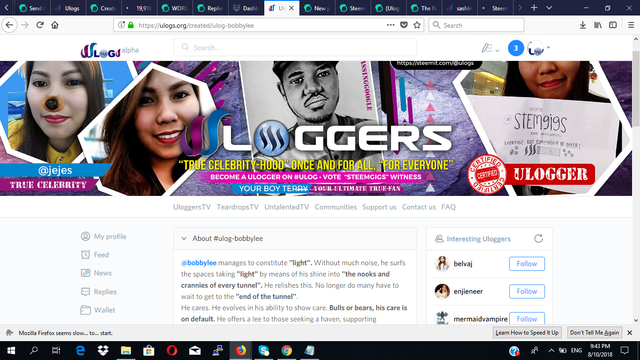 @bobbylee manages to constitute "light". Without much noise, he surfs the spaces taking "light" by means of his shine into "the nooks and crannies of every tunnel". He relishes this. 
No longer do many have to wait to get to the "end of the tunnel". 
He cares. He evolves in his ability to show care. Bulls or bears, his care is on default. He offers a lee to those seeking a haven, supporting "dreams" on the steem blockchain, by means of mentorship, timely engagement, curation and actual community; "true fan-hood". 
@bobbylee is approachable, reachable and prompt. Well, he cares. He may reach all-the-way out to you. He has touched many. Without accolades, he touches many. 
Some Of His Cookies:
 
To post a Ulog under #ulog-bobbylee, simply use This Editor (found on ulogs.org) to "give back"; to emulate him; to learn about him, to be "true fans" of him, to share memories with him; to reach out to him etc (per day). 
Make sure to use the more popular "#ulog" as your 1st hashtag & "#ulog-bobbylee" as your 2nd hashtag.
You can then add other hashtags e.g "your location" etc. Don't forget to add "(Ulog + BobbyLee):" somewhere IN-TITLE. See sample:
Become "true fans"! Visit #ulog-bobbylee daily, to curate, engage, support, contribute etc! Join its community on Discord & Telegram.

Special Note
We implore to kindly use ulogs.org in the art of ulogging. We truly want you to love ulogs.org and what it represents. We want you to be an active part of ups-&-downs and its stories and histories. 
We want to create a world of "true celebrities" in the form of certified uloggers. Together, we want to emanate "great men and women", each of which can empower generations. These things and more!
We would also love you to do your #untalented & #teardrops posts, using these ulogs.org editors:
Your boy Terry 
Kindly vote for the "steemgigs" witness. 
Dedicating My Entire Steem/Steemit Journey To My Mum
If you want to support an extra witness and you support mine "steemgigs", it will be really helpful.  
To vote my witness, simply visit https://steemit.com/~witnesses and upvote "steemgigs" or simply click Here to do it on one click!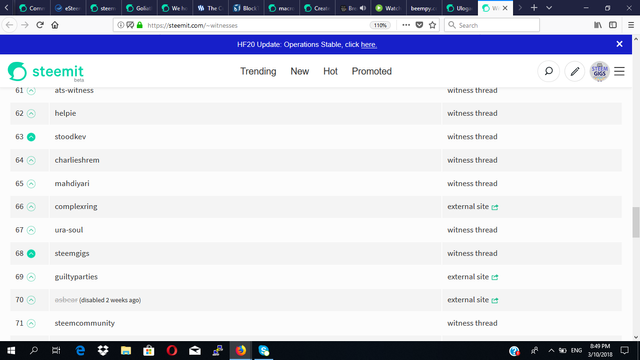 If you want me to make witness voting decisions on your behalf, simply visit https://steemit.com/~witnesses and type in "surpassinggoogle" in the second box for proxy. 

 Subscribe to us on YouTube: UloggersTV