There may still be hope for Steemit adoption after all, and here's why by the numbers:
Okay, so I haven't always believed in Steemit, and lately I have been believing in it less and less, because I just don't see how Steemit can continue to pay all the self-voting whales and bots on the blockchain... it just doesn't seem sustainable.
Anyway, assuming Steemit keeps dropping the amount of rewards, which is what I believe they will be forced to do overtime, or lengthen the vote-charging process, which I've noticed they did already, let's look into the numbers to see how well Steemit is doing in comparison to its most successful relate-able website, Reddit.
As you can see, the first 3 years of Reddit's existence were very slow, which is good news for Steemit, because Steemit has only been around for two years, so it has another year to go, before it will need to start growing at a rapid rate, or it will most likely fail.
Now some of you may be new to the game, and use total accounts as a metric for health as it pertains to an active website, but this just isn't the case.
Active user numbers, and the growth of those numbers are the only numbers that actually matter, so now let's look at a Reddit chart, which unfortunately only shows total users, not active users because I could not find an active user chart, but let's get some information from it regardless shall we: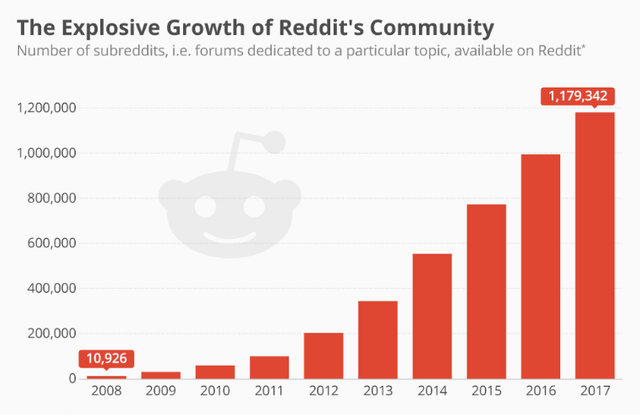 As you can clearly see, Reddit was pretty slow during it's first 3 years as far as growth was concerned, which Steemit is experiencing too, but after that third year, Reddit went to the moon... so will Steemit follow the same path, or will it fade into obscurity?
Let's check some Steemit comparisons over the last since months in the form of charts: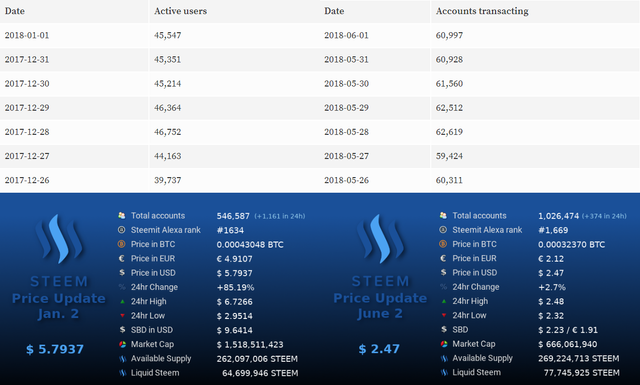 Simply tap or click here to enlarge this chart.
Over the last 6 months, Steemit has grown its active user base (could be mostly bots mind you) by a rather dismal 34%, which some might see as good, but it isn't really when you look at most of the other active websites out there, so what does this mean... well it's still too early to tell.
Steemit has also fallen behind in Alexa ranking as well, which it rough, considering that it was below the 1,000 mark at one point, but has increased back down to the 1,669 mark at the time of writing.
Anywho, what do you think, and how bright is the future of Steemit in your mind?
I'd love to hear your thoughts in the comment section, and would like to thank and credit @penguinpablo for making such awesome Steemit statistical analysis charts each and everyday, so that I could personally monitor the growth and de-growth of Steemit overtime.