Delegate SP to yensesa, get Yensesa tokens and do so much more with them... the Binance of Africa.
What is Yensesa
Yensesa is on the journey to become the Binance of Africa built for Africa and the Rest of the world. We are completely different and our revenues will be shared with the community of Yensesa token holders.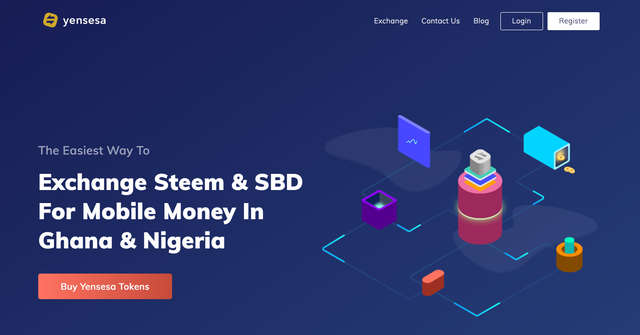 How to get Yensesa Tokens
We have raised 9620.36 SP from 19 people and we are looking at reaching 50,000 SP by end of the month July. You can delegate your Steem Power to @yensesa by clicking the delegate button. Once you delegate, connect with us on discord with your bitshare username and we will send you the tokens. If you don't have a bitshare username, don't worry it takes less than 1 min to get one from here
Or, you can manually input the amount of SP you want to delegate by changing the parameter(5000) of the URL to any figure amount you want to delegate.
https://steemconnect.com/sign/delegateVestingShares?delegator=&delegatee=yensesa&vesting_shares=5000%20SP
Change '5000' to the number you want.
Why We Need Sponsors
Yensesa is working towards becoming biggest crypto to fiat exchange for Africa interfacing with mobile money networks spread across Africa and we are already supporting Steem/SBD. Check us out on our website.

We are completely different in motivation as compared to other exchanges out there. Yensesa will be sharing it's revenues with a community of stakeholders ( Yensesa Token Holders) to help alleviate poverty and educate Africa on financial freedom.

The community together will be fuelling the basic income project and providing daily income of $5 per day. This is where the delegated SP becomes very important.

Community members can stake their Yensesa Tokens for upvotes, steem power delegations, loans and more.

Yensesa will also have other trading pairs for community members outside Africa to trade and get rewarded in the revenue shares.
FAQ
Ques : Are non-Africans eligible for sharedrop? If so, how will they use the African exchange for 50% trading discount?
Yensesa is a digital and open platform being built in Africa to support Africans and everyone across the globe. In the very near feature we are going to be adding a lot more trading pairs, which non-Africans can also trade. Every member no matter your geographic location can decide to take a 50% trading fee discount or get rewarded with Yensesa tokens when you trade, you can be able to stake these tokens over a period of time for bonus, upvotes and many other rewards.
Ques : How to get the share of tokens allocated for Steemit & Bitshares members? If I write a post on Steem about you, what can I expect? And what about Bitshare members who are not on Steem?
Ques : What is the method to get an upvote through your tokens?
This part of the system is about to be launched. It will required token holders to stake their tokens for a % upvote, once everyday. The higher your staking or the longer you stake the higher % upvote you will get. This part of the system will be launched in the next couple of weeks.
Ques :If I don't delegate you for all 30 days and have to cancel my delegation in 2 or say 3 weeks, will I get nothing from you?
Every month your delegation is with us you get Yensesa tokens until you remove your delegation or until we complete the share drop. So if you delegate now and remove your delegations, you only get to keep the tokens you got when you delegated.
Ques : Where can I find the details of the team behind this project?
Our team is currently growing and we will be announcing new team members soon. Here is a post about our team members and advisors.
Don't forget to vote for yensesa as your witness : https://v2.steemconnect.com/sign/account-witness-vote?witness=yensesa&approve=1