Food can take you in a long pleasure trip
Sweet food short story to tell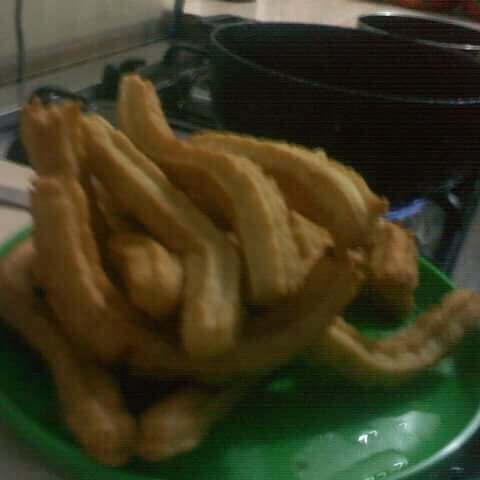 Greetings to all in #steemit, today is one of those rainy days when you want to have a snack with hot chocolate, how I mentioned before, food can take you in a long pleasure trip back to your pass.
When I was a child my mom use to take us to a churro sale at the old down town of #puerto-ordaz #venezuela. An emblematic place for contemporaneous people. Throughout the years the business kept growing but it was always at the service of the same owner, with the same essence and taste. The last time I saw him, he told me with a very sad expression that he was too old and tired for the business and that he was going to pass it on to his son. I have always being so curious and lover of the good street food. So in the moment I asked him for the recipe. After a long conversation me man agreed to give me his secret.
A little longer when they changed the churros for other meals, which by the way, were not so good. Sooner than later the business was closed for good and its now just in the memory of many, like myself.
And so I bring you the recipe of the famous churro recipe from the Centro Civico!
INGREDIENTS:
2 cups of flour
2 cups of water
1 tsp of salt
1 spoon of sugar
1 spoon of butter.
Frying oil
Sugar for decorating
How to make it:
Let the wáter boil with the sugar, the salt and the butter. When it starts boiling drop in the flour.
Turn of the fire and stir quickly with a wooden spoon until the dough sticks off the pot.
Then we give them the shape of a snake and let it fall slowly in a spiral way in a hot pan with enough oil to cover it cutting them in the measure we desire. When they turn light brown we take them out to a kitchen napkin and sprinkle sugar on them.
Easy snack to make and enjoy with hot chocolate.