MEMBER HIGHLIGHT #16 - Get to know a Mama - @vincy
Good evening all mamas out there! We're back again for yet another Get To Know A Hot Mamas' weekend mania ! And it's Valentine Weekend mania too. Being mom's, we have a huge abundance of love in our hearts; ever willing to share out to our children and sometimes we can be over protective of them. Lesson learnt is that, they too need to learn to fall and stand back up on their own, so long as we're there with them when they are rising up - that's the best support and love ever.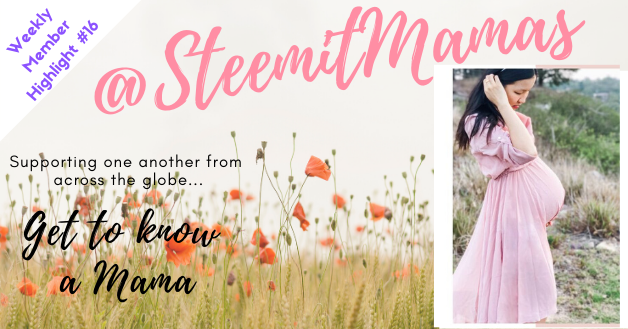 So, what is all this about ?
Let's Get To Know Hot Mama is all about introducing and highlighting one Mama on a weekly basis in the community who is active and produces great content! This is apart from our weekly curation post of course!

For this week, @vincy is our shining star!
Here's a short introduction to @vincy
A mother of an active 4 year old boy and now currently pregnant with her 2nd baby. @vincy will be expecting her baby anytime now which is why I felt she is the perfect Mom to highlight in this week's post. Currently living in Sydney, Australia' @vincy is a stay-home mom but also occasionally works casually as a photographer, editing photos for her friends wedding business. Able to communicate in Cantonese, since she's born in Hong Kong and English and can understand some Japanese and Mandarin too. @vincy enjoys singing and vlogging videos for dtube, post photos on steepshot and blog occasionally. @vincy joined Steemit in March 2018 and Steemitmamas 3 months later.
In this week's curation, I found @vincy's post on Pregnancy doesn't always look as natural and flattering as this classic pose the ... most lovely and emotional.
Firstly, @vincy is almost close to her due date so welcoming her newborn baby is expected anytime soon. And for that, we pray for a safe delivery to both @vincy and her baby. Also, to her family as the countless sleepless night cries begins.. How could we mothers ever forget that, right :)
Second, yesterday was just Valentine's Day and being mothers, our unconditional love for our children goes above and beyond; absolutely unmeasurable in any form.
As @vincy has written in her post
hubby managed to get one photo of - one of my faves in the set. 😊 But it's nice to remember positively the change in your body that nurtured a full baby from a tiny seed made with love 💕
Happy Valentines Day ❤️

Do check out @vincy's Pregnancy doesn't always look as natural and flattering as this classic pose the ... and pray for a safe delivery for both mommy @vincy & baby.
Happy mama,
ireenchew

Are you a mom, expecting mom, stepmom, an adoptive mom or grandma? If so we'd love to have you join us! We're a Fun Lovin' Supportive group of Mamas sharing our everyday victories and trials as we live this thing called Life. Please click on the banner below to join us on Discord!