MidWeek Delights #7 || Of Mindful Eating, Preparing For Change, Fun Convenience Stores & Managing The Blues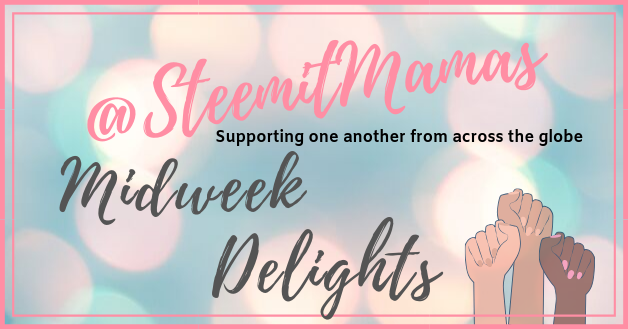 Again we race towards another weekend and another month. A special month with celebrations that some are already preparing for. Year-end holidays, school holidays, what are your plans for all of them? Share them with us on your posts for we would love to know and learn.
And now, we share more gems from Mamas on the SteemVerse. Would also like to extend an invitation to all Mothers on SteemVerse to join us on Discord and you can find out how at the end of this post. Now, I present to you some activities, thoughts and life lessons shared by Mamas for a midweek boost. Click on the images to take you to the authors' posts.

@consciousangel7 gets a treat from her Yogi friend and shares her conversation on meals and how we consume them. She also shares her relationship with food and how she eats her meals.
When I was struggling with major food allergies and leaky gut I started blessing every meal with love and gratitude. I now can eat many more foods and have much less reactions. I do feel that being present with my food is a huge reason why I can eat more things.

@vincy has popped in on the SteemVerse to fill us in on all the changes that's unfolding. There are many things coming at her back to back which has got her in a bit of a mood. Perhaps, you can encourage her on her journey as her family expands.
Just wanted to update again after a long time!
I really need to get back into it!
I'll explain why I've been MIA in the vlog!
I also tried out the livestream vimm for the first time too earlier!

@travelgirl takes us on a trip around a convenience store in Bangkok. I bet you will be just as fascinated as she was on her lil discoveries.
Every time I'm in Asia, I love going into convenience stores. The reason is the ones in Sydney are expensive and boring. In Asia, they sell all kinds of things and the best bit, they are very reasonably priced. Sometimes if I am lucky, I may see a promo happening so this is the reason why I love convenient stores in Asia.

@trucklife-family has questions but she also has answers. She walks us through her thoughts of handling the blues and balancing life's moods. Swing on over to give her some love.
I am just not very patient and I am not very good at self care. I am great at talking about it and at advising others to do so, but we're all like that aren't we?. This year I really wanted to do things differently, simply because I have to, how can I be fully present for my girls if I am not looking after myself. And the best way for me to instill the importance of self care in them, is if they see me taking care of myself. When they see me prioritizing it!

I hope you like the picks this Wednesday as much as I did. Just click on the images to drop in their blogs/vlogs and show them some love and support by upvoting, commenting and resteeming if they resonate with you.
All the Mamas here will receive a 100% upvote a day from the @steemitmamas community account for one week. On top of that, @khimgoh will be sponsoring 1 SBI for a lifetime of votes to one lucky Mama who will be chosen via a random name picker from all the posts featured in the Weekly Midweek Delights!
You too have an opportunity to win 1 SBl!! Just comment on this post what you liked about any or all of the posts that was shared and you will be entered into the draw. The winner will be picked via a random name picker as well.
Thank you for dropping in and reading. Truly appreciate your time here.

Today's Midweek Delights was brought to you by @kaerpediem

Are you a mom, expecting mom, stepmom, an adoptive mom or grandma? If so we'd love to have you join us! We're a Fun Lovin' Supportive group of Mamas sharing our everyday victories and trials as we live this thing called Life. Please click on the banner below to join us on Discord!