@SteemitMamas' MidWeek Delights #8 || Of Simple Soups, A Mother's Thoughts & Playing The Ukulele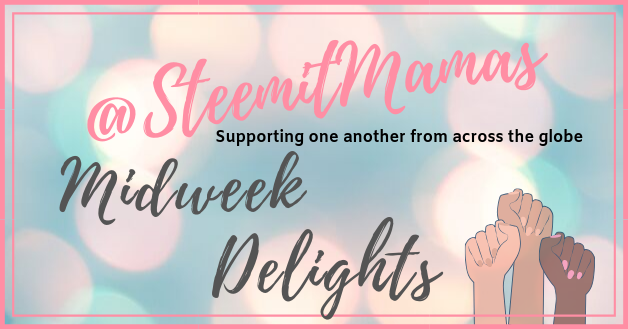 Thanksgiving!! What are you grateful for? Are you counting your blessings? Is it Turkey or do you have your own traditions? Here in my country, thanks giving is not a holiday. And if it is celebrated or practiced, probably thanks to TV/Movie influence.
What are your celebrations like? Share your Thanksgiving with us so we can be grateful together. Would also like to extend an invitation to all Mothers on SteemVerse to join us on Discord and you can find out how at the end of this post. Now, I present to you some activities, thoughts and life lessons shared by Mamas for a midweek boost. Click on the images to take you to the authors' posts.

@iamjadeline whips up a simple and healthy soup for her sons to enjoy as she was too tired for more. Check out the recipe and how to through pics.
I was feeling really lethargic and did not have any appetite at all. Still, it is good to get some water into the body for hydration. Since the boys love spinach, so I make a pot of clear spinach soup, with more addition so that the boys get to eat more other stuffs besides spinach.

@crosheille thinks aloud, on text. And I can resonate with this. We are always trying, every child is a different experience. You are always learning, always wondering. If you feel this way, know that you are not alone.
This photo of my daughter and I was taken nine years ago. These were some of the thoughts I had when she was first born. It was terrifying thinking of all the responsibilities I had as a mother and daunting thinking of how I could fail. Even today I still have some of those thoughts. It is still surreal to me that I'm a mother of five and I still have fears of failing and not being good enough.

@thekitchenfairy sets aside some "me" time and has picked up the ukulele. Everyday she challenges herself to play something new.
My voice is super raspy thanks to the cold I have been having for some days now, but guess what?! I found a silverlining to this situation 🤣

I hope you like the picks this week as much as I did. Just click on the images to drop in their blogs/vlogs and show them some love and support by upvoting, commenting and resteeming if they resonate with you.
All the Mamas here will receive a 100% upvote a day from the @steemitmamas community account for one week. On top of that, @khimgoh will be sponsoring 1 SBI for a lifetime of votes to one lucky Mama who will be chosen via a random name picker from all the posts featured in the Weekly Midweek Delights!
You too have an opportunity to win 1 SBl!! Just comment on this post what you liked about any or all of the posts that was shared and you will be entered into the draw. The winner will be picked via a random name picker as well.
Thank you for dropping in and reading. Truly appreciate your time here.

Today's Midweek Delights was brought to you by @kaerpediem

Are you a mom, expecting mom, stepmom, an adoptive mom or grandma? If so we'd love to have you join us! We're a Fun Lovin' Supportive group of Mamas sharing our everyday victories and trials as we live this thing called Life. Please click on the banner below to join us on Discord!