The Steemit name Challenge - derasmo
Since @flugschwein suggested me in his post for the steemit name challenge of @felobtc, I want to write how I came to my nickname.
---
Da @flugschwein mich in seinem Beitrag für die Steemit name Challenge von @felobtc vorbgeschlagen hat, will ich nun auch einmal schreiben wie ich zu meinem Nick gekommen bin.
Der deutsche Text ist unter dem englischen zu lesen.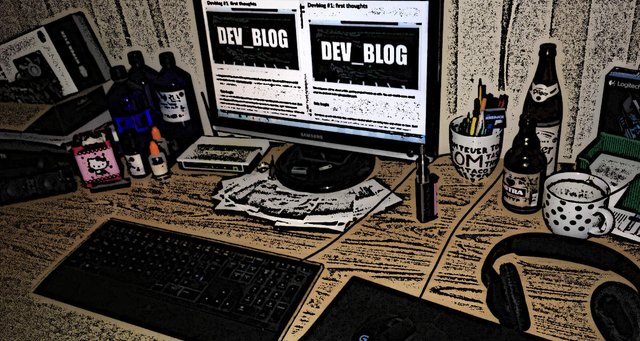 Rules
How I came to derasmo
My parents called me Tom and usually everyone who knows me speaks to me by that name. Feel free to call me that too. So there is no reference to my real name.
I have read many fantasy and science fiction books in my youth and I am still enthusiastic about Robert Jordan's "The Wheel of Time" series. Books I can highly recommend to everyone. There's a character there named Asmodean. I liked the sound so I started using it as character name in games. Many people called me Asmo and at some point it stayed that way. Since both Asmo and Asmodean are often already taken, I put the german article "der" in front. DerAsmo has worked for over 15 years in most cases and I'm pretty happy with it and wouldn't want to change it.
I played World of Warcraft under the name Humas for a long time. Also as Aduain and Prono I have been seen on different platforms.
Nominations
Here comes the hardest part for me, five nominations are pretty hard at this late time. I hope I didn't pick anyone who's already written a post about it.
So far, see you on steem.
---
Regeln
Wie ich zu derasmo komme
Meine Eltern haben mich Tom genannt und für gewöhnlich sprechen mich auch alle die mich kennen mit diesem Namen an. Fühlt euch herzlich eingeladen mich auch so zu nennen. Einen Bezug zu meinem richtigen Namen gibt es also nicht.
Ich habe in meiner Jugend viele Fantasy und Science Fiction Bücher gelesen und bin immer noch begeistert von der "Das Rad der Zeit" Reihe von Robert Jordan. Bücher, die ich jedem nur ans Herz legen kann. Dort gibt es einen Charakter namens Asmodean. Mir gefiel der Klang also habe ich angefangen als Charakternamen in Spielen zu verwenden. Viele haben mich dann kurz Asmo genannt und irgendwann blieb es dabei. Da sowohl Asmo als auch Asmodean aber häufig schon vergeben ist kam irgendwann aus der Not der Artikel davor. Mit DerAsmo klappt jetzt seit gut 15 Jahren in den meisten Fällen und ich bin ziemlich zufrieden damit und würde ihn auch nicht ändern wollen.
Ich habe lange World of Warcraft unter dem Namen Humas gespielt. Auch als Aduain und Prono hat man mich schon auf verschiedenen Plattformen gesehen.
Meine Nominierungen
Hier kommt für mich der schwierigste Teil, fünf Nominierungen sind ganz schön schwer zu so später Zeit. Ich hoffe, ich erwische jetzt niemanden, der schon einen Beitrag dazu verfasst hat.
Bis denn, see you on steem.