PUBLIC Global Tarot Reading. Energy of the next 3 days. by RAVENKING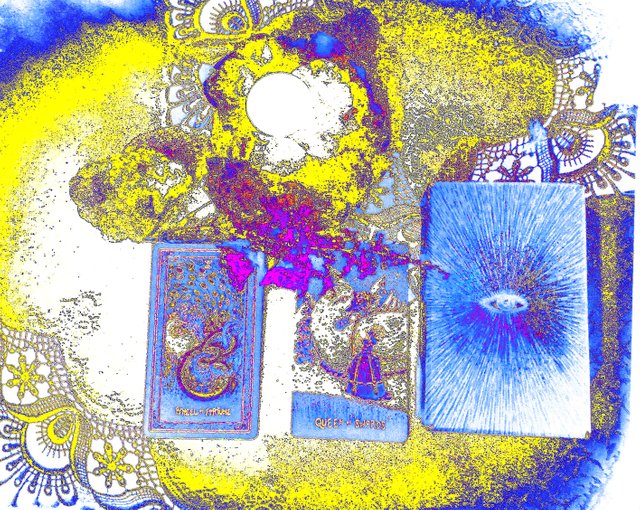 PUBLIC Global Tarot Reading
Today I wish to make a public reading that is meant to read the energies that are dominant during the next 3 days. This is meant as a reading for everyone on the globe. It taps into the collective theme of the earth during these next 72 hours.
So the first card that I drew represents the positive polarity that is dominant during this time.
(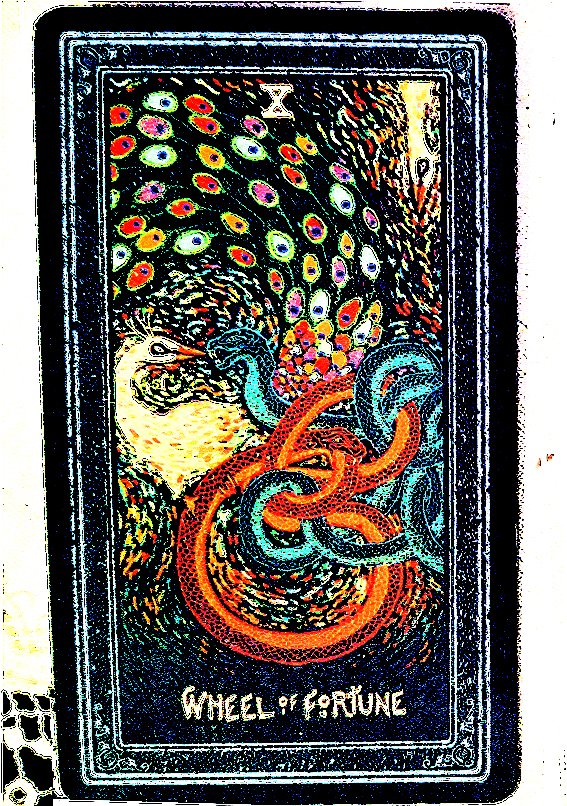 )
X.Wheel of Fortune.
This Card is very interesting if we take a close look at what is depicted. We have a snake and a peacock locked in battle. We also have a second snake joining them in the fight, who in the confusion of the battle has begun swallowing his own tail. Then finally hidden in the upper right corner we can see another bird charging from above into the fight, ready to join in and try his luck at victory.
First of all we should note that this card belongs to the major arcana, this shows that the next 3 days are dominated by a predominantly beneficial polarity. Also it illustrates that life in all its aspects includes the fight and struggle for power as a natural element of the world we find ourselves in and that these powers are constantly shifting in their balance. It symbolises the seasons, and change. Change through the obvious struggles and through those that come charging out of the unknown from above. The peacock fighting with the serpent, symbolic for the struggle we have with others, the red snake is symbolic with the struggle we have with ourselves and how it can eat us up. The second peacock represent the struggles and obstacles that might surprise us from the unknown.
Yet despite all of this, it is we who choose whether we view ourselves as the victor/the champion or if we wish to be the one who fights others to win.
If we see ourselves as victor and champion without having to enter conflict and struggle with others to prove it, we will become the authors of true change, able to offer solutions to the struggles of our world and within our own selves, and to be present and aware in the moment.
A summary and a few Questions to personally work deeper with this card and how to align yourself with the momentum of the universe to maximise your own growth and evolution:
Where in my life am I locked in a battle to prove my worthiness? How would I change my attitude if I accepted my worthiness and approached the things I am involved with as someone who already is worthy instead of trying to win the right to it by winning it through something or beating someone?
How can I become aware of the shifting of the balance of power, knowing that things will never remain stagnant and the same forever. Change will always come. How am I prepared for the unknown in my life? Am I distracted by my own struggles so much that I am unable to perceive the unknown approaching if it ever does?
Do my actions decide my worthiness? Or does my worthiness decide my actions?
I propose your sense of worthiness decides your actions and not your actions your worthiness. Meditate on that.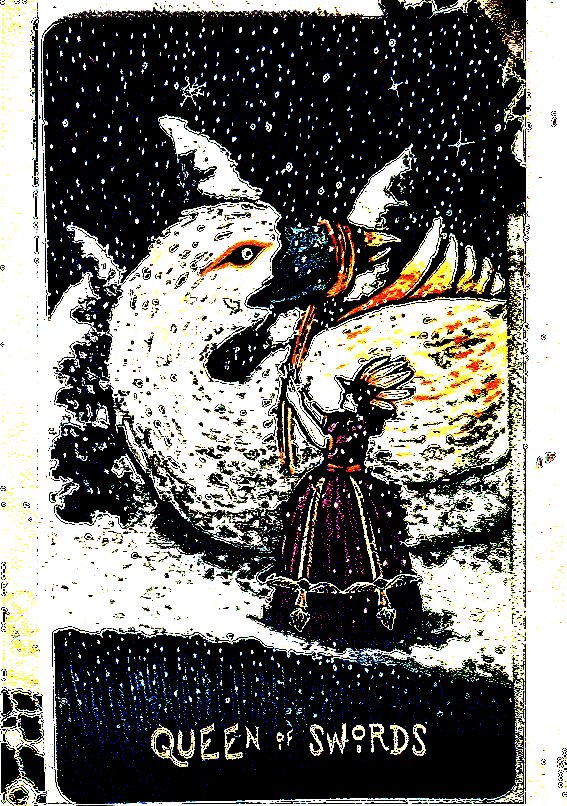 Queen of Swords:
This is again a very interesting pairing to the first card. The Suit of Swords in many ways represent the process of mastering ones mind and ego, and transcending ones own malevolence. The Queen of Swords in this suit represents the achievement of the abolishment of malevolence within ourself. If we remain mindful to final question I mentioned before. Whether our actions decide our worthiness or our worthiness our actions. I propose as a development to this card. That the reason for this is. That when we view life through the lens that our actions decide our worthiness, we are continually locked in a struggle we can never resolve fully, for in our minds, our thoughts tease us with many judgments about ourself and our believed in shortcomings. From this state of unworthiness all of our irritable states of emotion become sharpened to a razors edge with the tendency to devolve into brash malevolence.
It is not we who are malevolent, but feeling unworthy is how every malevolent being feels like.
Malevolent and Benevolent are not something we are, they are the reflection in our actions of how we see our own self.
Together both these cards symbolise the fertile ground to dare birth yourself anew, by killing the old king who ruled your life, this old king is the personification of all the small thoughts of unworthiness you harbour towards your self. dominating and steering your life unconsciously. These next 3 days are a moment that is loaded with the potential to take that sword and to dethrone the old king, by realising the sword you need to use is that of truth. And the Truth is the recognition of your own Worth, the acceptance that you really are the hero of your life and story if you only choose to believe that you are.
The questions to ask with this card are:
How does my feeling of unworthiness affect my actions when I feel that way?
How does the feeling of worthiness affect my actions and behaviour towards others?
When I feel unworthy and critical of my own self I am easily critical and judgmental towards others as well.
When I feel worthy of my own self, I usually tend to affirm the worth of others even in situations where they feel they have failed.
Conclusion. Crown your own Self a worthy King/Queen and manifest the hero you were meant to be in the long eternal journey of your soul among the vast diversity
Ps.The Deck I used this time was the Prisma Visions Tarotby James R. Eads.
Check out my Tarot Reading Offer for more Info on my options for a personal tarot reading!

Check out my Steemit Introduction Post for more Info about me and my different accounts!
Steemit Music PromoCurator Blog
Steemit Music Blog @Ravenking13
Steemit ART/Magic Blog @Ravenking23
Youtube Channel
Facebook Profile
Private Website