Open letter to dimimp;
To the office of the lannister,
---
I'm writing this with concerns on the affairs on steemjet. Initially, I wanted this to be done via email but on the other hand I prefer and open field cause everyone is plain in the end. In this letter, I would like to point out first the difficulties we're having acquiring a visa (shengen visa precisely) to be able to secure a spot in the steemfest event. I have gotten my invitation letter already just after I was able to acquire my international passport some weeks back.
---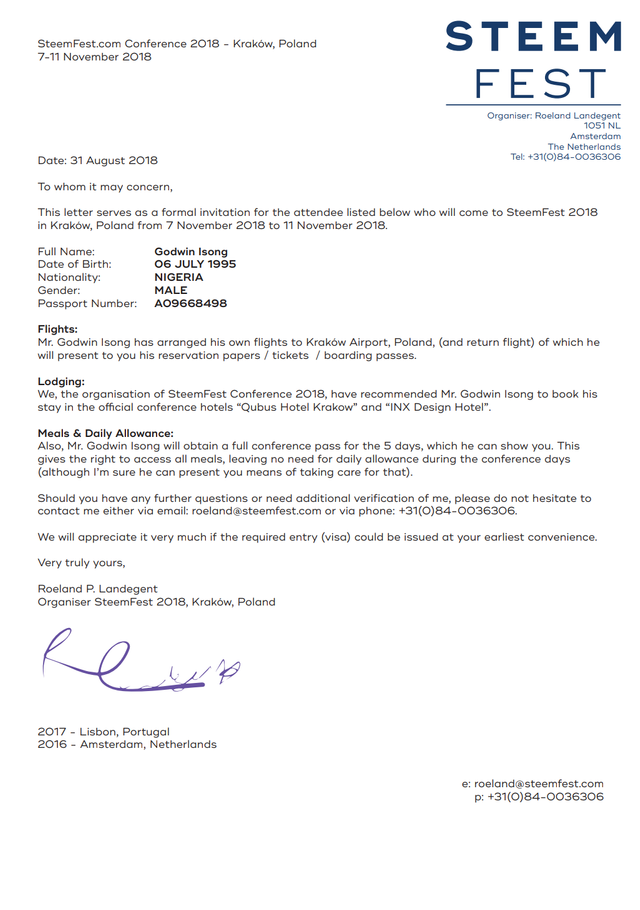 ---
My passport number is also on the invitation letter as well. In the process of acquiring this, some expenses were made which was still considerable but the slight issue we're having especially with the corncerned ones who are really keen on going and which I have spoken to and are determined in the likes of @mrprecious, @lordjames, @mbj, @empato365, @philip6, @kristenantai01, @emmycabable, @yungcheif, @deandaniel and @uche-nna and myself @gutzygwin have come to the realize the fact that the only means available to get a visa is through a diverted means ( I don't mean illegal). I'm reffering to a means of skipping the long line on the queue. The supposed date we were to have our visa interview is October 30th as described by @lordjames and this would have been possible if we applied earlier not now. So here's what we agreed to do; deandaniel got in contact with a personal who agrees to work with us and get it done not minding the queue and time frame but the demand fee is too high (571$ in dollar value). This expenses are just for covering getting a seat for the visa. I've analyzed all the possible scenarios and the cards are not working well. There has to be provision for air plane tickets to and fro which are minimally ( 1,142$ in dollar value) and plus getting a steemfest ticket which is expensive also, I can get the approximate amount in dollars for that yet but it should be 500£ I think, I'm not sure, I might be wrong there and not to forget, accomodation over there is quite the worry still.
I cashed out 4000 steem from what you sent into naira and I have the liquid cash currently and I'm on my way to discuss with deandaniel if we're truly gonna give the visa personal 571$ just for getting ahead (which hasn't even guaranteed us getting the visa). In all scenarios, I realized three facts we can't run away from.
• The current steem and liquid cash at hand is slightly insufficient to make the journey in one piece.
• If we do move ahead and get ourselves a reject visa application, we have happened to loose a ton of money in the process gathering all this together.
• We have people who are very keen to go and have made up their mind. One's like me and the others I mentioned up, could anything be done about it because I talked with them personally and we really want to go.
---
Not withstanding, I still have it in mind that you have limited resources and you may be cut short so let's not make promises, There are really so many uncertaintees but how do we move forward is the problem so I would like you to look into these. Issues cash wise and strategically wise.
I also got to use the @steemjetexchange platform and I found that they have the best cash out rates even at this red market..... So I want to bring their use into steemjet with immediate effect, I read about them and I can testify they are trustworthy and the best @dimimp, or how else do you want your musicians, artiste, producers and graphic designers to cash out their pay check. Do you want them to be on the loosing side, I guess not so I really want you to give them the opportunity to work in steemjet effectively as soon as you can get the message. @steemjetexchange can really be a base point for steemjet and once I'm done with the code scripts and plans, I will implement a base for them in the new website for steemjet. Here's their intro and about us post ; https://steemit.com/steemjet/@steemjetexchange/introducing-steemjetexchange-service
Your reply as soon as possible would be nice so we can move ahead before it eventually becomes very late.
Thanks,
Yours dearly,
Face of tecnical