SteemJet community is being abused by people who is supposed to bring it up!
A little shocking title, I give you that.
Sir @dimimp had a vision to help have the Steemjet community strong by delegating all of his SP, YES ALL OF HIS SP, towards this project. How many of you can give me an example of another account that has done this? His firm belief in the goodness of people and how they might be community driven was the reason behind this.
When I first came in too, I was super excited by the idea. I spent all my time & effort in drawing people into SteemJet as you can see from one of my recent post about being the person with the highest number of recruits brought into the community. It involved a lot of time and effort as it meant interacting with people and letting them know about the community and what it can do. I invest this time as I believe it justifies the belief @dimimp put in when he made me an SF member. I may not be able to be perfect or do everything right but I got to be doing something for the community was the belief that I had which set me at it.
I have been patiently reigning my thoughts in for the longest time, ignoring things but not anymore. I don't want this community to go astray just because certain people don't live upto the expectations.
There have been a lot of absurd posts making rounds titled "proposals" requesting for funds from @dimimp and the usage of the funds? To buy laptops, creative designing gadgets and so on. I have no doubt that these are required but hey we all have such similar requirements, we do not have to request them from @dimimp. Why don't you all make enough posts with your talents and get them yourself? I require a new laptop as the current one is very outdated, has broken panels around the display, has the bottom right corner dimmed to almost being invisible as the screen had got hit, but these are my problems, personal ones and just because I am a SteemJet SF member does not mean I raise a fund request to @dimimp for this. I post poems & works of fiction bringing in $0.5, collect them, save them and hope to make enough to buy one some day, when I do get enough after paying my bills.
But hey that's no excuse for what's happening here. I have seen many of them posts asking thousands of Steem as funds. Like, seriously?
You are an SF member with delegated SP from @dimimp but you have no "rights" to anything. Even the delegation is due to the kindness that @dimimp as a person is and his vision. Please do not set out to spoil it. Please do not tarnish the already non existent belief of a human in another of his inherent goodness.
I have no problems in anyone using their delegated SP in any way they choose. You must have earned it and would have got the right amount of SP from @dimimp. Spend it any way you choose. Even I do upvote my fav accounts maybe more often in comparison to others as they always appear in your feed. You do what you what with your delegated SP, but my problem here is with the community SP from the accounts of @steemjet & @steemjetcontests being misused.
If I am updated correctly we have over 100+ SF members! All are in different SF levels sure, but their SteemJet related posts from all of these SF members are the same, mind you I am not talking about the personal/unrelated posts but any SteemJet related/tagged posts are to be treated equally. RIGHT?
But no! That's not what I see. A selected few accounts are the ones who draw benefit from this collective SP in both @steemjet & @steemjetcontests account. What makes these posts better than/superior to/ more community driven than the others?
Answer is sadly, nothing!!!
Want an example?
Steemjet community accounts does a 100% mostly on a few selected accounts. Maybe mostly the ones who have the keys to the account or their friends, not sure as I don't know who has these keys but clearly there is a pattern.
An example you ask?
Steemjet community account SP is for posts contributing towards community or should and not personal posts. For personal posts you can use the SP delegated to you from @dimimp and the upvotes from the people on Steemit.

A post about your team performance in FIFA. I love football and watch most of the matches.
Hey , does this deserve a 100% upvote from the community SP when I save seen our people who join SJ discord post links of their hardwork like design, story or photographs and receive just a 1-5% upvote. What's the difference here? Is it the "access to the account keys"?
Another Example, you ask?
Here you go :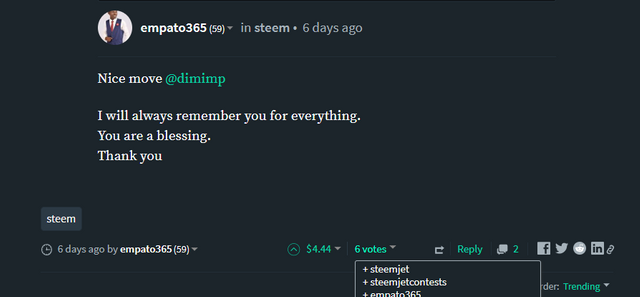 A four sentence comment that somehow deserved a 100% upvote again from our community SP. Justified? Again you want to upvote, do it from your own SP not from the community account.
Want to see more?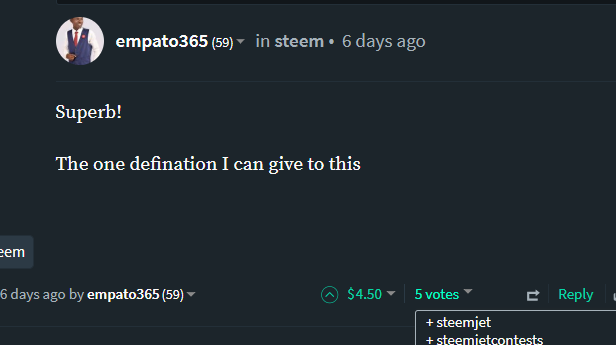 Another 100% upvote on a 2 sentence comment, where there is even a spelling error. Atleast for the spelling mistake the upvote percentage should have been reduced
Another one :
Bigger view on this you ask ? Okay, let's take the 21st of the June, the whole day as an example, these accounted to 80% of the upvotes made that day :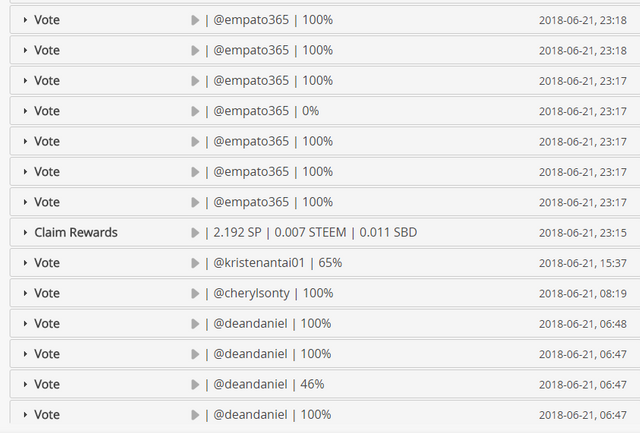 You get to see the number of accounts being voted right? Please do not miss out the VP as well. Seems like maybe only these accounts are worthy enough to be upvoted from all of the 100+ SF members we have, even completely forgetting the fact we have people outside the SF team as well who would be contributing and posting using the SteemJet tag.
"Nice work bro" seems to have been worthy of a 100% upvote raking in around $5 at the end of it all.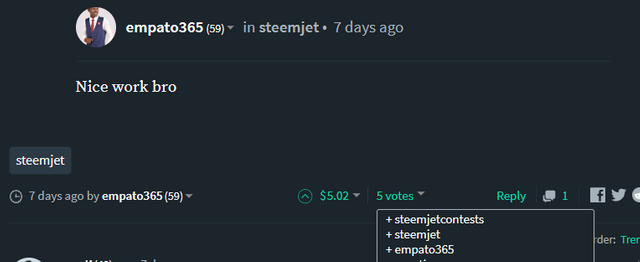 Top 5 accounts to receive the upvotes from @steemjet account :
I won't be surprised if the keys to this account is with one of the below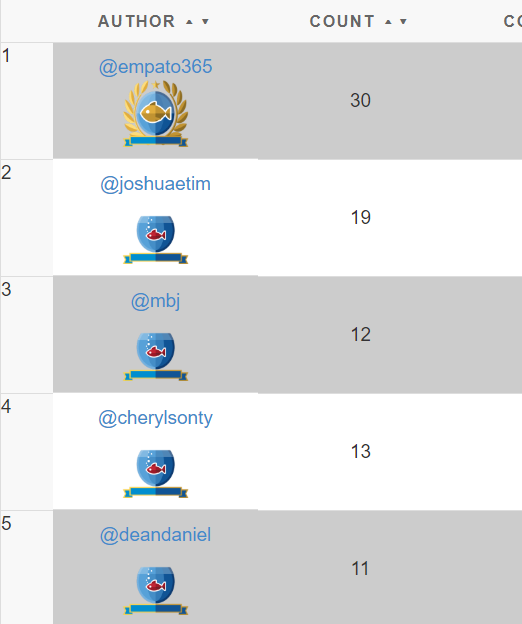 Top 5 accounts to receive the upvotes from the @steemjetcontests account :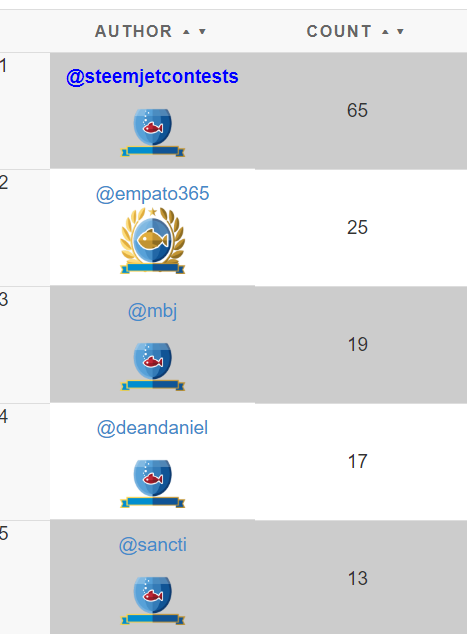 Don't rest on the number of upvotes to dismiss these as if you look into the & value of the outgoing votes, all of the $2 + votes goes to mostly only these accounts and rarely to anyone else.
If @dimimp has kept you as a caretaker of these account, let's not fool him. We need to support the community.
Let's not forget than between @steemjet & @steemjetcontests account the combined SP is over 60K which instead of being put to use for the community is getting abused by the people behind this.
This is a call to all the SF members who are not part of this! I want you all to come forth, stand together and fight this abuse. If any one of you really believe in this community, I need you to support this fight.
I demand this be brought to an end.
Sir @dimimp, I need you intervention to end this! Please let me know if you need any help from my end.
I have nothing personal against any of the account but I believe community funds should not be abused! I want a change, We all keep saying SteemJet to the moon but if you let this continue, trust me we will never get anywhere. Mass adoption of Steemjet? Impossible if newcomers are not getting any help, they will give up and quit, never to return again.
I call forth the true SF members to my support. I want to rally a change. resteem if you can over and over until we bring this to sir @dimimp's notice.