SteemKitchen Recipe Contest 6 (Week 3 : Desserts ): A simple, dark chocolate soufflé, post016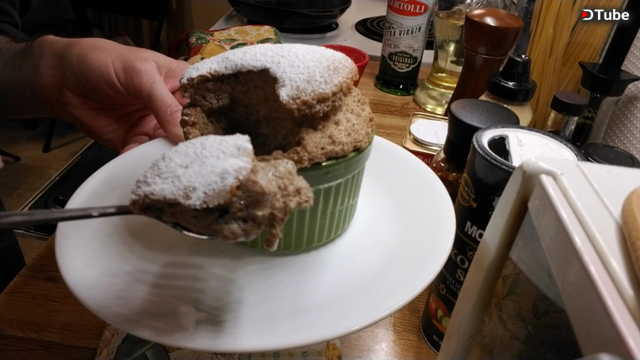 ---
In this video I demonstrate how to make a simple dessert soufflé.
In a previous video I showed how to make the world's simplest soufflé (https://steemit.com/steemkitchen/@spbeckman/e8tkw20x) and subsequently how to improve on it (https://steemit.com/steemkitchen/@spbeckman/x7po0kgf). In these videos I discussed the basic principles for making a good soufflé and how to improvise to make a sweet or savory soufflé.
In this video I give an example of how one can use ingredients from around the kitchen to make a dessert soufflé. In particular I decided to make a dark chocolate soufflé, although it would be just a simple to a different flavored soufflé, for example cinnamon, vanilla, or fruit.
Prep time: 5 minutes
Cooking time: 10 minutes
The ingredients:
3 egg
1/2 teaspoon flour
2 teaspoon water
1 tablespoon unsweetened cocoa powder
1 tablespoon sugar
1/4 teaspoon vanilla extract
butter or coconut oil and sugar to coat soufflé dish
1/2 teaspoon white vinegar to help egg whites
1/4 tablespoon sugar to help egg whites
The instructions:
Prepare soufflé dishes by coating them with butter or oil and lightly powdering with sugar.
Separate the yolk and white from the egg.
Add flour, water, cocoa, vanilla ,and sugar to yolks.
Beat the yolk until creamy and smooth.
Add 1/2 teaspoon vinegar to whites and beat until slightly frothy.
Add sugar to whites and continue to beat until soft peaks form, taking care to stop while they are still on the soft side.
Add 1/3 of the whites to the yolk and stir.
Add yolk mixture to whites and fold together until just mixed.
Fill soufflé dishes to almost the top.
Bake at 400 F for 10 minutes on the bottom rack of the oven.
The result is a very good chocolate soufflé. Please recognize that there is a great deal of flexibility when making a soufflé and you can design your own recipe. Just follow the basic principles and experiment. Remember that ultimately, the results depend on the eggs, the degree you beat them, and the size and shape of your soufflé dishes so regardless you will want to practice this dish prior to serving guests.
Thank you for your time. I hope you enjoy exploring soufflés at home.
---
▶️ DTube
▶️ IPFS