Start for the most easy (basic #foodporn)
Food or dessert that can get you to the ecstasy.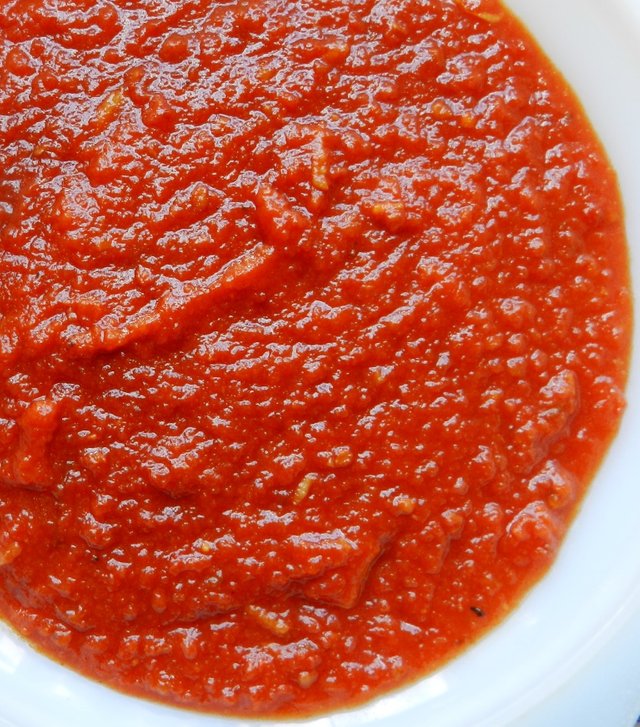 http://saberycomer.com/pizza/salsa-napolitana/
For me the porn food is something that gives you pleasure, that`s why I say "I carry it in my soul". Cooking and eating is to activate all your senses, bringing it to life, with colours, sounds, textures and flavors that can take you out of space and bring you back in a blink of an eye, even remind you any experience you´ve had in the past. Not necessarily has to be an spectacular hamburger, loaded of cholesterol (even though that is also on the menu). It could easily be a "well done" vegetables dish, a nice homemade dessert, a special juice or whatever brings you pleasure.
In this first recipe I´m going to show you something simple but useful and delicious. Just to proof that not only fried food gives pleasure. #Neapolitan #sauce #salsa #simple for #spaghetti's and #pizzas even for #dipping
Ingredients for Neapolitan Sauce
4 tomatoes
5 basil leaves
Some garlic
Salt
Put the tomatoes in boiling water for a couple of minutes or until the skin brakes off, let it cool down, peel it off and cut in brunoises (little squares) grind the garlic and lightly fry in a hot dip pan with a tsp of oil, add the tomatoes and the basil. Adjust the salt and don't overcook, 5 minutes will be enough. If you prefer, you can process the sauce in a blender.
Hot tip: put the basil leaves on your hand and clap on it. This is an Asian technique to activate the flavors of the herbs.
What is this sauce good for?
Take your favorite spaghetti put some sauce on it, parmesan cheese and go for it!

Pizzolines: Take a loaf of bread spread some sauce on it, add some mozzarella cheese and the toppings you like and to the oven for five minutes and enjoy it.

Pizzas: take the dough of your preference, could be homemade or the ones you find in the market, spread some sauce on it, some cheese and to the oven. Delicious!

Let it cool down and dip some chips, while watching a game, movie or favourite series.
masa-de-pizza-margarita-e1516891675440.jpg
https://thebestmultivitaminsupplements.com/i-have-used-multivitamins-in-the-past-they-did-not-help-how-are-the-best-multivitamin-supplements-different
Was that hard enough? Soon I will bring you guys the recipe for the pizza dough. Comment and let me know how did it go, or any doubt you have, feel free to ask me. Cook and enjoy!