SteemKnights - 1000 Steem Launch Giveaway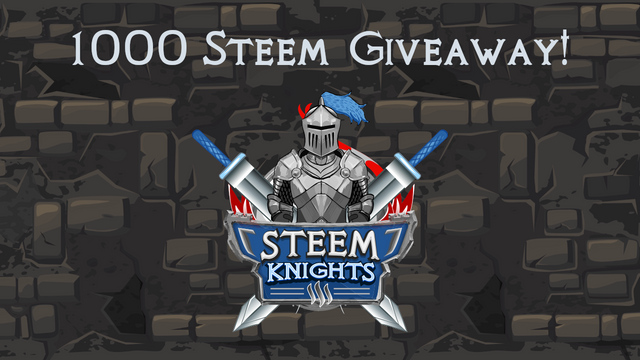 ---
Greetings Lords & Ladies!
Today we have another announcement to make. In our post regarding the rewardsystem we mentioned that SteemKnights is paying a daily payout to the users. ( If you have not noticed yet, do it now! )
For all of you who may have doubts whether it will be worth playing for this, we wanna help you losing those doubts.
What do we have in mind?
---
Well that is simply explained. We want to boost the pot at launch with 1000 Steem of our own. Yes you have read correctly! 1000 Steem for free!
Where is the hook?
---
Actually there is none. It is a gift for all of you who joined us on this exciting journey! But we do not want to pay out the full amount all at once. Rather we will split the payout over the next 5 days after launch. This means you will get an additional amount of 200 Steem every day you are playing. Of course depending on your stake of Knight Emblems.
Why splitting the amount?
We want to split the amount to be as fair as possible and to give every player an equal chance of earning some steem. Whether they had the chance to play from the first day on or not.
So get your referrals and earn as much Knight Emblems as possible to benefit most from this giveaway.
Have fun and Steem on!!
---
For Steem we fight!
---
🚀 Who is fivefingergames GmbH?
🏰 What is SteemKnights?
▶️ Trailer
📜 To the Website
📧 Discord