SteemKnights - How the Rewardsystem works
Hello Lords and Ladies,
we want to give you some more detailed information on how SteemKnights rewards you for playing.
Steemed Battles
---
First of all to clarify some confusion that's been around: You can play SteemKnights completely free.
However you need to understand that we can't create Steem from nothing, so for you to earn Steem you will need to invest some first.
Your main income source will be the rewards from the battles directly. If you defeat an opponent you will receive the waged amount minus a 10% battle fee. (20% of this battle fee will be redistributed to the player with our daily payout, see further below). Additionally to the Steem you will also earn Knight Emblems, regardless of winning or losing.
Btw. we do have fixed lobbies with a predetermined amount of Steem to bet, instead of custom amounts.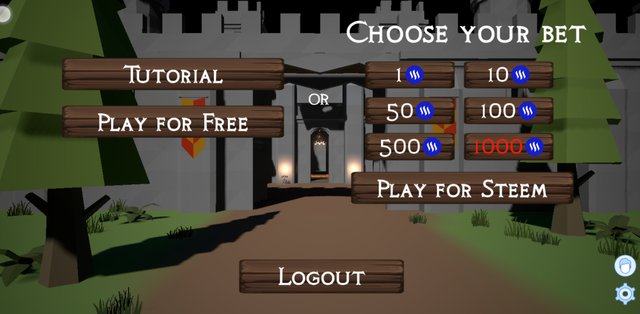 Why predetermined amounts?
We need this for match making reasons.
Daily Payout
---
The daily payout will be distributed according to your loyalty and the amount of Knight Emblems accumulated. It will always be added to your balance at 01:00 am UTC.
What is Loyalty?
---
Loyalty is our system to give active users an advantage over inactive users. For inactive users the loyalty is decreased by 1% every day, while active users will gain 1% per steemed battle up to a maximum of 120%.
What does it mean to be inactive?
Inactivity for us is defined as a day (1am - 1am) without playing a steemed battle.
(We will however not decrease your loyalty if you haven't earned any emblems yet. So you can train as long as you want on the free2play games without being disadvantaged)
What does it mean to be active?
As mentioned above active means to play a steemed game.
What are Knight Emblems?
---
Knight Emblems represent the glory you earned while playing and like mentioned influence how much you will earn from the daily payout.
There are 2 ways to earn Knight Emblems:
Steemed Battles
---
For every Steem you bet you will receive 100 Knight Emblems if you win and half that amount for the loser.
Example:
@mwfiae fights against @cloud925 in a steemed game with a bet of 100 Steem.
@mwfiae loses the fight and receives 5000 Knight Emblems as consolation prize.
Meanwhile @cloud925 receives the full amount of 10000 Knight Emblems.
Refsystem
---
If a player directly referred by you earns Knight Emblems via a steemed battle you as the referrer will earn 10% of the Knight Emblems additionally.
Example:
In the fight above, @mrbandler referred @cloud925 and earned 1000 Knight Emblems.
@cloud925 will still get the full amount of 10000 Knight Emblems.
Also the referred player will get a Queen's Blessing for the first 3 days!
You will find your referral link in your profile on the SteemKnights-Website.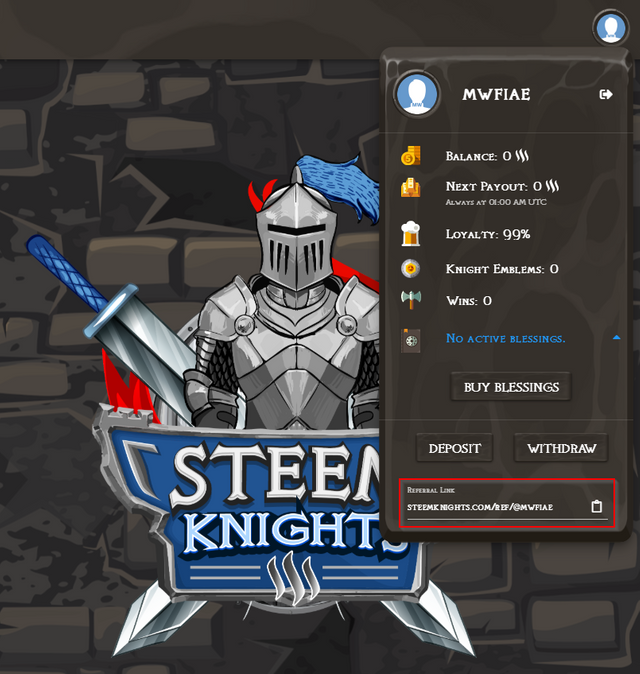 Blessings
---
There also exists a way to increase the amount of Knight Emblems for a steemed fight even further!
These are our Blessings: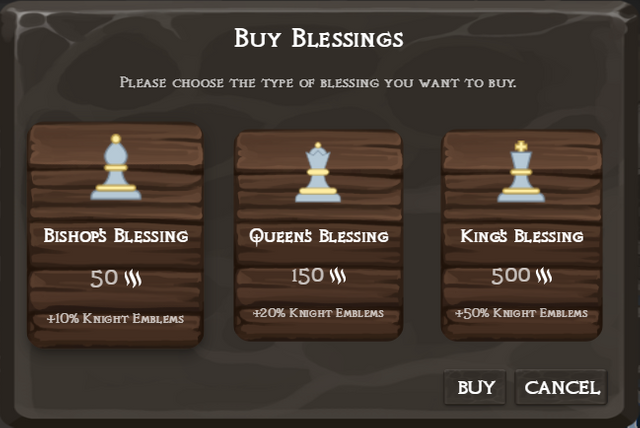 Note that each Blessing lasts for 3 whole days (72h) after purchasing, so it's advisable to use it as much as possible in that timeframe!
Also note that 20% of the Steem you payed will be used for the daily payout increasing everyone's earnings!
Will Blessings stack, what happens if I purchase more than one?
The effects of the Blessings won't stack. Instead if you buy another Blessing it will prolong the time the blessing is effective.
Examples:
If you have 2 Queens Blessings you will have 6 days with a 20% bonus, instead of 3 days with 40% bonus.
If you got 1 Blessing and you already used it for 1,5 days and you purchase another one you will have 4,5 days of blessings left.
Free Blessings
---
First as mentioned above every user who used a referral link to register will get a Queen's Blessing for free.
Secondly every player who pre-registered before the 28th of September 2019 and has deposited at least 5 Steem until 10 am UTC to @steemknights.app will get an additional Queen's Blessing.
Why 2 hours before the launch?
We will process and give out blessing manually and that will take some time 😉
How long will these free blessings last?
Every Blessing will last for 3 days, regardless of whether they were purchased or gifted from us.
What is the formular used for the daily payout?
---
User Payout = User Loyalty * User Knight Emblems * DailyPot / weightedEmblems

What are weighted Emblems
Most of the above should be pretty self explanatory. However the weighted Emblems need a little bit more detail.
The weightedEmblems is the sum of all Knight Emblems from every player times their respective loyalty.
Example:
@mwfiae has 100 Knight Emblems and a loyalty of 100%.
@cloud925 has 100 Knight Emblems and a loyalty of 50%.
@mrbandler has 50 Knight Emblems and a loyalty of 120%.
This means @mwfiae will add 100 (100 * 100%) to the weightedEmblems.
@cloud925 will add 50 to the weightedEmblems.
@mrbandler will add 60 to the weightedEmblems.
That means the weightedEmblems in our example would be 210 (100 + 50 + 60).
Therefore the payout for a 630 Steem daily payout would be as following:
@mwfiae receives 300 Steem. (630 * 100 / 210)
@cloud925 receives 150 Steem.
@mrbandler recieves 180 Steem
---
To sum it all up: SteemKnights is a pretty rewarding game!
If you have any further questions about the game come join us on Discord and we will be happy to answer.
Also don't forget to pre-register and deposit some steem to get your free Blessing from us!
And if you haven't noticed already only 1 more day until our big SteemMonsters-Tournament where the first place will get 300 Steem and we will distribute a total of 620 Steem with no entry fee attached.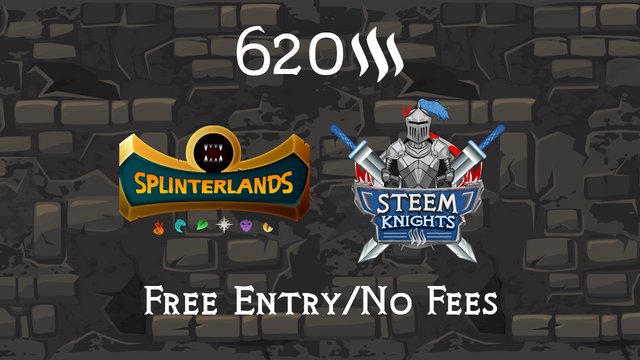 For Steem we fight!
---
🚀 Who is fivefingergames GmbH?
🏰 What is SteemKnights
▶️ Trailer
📜 To the Website
📧 Discord