SteemCity (SIM) Chronicles - Inception.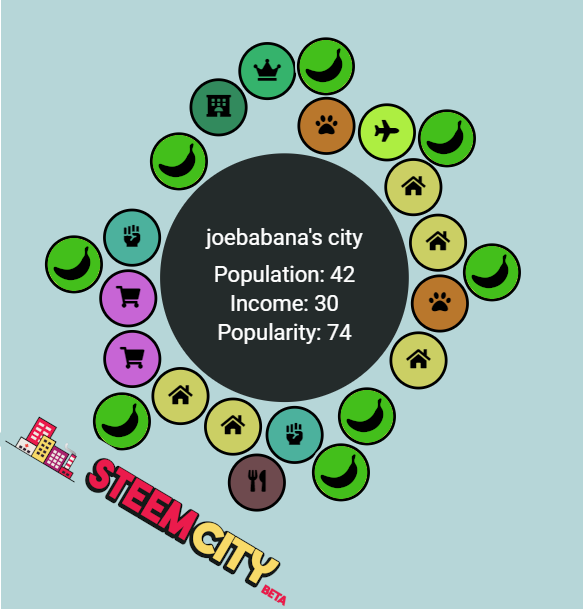 Brand new steem game on the block. Currently in Beta but been receiving some traction from many. A quaint little game with sim-pli-city in mind. Here is an excerpt of the game info, and for more info visit their Game Official Site
Game cards have few basic attributes:

Population: The number of people that live in your city
Income: How much SIM you're earning each day
Popularity: Bonus to Population, For example, a popularity rating of 100 = a 10% boost to population
Workers: To receive income from buildings, you need to have enough people (Population) to work there
Buildings are filled with workers from lowest card id to highest! On web page you can simulate your city by clicking on buildings on the right side - (Green - enough workers, Red - not enough workers, Grey - Off).
Then when you have optimized numbers for your city you can send grey building to another account or market to apply changes to your city.
Players have to strike (buy, trade or auction) a balance of different cards(building) to achieve a quantifiable income in the form of SIM token. Thus, higher income does bring rise to other 'Sim-ingly' problems.
Referral : No incentives for now.

Discord : Necessary for support, updates and socializing. Here Here

Popularity : You'll find some pretty familiar crowd of players (nextcolony, steem-monsters) and some new ones.

Mobile : Nope, using Keychain. Desktop for now, maybe. Ask @gerber again.
It's been raining STEEM lately from the number of transactions going to that account. Further more, there is also an incentive staying in rank for the pooled reward.
What are you waiting for? Sign in with you account, no registration, KYC or AML. Just plain sim-ple fun & possibly rewarding.