DEC - The SplinterLands Stable Coin
As part of my daily routine, I record my income in STEEM & SBD from card rentals and DEC from delegating to the @steemmonsters bot.
And I noticed something interesting this morning: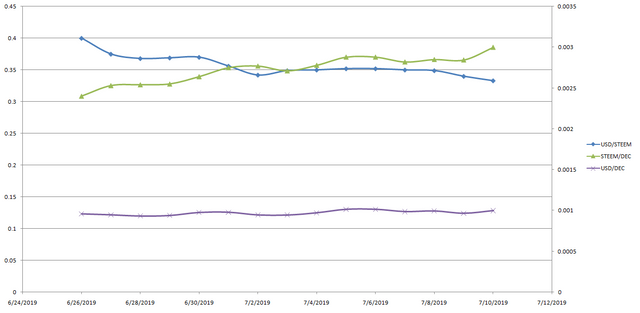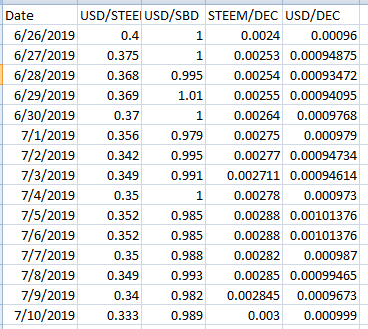 As STEEM has been dropping in USD terms, DEC has been rising. And it has almost perfectly offset each other. DEC has been hovering right around 0.001 USD per DEC. The low has been 0.00093472 and the high has been 0.00101376. That's a really tight range and shows some great support among DEC buyers.
With version 1 of guilds expected to roll out in about a month, the speculation is that demand for DEC will rise. So it may not be so stable once we see what the DEC costs and guild benefits are. For now, there is some steady accumulation.
I know I'm stacking my DEC as much as possible.
This is also a great example of what I was talking about in a previous post on how SCOTs act like a leveraged bet on STEEM. Yes, STEEM is dropping, but my tokens are maintaining.
And what more could you ask for? Rising values?
Edit 6 hours later: Just to prove me wrong, you've all gone and bought some DEC. I have mixed feelings about being shown up and DEC gains lol