NATURAL HOME REMEDY LEMON, HONEY, SUGAR, AND GINGER.
WELL THE OTHER DAY I WAS GETTING A COLD, SO I WAS RESEARCHING ABOUT WHAT IS THE BEST NATURAL REMEDY OUT THERE. I FIND OUT HOW SOME PEOPLE SAID OW GOOD IS LEMON AND HONEY IS, SO I GAVE IT A TRY WELL WITHIN HOURS
I START FEELING MUCH BETTER AND ENERGETIC. WOW IT WAS SUCH A GREAT EXPERIENCE AND I DIDN'T TO KEEP IT TO MYSELF.
HERE HOW YOU DO IT
YOU NEED LEMON, HONEY, SUGAR ,AND FRESH GINGER OR THE POWDER GINGER
ABOUT 16 oz of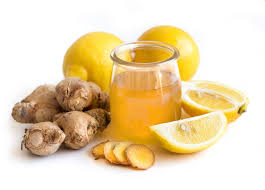 water, 2 lemon, and 2 ginger crush them or 2 table spoon of powder ginger
warm the water, cut lemon squeeze the juice in warm water, crush fresh ginger, or the 2 table spoon of ginger
and add about 2 table spoon of sugar maybe more as desire.
drink it through the day may repeat it again for faster recover remember the ginger make spicy ginger also reduce inflammation so if you have a sore-throat it will help a lot.