membuka booster pack dari steemmonsters
halo steemian dari seluruh dunia kali ini saya ingin berbagi pengalaman saya ketika saya membuka pack setelah menyelesaikan daily quest steemmonsters.
Steemonsters adalah tempat untuk trading kartu yang di bangun di atas steem blockhain. Pengguna bisa melawan player lain untuk meningkatkan point mereka, setiap seoason player akan mendpatkan hadiah baik berupa sbd maupun pack gratis berdasarkan jumlah point yang mereka kumpulkan dalam seoason tersebut. Kali saya akan memperlihatkan kartu yang saya dapat ketika saya berhasil meyelasaikan tugas harian. Berikut kartu yang saya dapatkan.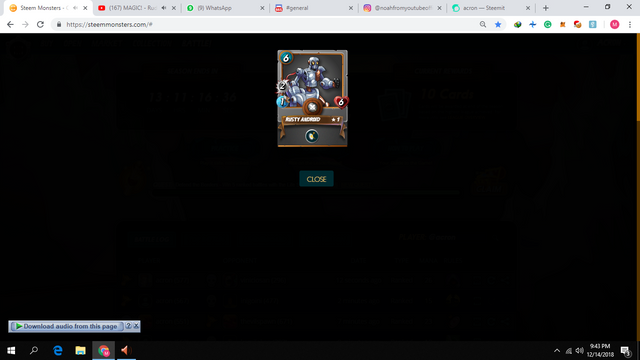 hello steemian from all over the world this time I want to share my experience when I open the pack after completing steemmonsters daily quest.
Steemonsters is a place for trading cards built on steem blockhain. Users can fight other players to increase their points, each seoason player will get a prize in the form of a free sbd or pack based on the number of points they collect in the seoason. Next time I will show the card that I got when I managed to complete my daily assignments. Here's the card that I got.