A full day of Steem Monsters Tournaments Tomorrow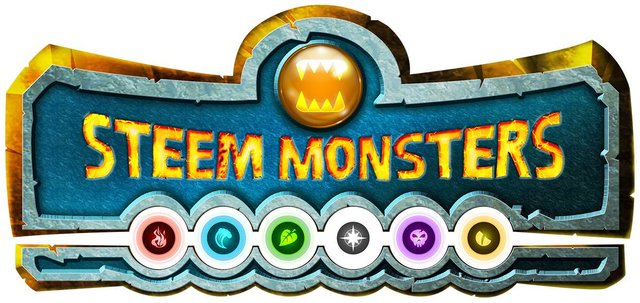 I had an error on the signup page of the 1000sbd tournament, and very few people could sign up. So, I adjusted tomorrow's tournament into several tournaments. Then I realized we fixed it later in a different link and had 40 people signed up. So, now the final plan is to host tournaments practically all day. The big one is 1000 SBD. The littler ones are 50-300 Steem or some max summoners!
You can see the tournament calendar here: https://teamup.com/ksqichvsz7xg679hhr
The tournaments I'm running- all times here listed as EST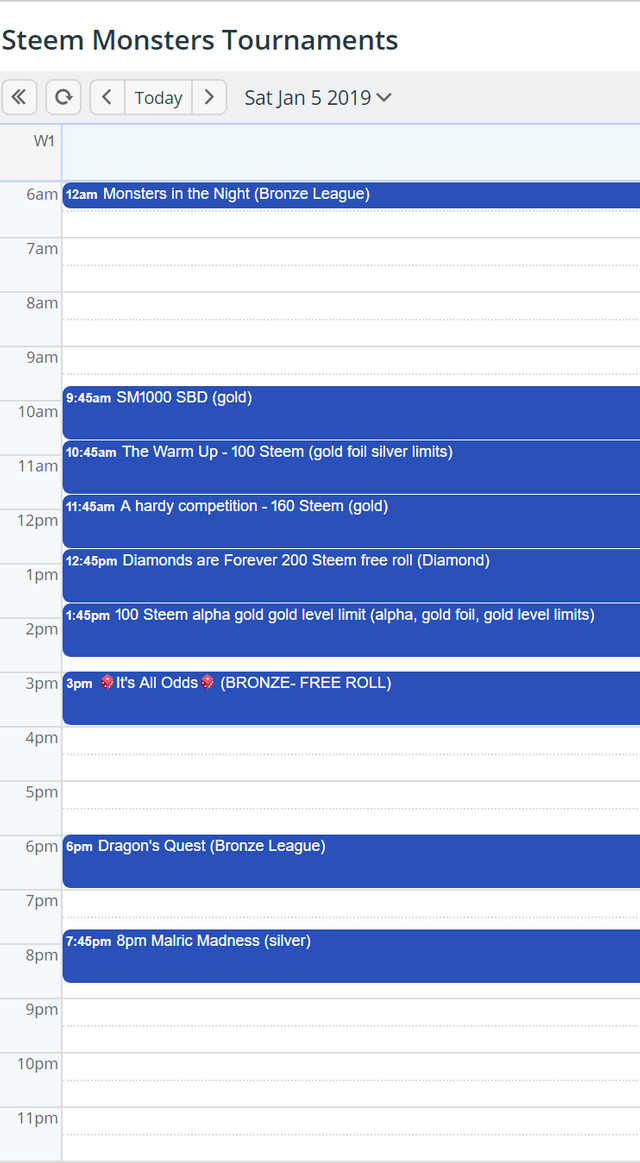 1000 SBD 10 am GOLD LEVEL LIMITS
50 steem 11 am GOLD FOIL SILVER LEVEL LIMITS
160 steem 12 pm GOLD LEVEL LIMITS
200 steem 1pm DIAMOND LEVEL LIMITS
100 steem 2pm GOLD FOIL, ALPHA ONLY, GOLD LEVEL LIMITS
MAX SUMMONERS 8pm SILVER LEVEL LIMITS
CHECK IN
All of my tournaments should be set up with a 15 min check in time. Show up 15 min early. Log into challonge, click into the right tournament and click the button for "Check In"
FEE
These tournaments don't have a fee, but I'm making it so if you want to get paid you have to message a friend or social media group about Steem Monsters specifically to try to recruit players. So, there's zero financial cost. The fastest way to moon is to get more players so let's all work on that as a group.
Others
Two other tournaments at 3pm and 6pm
https://challonge.com/tournaments/signup/pauCpRWXiP - 3pm
https://challonge.com/dragonquesttournament - 6pm
Tournament Automation
We're aware it's not ideal to have to use teamup.com for a calendar, discord for a place to talk, challonge as a place to coordinate, and steemmonsters as a place to play. The first round of automation should be available by the end of January. We'll make do with a somewhat inconvenient process until then.
Tournament Basics
Teamup is where you go to see the schedule of tournaments
Challonge is where you can register for a tournament. The bracket is formed on a first come first serve basis. Signing up early is important because you're more likely to get a bye (a first round match with no opponent), which pushes you closer to receiving money.
Discord is where we communicate about matches. There are multiple discord rooms that could be used-
PALnet- this is where I'm hosting and streaming some of the larger tournaments
Steemmonsters Discord - if you ever have questions it's always a great place to go to ask them
Steem Monsters Tournaments Discord - We host many of the tournaments in here
A partner Discord - groups that host a tournament and want to use their own discord to attract people to it.
Checking in. In order to help the tournament move along we ask players to check-in. Log into Challonge 15 minutes before it starts, go to the right tournament link, and click "check in." This makes sure that all the players that said they'd play are actually there.
Tournament info
In a well organized Discord there are a few rooms you can use. Not all will have these, especially partner discord rooms, but in general look for the following chat rooms-
Tournament basics will show the info in this post as the general guideline to tournaments
Tournament info will give you the specifics of the particular tournament you're in
Tournament General will allow you to coordinate
Tournament Questions will put you in touch with the coordinator
Results Disputes is where you can go if someone screwed up in challonge and the brackets are wrong
Best of X
When in the tournament all of the matches are "best of 3" which means that players will play up to 3 matches against the same opponent. The winner in this case is the first to win 2 matches.
Reporting Scores
If you win 2 of the 3 matches you can SELF REPORT the scores in Challonge to move forward. Please make sure to indicate the overall match score. If you won 2 matches and your opponent won 1 match you should report that in Challonge! To report scores hover over your bracket and you'll see an edit icon appear. Adjust each players number of wins in the round and if it's the final reporting then also make sure the right person's name is highlighted in organge to indicate they are the winner of that round.
If you're updating individual match scores (which is ok) make sure that no name is highlighted. If a name is highlighted Challonge will think that player already won. Just set the score 1-0 and unclick the name so it isn't highlighted in orange and then it will show that you won 1 challenge match in Steem Monsters, but you haven't won the overall best of 3 match yet.
Complete ties: If two players have the same level cards, use the same summoner, and put monsters in the same over you should replay that match no matter who the Steem Monsters determind to win. If the match is similar but not exact than the Steem Monsters determination is accurate.
Normal Draws: If two players have a match where all monsters die in the same round then you should ignore that result and play a rematch.
Coordination
Coordinating matches is still a little tricky. To simplify things please make sure all your names align.
The Steemmonsters.com username you use should be the same as your challonge name should be the same as your discord name. If you look at the bracket and see your name below your opponent's name you should send a challenge match to your opponent through steemmonsters. If you have difficulties for any reason send a message to the coordinator and to your opponent to try to get the match system working.
You should try to connect with the player on Discord to make sure the matches get coordinated. If a player flees and hasn't communicated with you we'll count that as a loss for an entire round of the tournament. If they are talking with you then you should be able to cancel and resend the match. If you send a match to a player's account you know is good and they don't fight and instead flee they lose the entire round as we'll assume they are no longer playing or no longer have internet. If you think it's a blockchain error make sure you take a screen shot that show's "error pushing block" or something similar if you hope to stay in the tournament. Either way communicate with the tournament host.
Controlled Chaos
Decentralized Tournaments, especially in the first round are very chaotic. The chat moves very fast as there are often 100+ people there. You don't need to worry about the whole tournament. Just focus on your next match. Report the accurate scores, and then move on. If you make a mistake message the coordinator. Otherwise take a deep breath and try to relax even though it's stressful.
Keep moving
Unless told otherwise keep trying to play matches to the best of your ability. If you see that your next opponent has finished their last match and are ready get the match started! If everyone is moving we can keep these relatively short. So, keep fighting your next opponent. If the bracket seems stuck please message the coordinator to resolve an earlier round that might be causing trouble.
Single vs Double Elimination vs Round Robin
There are a handful of tournament types available through Challonge. Single elimination means that if you lose one best of 3 match that you're out of the tournament entirely.
Double Elimination means that if you lose a best of 3 match you'll be sent to a second bracket, which is below the first bracket which you can find by scrolling down on challonge.
Round Robin: This is a system where everyone plays lots of matches. You dont' get eliminated for losing. You keep playing all of your opponents in all the rounds, and the match will be gauged by who had the most and best wins. in this case it's exceptionally important to keep track not only who won a match, but also who had the best record. A player that wins 16-0 will be ranked higher than a player who wins 16-4. So, in challonge be sure that not only who wins the bracket is accurate but also the individual match record is accurate.
Leaving Early
If you have to leave before you can complete the match please let the coordinator know, and also mark your brackets as a loss before you go.