It's time to pick the first winner! Then we'll celebrate with another MASSIVE GIVEAWAY!
The time has come! This is the end of the first of two identical giveaways! It's time to choose our

Will it be you? Did you complete your entry correctly? Unfortunately, a few of you did not. Out of all the entrants, only 5 or 6 ended up missing a step or guessing a previously chosen number. I was busy this time around and wasn't able to keep up with all the entries as well as I would have liked to so I let a few of the same numbers slip by in the comments. For example, @hazem91 was the last of 3 people to guess the number 3333. @annaolmos was the first, and @reconnectnature was second in line. I blame myself for this little mishap and I do apologize for not mentioning that you should double-check and make sure you are the only person who has guessed your monster and number.
An easy way to do this is to use your browser's search or find function. Every browser is potentially a little different so you may have to do a little searching but it's usually pretty easy to find. If you have Google Chrome, you can click on the three dots in the top right hand side for the menu.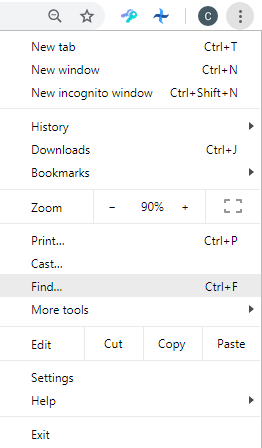 Once you click on the find option or press CTRL+F you will see this search box pop up in the top of the screen. This is a very handy tool and I use it all the time for things like this, you should too.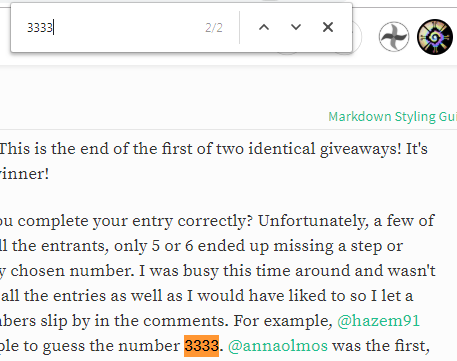 Now that you know, you are much more prepared for this giveaway!! So let's pick our winner and start the final round!
To keep this as fair and transparent as possible, I have yet again sent @yabapmatt a DM on Discord, asking him to pick the number.

DRUMROLL PLEASE!
The winner of this FULL SET of 1ST EDITION ALPHA Steem Monsters, is......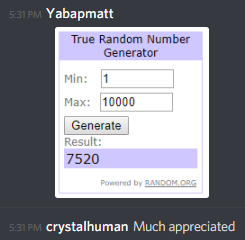 @darthgexe with the guess of 7523!! Congratulations!!!! You were only a few numbers away from guessing the exact number!
I'll start sending your cards over to you here in just a few minutes :)
Are you guys ready for the next one!?
The rules are the same as last time, so be sure to pay attention!
The image below shows the cards you will be receiving, should you be the winner. You will receive one of each card that was produced as an Alpha Edition, and will never be reproduced ever again! This is truly one of your "last chances" to scoop up some of these cards, so don't ignore it!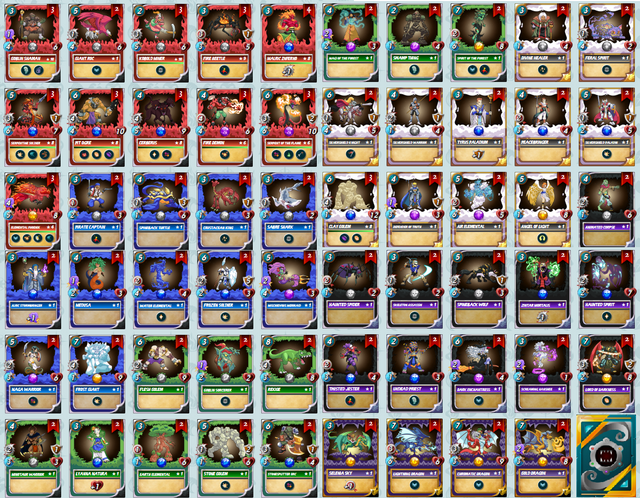 The last card is the key in this picture. The way you will win this giveaway is by perfectly guessing which card is flipped over.
The flipped card is potentially ANY card! Alpha, Beta, Promo.
Your guess must be exactly right to win. For your guess to count as an entry it must be look like the examples below. Please note, there is a number with each entry and that is because I would also like for everyone to pick a number between 1-10000
Examples of acceptable entries
Example #1. Regular Alpha Edition Malric Inferno 9419
Example #2. Regular Beta Edition Raging Impaler 1300
Example #3. Gold Foil Alpha Edition Lyanna Natura 420
Example #4. Gold Foil Beta Edition Grumpy Dwarf 1101
Example #5. Regular Promo Shin Lo 3456
Examples of entries that will NOT be accepted.
Example #1 Gold Beta Crabby 23 <-- Unacceptable :P
Example #2 Regular swampy alpha 1 <-- Unacceptable :)
Example #3 42 Golden beta snekkie <--- Unacceptable. :D
What happens if nobody guesses it correctly?
That's why I had you pick a number between 1-10000. If nobody guesses the card right by the time this post pays out in 7 days, I am going to randomly select the winner with a Random Number Generator.
How do you know I'm not lying about who the winner is?
Right after I make this post live on the blockchain, I'm going to DM an image of the card that I choose to @yabapmatt on Discord, so that he himself can keep a record to prove that I am not attempting to cheat my own giveaway :D
Once the correct card is guessed, I will upvote your comment and verify that you have guessed correctly and that you have indeed won a full set of Alpha Edition Steem Monsters!
Any questions? If so, you can comment below or hit me up on Discord and I will explain it better so you know exactly what I expect you to do.
Did you know Steem Monsters has gift cards now? Click the image below to buy one now!
Do you love Steem Monsters as much as I do?
You can help, without buying a single thing.
All you have to do is
and
Then
Follow Me!
Your favorite human.

If you decide to upvote and resteem this post, make sure you let me know in the comments and I'll send you a free Steem Monster!