A review of peakmonsters
Today I would like to make a review of the site https://monsters.steempeak.com/
Features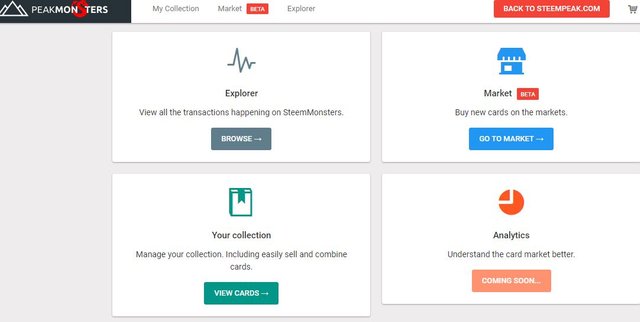 Active functions of the site are the
explore
function which allows you to browse the history of what is going on. You can narrow it down to user names or just a specific kind of card (gold legendary ) and you can see the transactions that have happened on that specific name or card type.
market
This allows you to buy, sell, or trade cars on the open market. Seems to be a fast-moving part of the site the little bit I got to play with it.
your collection
This allows you to manage your personal cards and you can divide it up into any category you like. ex: fire, water, legendary, gold.
inactive feature- analytics
This part is not up and running yet but when it is it should help everyone get a better grasp of what is going on with the market much like what you would find on binance or bittrex with charts to show price increases or decreases in real time.