25 FREE STEEM MONSTERS BETA BOOSTER PACK GIVEAWAY!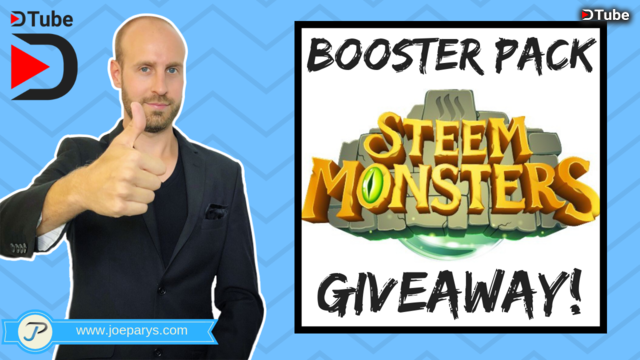 ---
Are You READY To Win 5 Steem Monsters Beta Booster Packs For FREE!? Click the video above to GET IN THE GAME TODAY!
So... How Do You Win The Booster Packs?!
5 Lucky winners are going to win 5 New Steem Monsters BETA BOOSTER PACKS!
YOU MUST FOLLOW ALL OF THE RULES BELOW IN ORDER TO WIN!
ONLY 24 HOURS LEFT TO PARTICIPATE!
First... UPVOTE THIS POST!
Second... RESTEEM this post to spread the word of STEEM MONSTERS!
Third... COMMENT BELOW and tell me why YOU should WIN the 5 FREE Packs! Have fun, be creative, and show your support TODAY!
Also... Make sure to Follow me @joeparys for more FREE STEEM MONSTERS GIVEAWAYS in the near future!
I will be announcing the winners within the next 24 HOURS so make sure to follow the rules above before it's too late!
Check out the Steem Monsters official website and use my new affiliate link to get started!
https://steemmonsters.com/?ref=joeparysacademy
***You must have the starter set in order for me to send you the 5 booster packs! Anyone who does not have the starter set will forfeit their chance to win! I am not responsible for the cards you receive in your pack! You take 100% responsibility for everything by participating in this contest ***
Want to learn more about Cryptocurrency?
Enroll in my bestselling Cryptocurrency courses today for only $9.99!
STEEMIT 2.0 MASTER CLASS VIDEO COURSE:
https://www.udemy.com/steemitcryptocurrency/?couponCode=JPACADEMY9
How To Buy Bitcoin For Beginners!
https://www.udemy.com/buybitcoin/?couponCode=JPACADEMY9
Join the Joe Parys Discord server: https://discord.gg/U2QqET
If you enjoy these videos would you please SMASH that Like, Upvote, and Subscribe button to show your support!
PLEASE UPVOTE, LIKE & SUBSCRIBE! Thanks for watching :)
Follow me:
Website: http://www.joeparys.com
Udemy: https://www.udemy.com/user/josephparys/
Steemit: https://steemit.com/@joeparys
YouTube: https://www.youtube.com/channel/UC8g_o_0wHJUsp67lJA69yhg
Instagram: @JoeParysAcademy
Click the BELL ICON to turn on my post notifications!
LETS REACH 50,000 FOLLOWERS TOGETHER! ☺
Results may vary, nothing is guaranteed, you are responsible for your actions
---
▶️ DTube
▶️ IPFS