A ShoutOut To All High Level Deck Steemmonsters Players
You got to admit it: the first edition of the 'Novice' tournaments today was a big joke.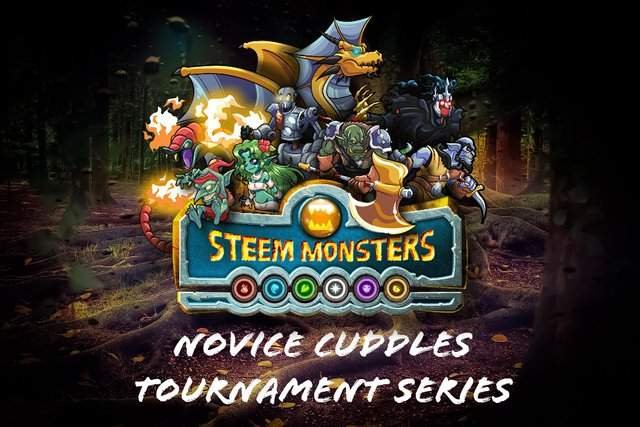 Source
Unfair
Today, the first of a series of @steemmonsters tournaments for novices took place.
In the announcement post you could read the following paragraph:
This tournament is specifically meant for players who do not have a lot of funds to spend on cards or who have just recently discovered this addictive game which has us all hooked. This is your opportunity to get some liquid funds to spend on the market and level up your cards!


However, when looking at the list of participants, there were ony few novices to be found. What caught my eye was the long list of well-known, big players who were all playing at least Diamond league.

The Last Chance
Initially, I did not want to sign up, but seeing so many top players entering, I saw only one opportunity to get the prize money to the people who deserved it: I joined with the intention that in case I would win any prize money, it would be distibuted among the people who could really need the financial support if they ever want to grow their deck.
Unfortunately, my level 6 deck didn't make it past the first round...
I hope you are starting to see my point...

Differences
Let's be honest here: if you are telling yourself that everyone has the same chance of winning when all cards are capped at level 1, you are lying to yourself.
First of all, there is something like experience. It seems like a lot of people forget that there are new players coming in daily. These are people without a lot of experience. Those of you who are playing in the top leagues- myself included - have been playing for weeks.
This difference in experience alone makes it unfair to join a tournament that is meant to give low level deck players a chance to grow their account.
But there is more...
All you top players own a complete deck: all epics, all legendaries, and of course a maxed dragon set.
I've been giving away starter decks I paid for myself to people who couldn't even afford to buy one. If they can't afford a starter deck, how on earth would they have the money to add for example a Hydra to their deck - let alone some dragons?
That's the second reason why this whole thing is unfair.

Is It Goodwill? Or A Promo Stunt?
When I first read about the Novice tournaments, I was delighted. Finally someone who was willing to look after the little guys.
That feeling changed when I found a personal invitation to join the tournament in a Discord DM, sent to my strongest alt account.
That's the moment I started to get suspicious...
If you genuinly care about the smaller accounts, and want them to be able to grow their decks, what's the use of inviting a level 6 account that has already won a couple of silver tourneys and got pretty far in some Gold level tourneys?
Maybe I'm missing something here, but to me, this doesn't feel like a logical action...

Tomorrow's 'Novice' Tournament
Curiousity is my middle name, so I couldn't keep myself from taking a peek at the list of participants who signed up for tomorrow's 'Novice' tournament.
I don't think the screenshot below needs to be explained. you can judge for yourself: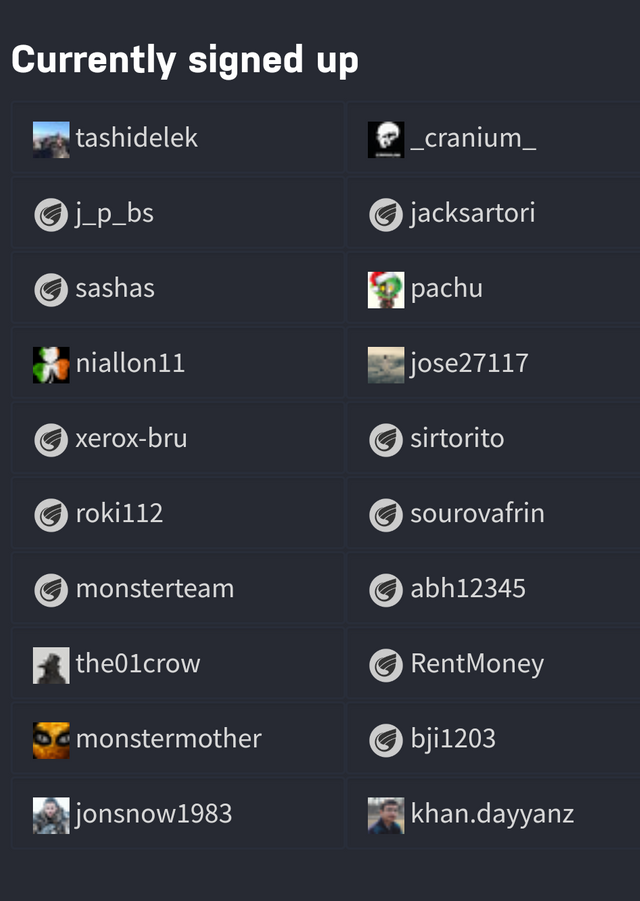 Most people on that list are the same people you see on the lists of silver and gold tourneys, and they are by far not the people who are supposed to be benefiting from this tournament series.
Which new player, with a probably incomplete level 1 deck, would ever be able to beat people like @the01crow, @cranium, @abh12345 or @rentmoney - just to name a few?
Right. That's exactly my point...

My Suggestion
I know these tournaments offer good prize money. And everybody knows that when there is money involved, people tend to behave at their worst.
How about this for an idea:
Let's stay true to ourselves and take a step back. There will be plenty of other tournaments that will pay out a good sum of money. Tournaments in which beginners don't stand a chance.
Are we really willing to take away their chance to grow their accounts? Just because we want to squeeze every penny out of every tournament?
Those of us who live in the so called first world have the luxury to take everything for granted. $10 for a starter pack, and a couple of hundreds to grow our accounts. We don't even have to sacrifice anything to get that high level deck.
But what about all those people living in countries like Venezuela, India and other countries that are not as rich as ours? Don't they deserve a chance? Don't they deserve to have fun and play @steemmonsters with a chance on growing their deck?
From what I've seen today, you don't seem to think so. I truly hope I am wrong about this.
So here's what I'm going to do:
once I finished this post, I'm going to unregister myself from every 'Novice' tournament in the series.
And I genuinly hope that all players who don't really need the money to be able to complete their single level 1 deck, or maybe create a level 2 deck, will follow my example.
I'm not that naive to think I will be able to change your minds. But the least I can do is try.
Because, like it or not, taking away the chances of the less fortunate because we are greedy, isn't going to benefit the game at all.
In order to stay motivated, and to keep playing, people need to have the idea they can make progress somehow.
By taking over every 'Novice' tournament with our extra experience and extra cards, will demotivate people with incomplete or low level decks to join. Why should they? There's no way they can win.
If I only hade a level 1 deck and would look at the people who registered, I wouldn't even bother anymore... and if this would go on and on, I'd probably stop playing. Without the idea of being able to grow your account somehow, even if you don't have cash to spend, it is all pretty useless.
I hope from the bottom of my heart that a lot of you are willing to understand my point of view, and are prepared to let the 'Novice' tournaments to the novices.
Would it really feel like a victory if your experience and amount of cards would keep someone else who could really use the money from getting it?
My decision is final. and I do hope the 'Novice' tournaments will reach the goal they are meant to have.
Aren't we supposed to be a community in which we take care of each other??

Graphic created with The Logo Creator Software

Subscribe Ro RSS Feed | Subscribe To Newsletter