Announcing the Kickstarter Legendary Summoners!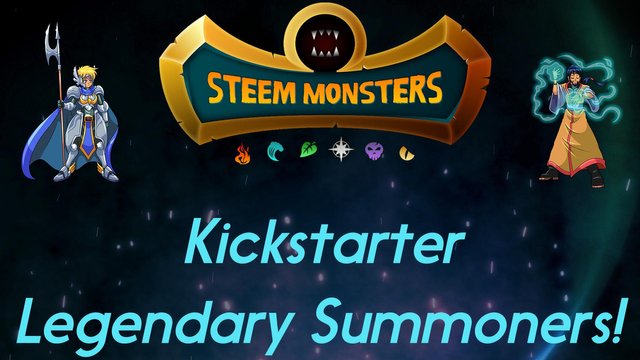 You may remember that our Kickstarter campaign launched back in September included a "YOU ARE LEGENDARY" reward tier that allowed up to 5 backers to design their own Legendary Summoner card to be included in the game.
It took some time, but we are excited to announce that the 5 new Legendary Summoners, one for each of the 5 primary Splinters, have been designed and are ready to release into the game!
In this post we announced that if less than half of the Beta edition booster packs were sold (450,000) by the time that the new Summoner cards were ready, we will air drop them to players based on the number of Beta edition booster packs they have purchased and then include them in new packs purchased going forward.
Since currently less than half of the Beta edition booster packs have been sold, that's what we're going to do! More details below.

Shut Up and Show Us the Cards!
Without further ado, here are the new Summoner cards: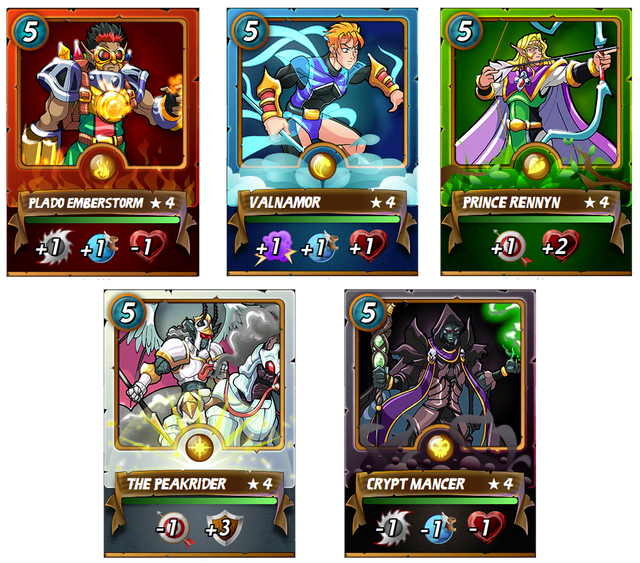 As you can see they all cost 5 mana and have some pretty significant stat buffs for friendly Monsters and/or debuffs for enemy Monsters. Our hope is that these new additions feel "Legendary" through their strong stats while still being balanced due to the higher mana cost. Ideally, in mid-range mana cap battles, it will be a very tough decision whether to use a new 5-mana summoner or one of the older 2 or 3 mana summoners and have some extra mana to use for the Monsters.

Airdrop Details
All Beta edition pack purchases made prior to block number 30,000,000 (which should occur around 11 AM ET, Saturday, February 2nd) will be eligible for the air drop, and the hash of that block and the previous block will be used to seed the random number generator for the air drop.
The airdrop is based on what would have happened had these summoners been included in the set since the beginning. So, for each pack that was purchased since the beginning of Beta, we will do a random roll (based on the block id of block #30,000,000) to see if you would have gotten one of these cards. If you would have, then you will receive one in the airdrop. It also has the same 2% chance of being gold foil just like normal.
If you'd like to get in on the air drop, make sure you purchase packs over the next week before block 30,000,000! Please note that after the airdrop these cards will be added to the Beta edition set so they have a chance to be found in any new Beta edition packs purchased from that point forward just like any other card in the set.
It will take some time after that block passes to actually award the air dropped cards due mostly to limitations around custom JSON operations on the blockchain, but once it's done you can log into steemmonsters.com and you will see a gift notification if you received any of the new Summoners!

Thank You to Our Legendary Supporters!
We want to take this opportunity to give a huge shout-out to our "Legendary" supporters who worked with us to design these awesome new cards:
Each of them will be receiving both a regular and gold foil version of the card they designed as part of the Kickstarter reward.

Thank you for your continued support!
Steem Monsters Contact Info: