Splinterlands Development Update: Private Tournaments, Asynchronous Tournaments, Languages, Guilds, Mobile App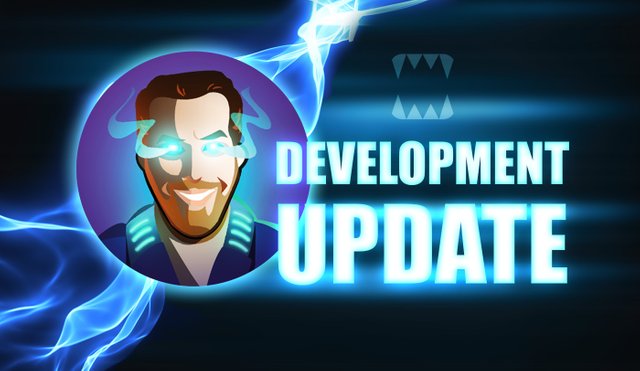 Since completing the first round of the First Ever Security Token Offering on the Steem Platform we have been able to grow our team and start to increase the pace of development. We plan to start posting regular development updates on our blog so everyone can easily stay up to date on what we're doing and get a glimpse of what cool new things you can look forward to encountering in your journeys through the Splinterlands!
Just Released
As of earlier today, we have just released the following new features and improvements:
Private Tournaments
There is now the ability to create private, password-protected tournaments! This has been a heavily requested feature since tournaments were first released, but it was a little more complicated to implement than you might think in order to do it in a decentralized manner.
Since every transaction in the game must be published publicly to the Steem blockchain and be independently verifiable, we needed a way to both set a password for a tournament and allow players to prove that they know the password without ever publishing the password to the blockchain (otherwise everyone would be able to see it which wouldn't make for a very good password). Additionally it needs to work in such a way that anyone can independently verify that each entrant knew the password without relying on our centralized servers in any way.
Luckily for us, this is already how the Steem blockchain works! Every time you publish a transaction to the Steem blockchain, you are proving that you possess the private keys for your account in a way that's verifiable by anyone and without ever having to publish those private keys.
So, when you create a Splinterlands tournament with a password, it uses the password to generate a public/private key pair, just like a Steem account's master password does, and publishes the public key along with the tournament creation transaction.
Then when a player wants to enter the tournament, they must use the password to generate the same key pair and sign a message with the private key. This signature is then published along with their "enter tournament" transaction and that allows anyone to check and verify that the published signature was signed with the private key associated with the published public key for that tournament, which is only possible if the player possessed the correct password.
Of course, as a player you don't have to know or care about any of this. When you go to enter a private tournament you will be prompted for the password and when you enter it all of this will happen automatically behind the scenes for you.
Steem Engine Tokens in Tournaments
Another heavily requested feature for tournaments was the ability to use custom Steem Engine tokens (Scot) as both entry fees and as prizes and have them handled in an automated fashion just like how STEEM/SBD/TRX/DEC work.
We're happy to report that this feature has now been added, and will be available for a select list of Steem Engine tokens. The first token that has been added is the PMT (Peak Monsters Tournament) token which the PeakMonsters team will be using to run their own tournaments and will also serve as an initial test of the new feature.
Once PeakMonsters has run a few successful tournaments with their token we will start to add some of the more popular tokens on the Steem Engine platform. If you have a token you would like to have added please contact @yabapmatt on Discord.
Accessibility Updates
We have made some updates to the website code to make it easier to navigate with the use of screen reader software which is used by the visually impaired. Special thanks to @nextgen622 who helped identify the issues and worked with us to fix and test them.
In Progress
The following items are currently in the process of being worked on by the team. Please note that some of these items are still in the early design stages and features can often change significantly from the original concept to the final implementation.
Multi-Language Support
This is a project that feels like it has been going on forever. The issue is that every time we finish up a round of translations, we've released a whole set of new things that now need to be added!
The good news is that we are almost completely caught up and we expect to release multi-language support for the website including translations into both Korean and Chinese (simplified and traditional) as early as next week!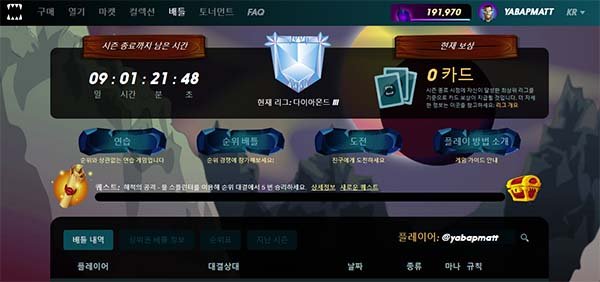 Once that is out and working we should be able (and plan to) add a number of other language options relatively quickly. We hope that this will help the game expand more easily to different parts of the world and attract many more players who will be able to experience the Splinterlands in their native language.
We want to give a special thank you to @stoodkev who has done the majority of the development work to replace all of the text on the entire game website with the translation library code, and to @dakeshi who has led the Korean translation efforts.
There are currently over 15,000 words on the website which require translation, so that should give you some idea of the large scope of this project!
Asynchronous Tournaments
With the help of @jarvie (of Steem Peak and Peak Monsters fame) we have begun to design the mechanics for asynchronous tournaments.
An asynchronous tournament is one where players can submit their teams at any time over a 24 or 48 hour period, at their leisure, and then the battles will be automatically played out whenever both teams have been submitted even if both players are not online at the time. This is in contrast to the current, live tournaments where all players have to be present and active at the time the tournament starts and for the remainder of the time they are still active.
We don't yet have a timeline for when this might be ready for release since we're still in the design stages and there are a lot of details that need to be figured out, but we wanted to let everyone know that it's on our radar.
Guilds
Our newest team member and developer, @jftactual, has been hard at work building a first version of the "guilds" system in the game which we expect to release within the next month or so.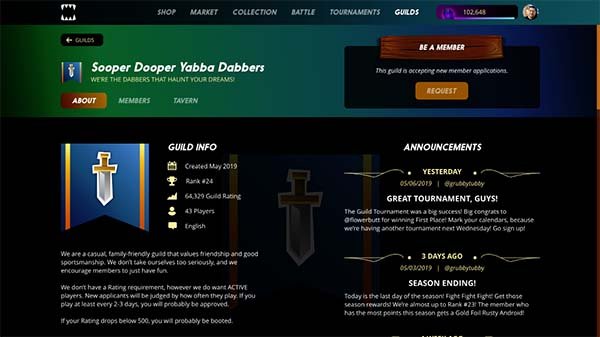 The initial version will be very basic, allowing people to create and join guilds, assign roles to guild members, chat in-game, and see a leaderboard of all of the guilds based on the sum of the members' current ratings.
We then plan to build very significantly on top of that base to allow guilds to "level up" and earn bonuses and/or rewards for all of their members, to participate in guild wars which we envision to be a type of asynchronous tournament between two guilds, and much more!
Keep in mind that all of these features will likely require the spending of a significant amount of Dark Energy Crystals, so make sure you stock up so that you're ready to go when the changes are released!
Mobile App
We are extremely excited to report that the amazing @nateaguila is hard at work designing the Splinterlands mobile app and development is slated to begin in July. Once we get further along with the designs and development details we should have a better idea of when it might be available to players.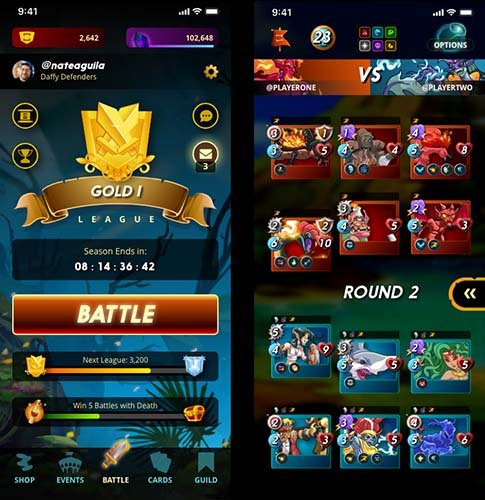 Our goal is to make it available as an app in both the iOS and Android app stores, as well as through any mobile web browser. We think this will be an extremely important step in making the game available to many more people around the world and significantly growing the player base and demand for the limited supply of cards.

Stay tuned for more updates from the Splinterlands!
Steem Monsters / Splinterlands Contact Info:
Steem Monsters / Splinterlands Blog
Steem Monsters / Splinterlands Website
Steem Monsters / Splinterlands Discord
Steem Monsters / Splinterlands Telegram