An unfortunate day of a Steemmonster veteran
I am a bit unhappy about the current state of the game "Steemmonsters".
At the last tournaments I had two bad experiences:
I was in the semi final against @bji1203, which was a Bo4!
We already played 6 games and therefore the 7th was a deciding game.
At the same time another tournament started, my opponent in the 1st round was no less than @glory7. A player I appreciate and respect very much.
So I had to play 2 games at the same time. But the 7th game against @bji1203 didn't happen because the website was idle. I reloaded the page several times, but it was like a space loop. In the end I got "wombykus fled the battlefield" as the final result. That was a very bad experience for me, especially since I like the game.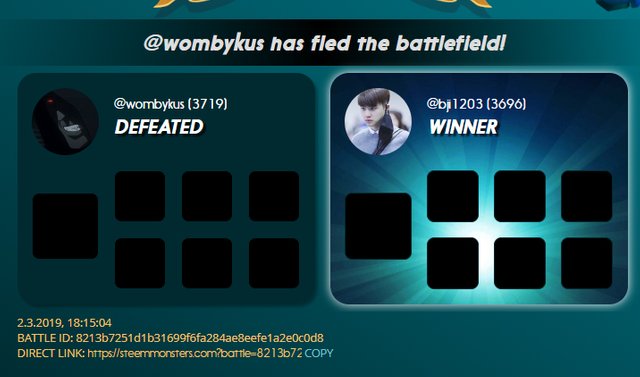 I mentioned in the 1st section that I played against @glory7 in the other tournament. In the first round! Normally that wouldn't be a problem, because that's how the draw was, but I don't like the fact that there is no ranking or ELO allocation for the respective players.
Because the top 10/20 players should not play against each other in the 1st round, but much later.
I hope these problems will be solved in the future. Since I know that @yabapmatt is trying to solve the ELO/ranking problem, I still see a very positive future for @steemmonsters.
An unfortunate day of a Steemmonster veteran.
How have your experiences been so far in the game?