USING STEEMPEAK & VOTING FOR STEEMPEAK WITNESS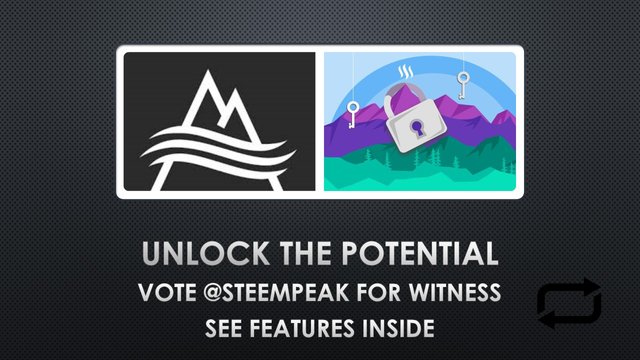 *Source Credit: SteemPeak Images
If you are already an advocate of SteemPeak as an interface and you would like other users to vote for the SteemPeak as a Witness please resteem this post.
Introduction
Do not be daunted by using a new frontend to the Steem Blockchain, it is far easier to transition to a new front end than you might think.
The website https://steempeak.com/ has a much-improved user experience for users of the Steem blockchain in comparison to steemit.com and you simply log in with your posting key and open up a whole world of new possibilities. Over the last 24 months you can tell that much more time and resources has been invested by the steempeak team on user experience and functionality than Steemit Inc has invested in steemit.com.
The team @SteemSpeak made up of @asgarth @jarvie and @dmytrokorol have made a very intuitive site enabling users in exploration of the Steem Blockchain. Why not log in and give it a whirl….. see below some of the features which make it a great user experience.
Witness Voting
SteemPeak run a witness and are currently ranked #38 in the witness table. If it weren't for the so called Justin Sun Sybil Attack they would be ranked at #18. If you have not yet voted for SteemPeak perhaps the information below on SteemPeak will persuade you that it is a vote worth casting. Note that at the time of writing votes from accounts with an aggregate of circa 10m Steem Power will see SteemPeak rise through the ranks and land in the Top 20. I think with some campaigning this support can be achieved.
You can vote for their witness here: https://steempeak.com/witnesses simply by checking the grey tick box (you will need to use your active key just in the same way a user does when they power up or transfer funds). Note briefly: SteemPeak have only ever missed the production of 20 blocks which is pretty remarkable uptime on their witness server.
Why do they have my vote:
SteemPeak witness are clearly technically very proficient having only ever missed 20 blocks, they have been investing in and been committed to the Steem Blockchain for over two years. They have built a world class website considered to be one of the very best on the Steem Blockchain and they have plans to onboard future content creators to a feature packed interface. The enterprise is design led and self-sufficient with a seemingly low operating cost base and a small team. The team are visible on attendance at SteemFests and are active in Communities and Discord.
If you want more detail on their direction here are three great SteemPeak links:

https://steempeak.com/steempeak/@steempeak/steempeak-witness-top-20
https://steempeak.com/steempeak/@steempeak/the-always-up-to-date-steempeak-proposal
Also note that SteemPeak receive support from the community for continued advancements and innovations through the Steem Proposal System mentioned below within the Proposals feature.
SteemPeak Team
The team made up of @asgarth @jarvie and @dmytrokorol: https://steempeak.com/about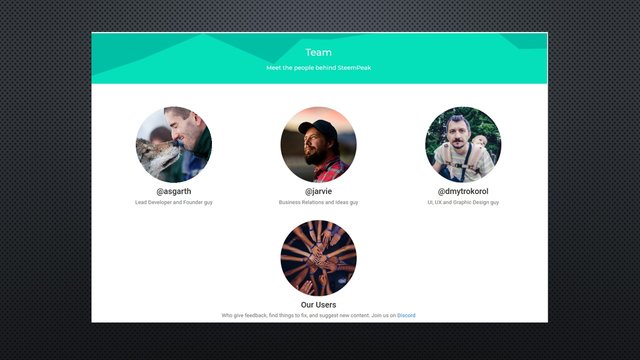 SteemPeak Selection of Features
Look at the opportunities facing a user on how to interrogate and interact with the Steem Blockchain: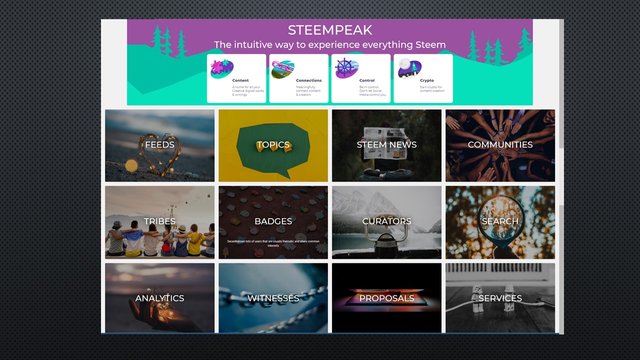 Feed
It is easy to toggle through three different ways of seeing the feed and users can filter the feed to avoid resteems, and sort by favourite authors and pre-defined lists. This is not the end of the feed though; users can look at the feed in accordance with your following, the communities users have subscribed to, or a user's favourite content creators.
Topics
Users can view a feed on topics and can sort by newly created, promoted or highest rewarded content.
Steem News
Giving a feed of updates currently from 35 prominent Apps or Witnesses: including:
@nextcolony @tokenbb @dtube @steemninja @fundition @threespeak @steem-keychain @steempress @openseed @partiko @appics @fabien @peakmonsters @roelandp @steemfest @delegationtrust @steem.marketing @oracle-d @steemba @steemonboarding @steemalliance @holger80 @someguy123 @blockbrothers @blocktrades @yabapmatt @aggroed @thecryptodrive @therealwolf @timcloiff @gtg @steem-eng @steemitdev @steemitblog @steempeak
Communities
An opportunity to see all the Hivemind Communities that a user has subscribed to and catch up with what is going on in that community. These are the Communities which have been brought about by the Steemit Inc development project realised in 2020.
Tribes
An opportunity to see what is going on in the Tribes which were brought about by the Steem-Engine development (powered by scotbot) in 2019. These are Tribes such as PAL, Steemleo, Neoxian, and Creative Coin where the content creators are likely to get some rewards in steem-engine enabled token.
Badges
Badges are in "beta" but for example will identify users as Wintesses or Community members:
Badges are a combination of a decentralized list of users that are usually thematic + unique SteemPeak functionality of feeds and visual displays. Badges help Steem users find and identify content creators that share common interests.
Curators
The functionality to see the curation history of some major curators; such as @curie @ocd @c-cubed and then topic specific curators such as curators specialising in Science, Photography, Travel, Health and Politics.
Search
Functionality to search for topics, accounts or posts
Analytics Dashboard
A graphical opportunity to see the activity on your account; e.g see how your SteemPower has grown, review the pattern of author and curation rewards and the distribution of incoming and outgoing votes. See more below. Users can toggle the timeframe to see shorter and longer time periods easily.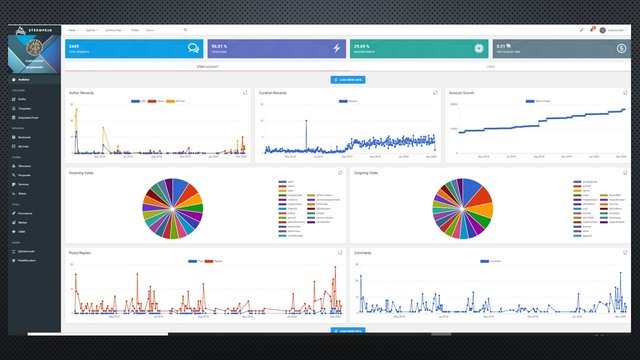 Witnesses
The super easy opportunity to cast witness votes, by clicking the tick symbol. Users can also see who else votes for these witnesses my clicking on the Approval (MV) figure highlighted in blue.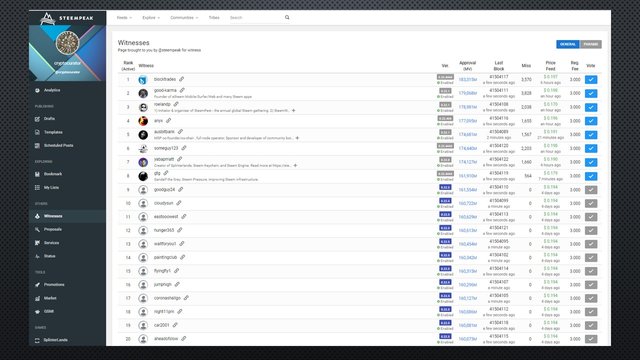 Proposals
A great opportunity to interact with the SPS which has the ability to distribute SBD to projects voted for by stakeholders in the advancement of the Steem Blockchain eco-system.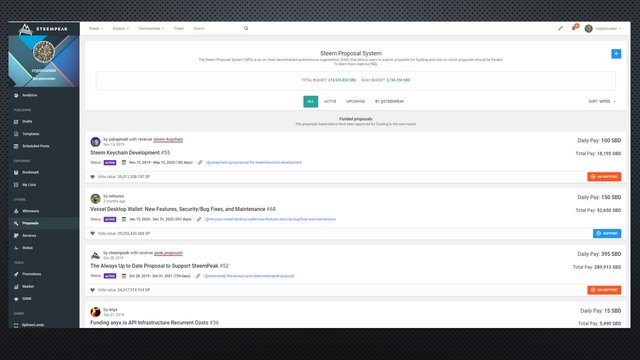 Services
The screenshot below is evidence enough of how well regard SteemPeak is to have such a high level of integration with other Steem Services.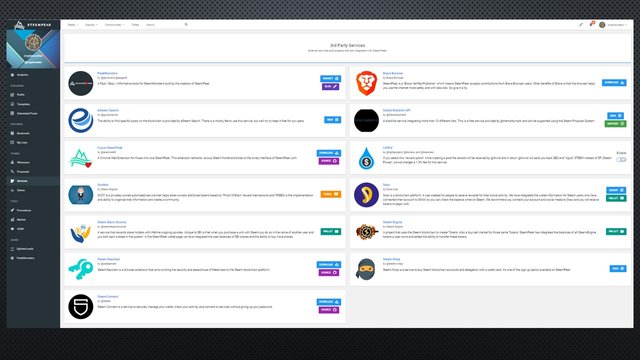 Final Thoughts
Give yourself 2 minutes to vote for SteemPeak as a witness who is seriously advancing and enhancing the experience here on Steem. Account holders can vote through either of these routes but they will certainly find Steempeak route more informative;
https://steempeak.com/witnesses
https://steemitwallet.com/~witnesses
Give yourself 15 minutes to acquaint yourself with SteemPeak and start to use the functionality to deepen your knowledge of how to interact with the blockchain and start using the interface to vote, comment and post.
Having SteemPeak Witness (our best user interface) in our Top 20, producing blocks every minute, contributing to governance, is going to help the Blockchain unlock more potential!