Tuesday Community Competitions with @steemph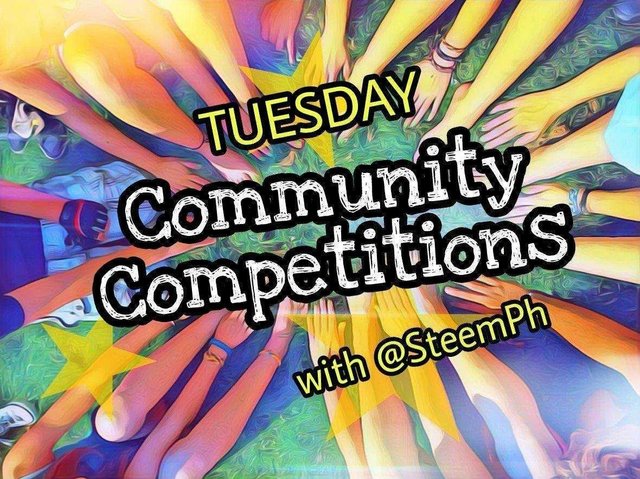 Good morning Steemit! It's Tuesday once again and it's time once more for another round of competitions. But before we proceed, I'd like to announce the winners of @steemph's Stan Lee themed competition.
With the current economic status that we are facing now on steemit, it can be noticed that only a few are posting. But we're not here to discuss that, we're here to reward those who chose to stay and continue on with their steemit journey. So without further ado, the winners are...
@johnpd with his post: Tribute to Stan Lee.
and
@lrastriker telling us how she got to know the Avengers
Each of them will receive a prize of 3SBD each from our very own Mommy @bearone.
CONGRATULATIONS!!!
.•:¨¨ ≈☆≈ ¨¨:•.
And now for another week of competitions, I have searched through the whole steemit universe to find the most awesome competitions each of us can join to showcase our talents and our love for steemit. Go on ahead and take a peek at these contests:
@anomadsoul's and @blocktrade's CONTEST: The Blocktrades Scholarship | Win support for a full month
I personally like this initiative (and has submitted my entry) because it would make everyone who chose to stay when the others have jumped ship feel like their efforts will not go unnoticed. What makes this ccompetition even better is that they are still pushing for excellence by encouraging quality content creation. If you feel that you suit the criteria, go ahead and join this competition. There are requirements and instructions so make sure to follow them.
Next we have @tasteem's Bakeries and Patisseries Contest
All you got to do is go out to your favorite bakeries or cake shop and give a mouth watering review of the restaurant. Fun, right? Forget about your diet and give in to the cake's teasing call. Just make sure to follow the rules so you can qualify.
Another contest I found is @fitinfun's Weight Loss Coaching by Sharon French at fitinfun
This is actually a comment contest where you'll win a Steem Basic Income share. Go ahead and read her post, I think win or lose, you will still gain knowledge on how to lose weight. The holidays is just around the corner so this is going to be a big help to all of us.
And lastly, we have @claudiaz's Photo Fun Contest - Week 31 – "Beautiful Flowers" Photography
Bring out the photography in you and share those beautiful pictures of flowers. It's a beautiful weather we got, so go out, be with mother nature to appreciate her beauty. But remember the golden rule: take nothing but pictures, leave nothing but footprints.
There you go with another set of amazing contests. Let us show our support for one another, join these contests. Don't forget to take a look at other participants' entries as well and interact with our fellow steemians.
Check out @steemph curation schedule
Til next week!
Ciao,