Steem Hard Fork Countdown Featured on CoinGecko's Main Page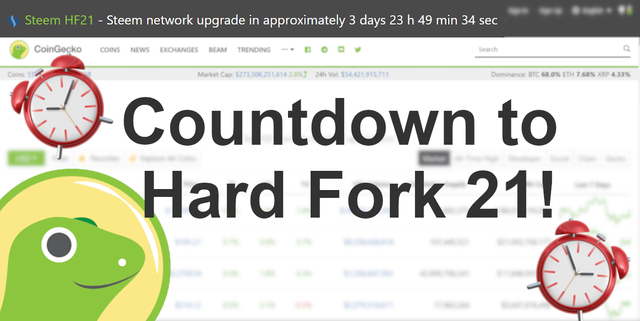 Have you logged on to CoinGecko.com to check crypto price recently?
In case you haven't noticed, CoinGecko has placed Steem's upcoming Hard Fork 21 on its prime real estate!

First of all, I think that getting such a big hat tip from CoinGecko is a big deal for Steem. CoinGecko is one of the world's largest crypto websites out there afterall.
Furthermore, I also think that Steem is actually doing something to empower the unbanked, unlike most other coins that only talk about it. Just look at the diversity of Steemians from all over the world. This is not to mention that Steemians comes from all walks of life too.
Personally, Steem has done quite a lot of good to myself. For one, Steem was the main reason why I created a website in the first place.
If you want to know more about Hard Fork 21 real quick, take a read at CoinGecko's Steem post about the countdown.
What do you think about CoinGecko featuring Steem? Let me know in the comments!
---
Posted from my blog with SteemPress : https://kristiankho.com/steem-hard-fork-countdown-featured-on-coingeckos-main-page/
---
---


I am a part of #Teammalaysia, a decentralized community initiative that aims to empower local creatives and content creators specifically in Malaysia to create content through the Steem Blockchain.
If you want to stalk me, check out my other social media accounts too!