What Is Uptrennd? Why It's Exploding?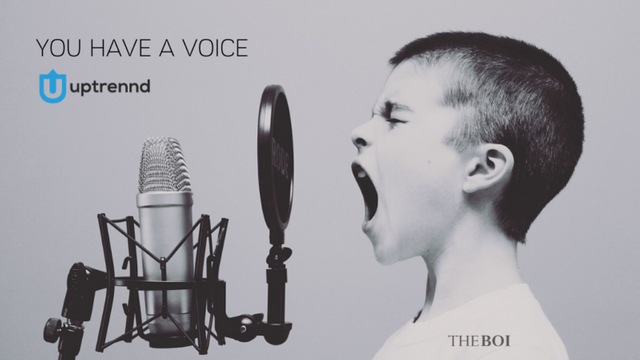 If you haven't heard about Uptrennd already, it's my honor to be the one who introduces you to the platform. I'm not saying I'm an expert about Uptrennd (I'm only two weeks old there) but I had my unique experience and it's definitely worth sharing.
What is Uptrennd?
Uptrennd is a social media platform where you can earn money by creating posts and comments, in other words, by interacting with the community. You are earning points whenever someone upvotes your post or your comment, and the same goes when you upvote someone else - they earn points.
One point - 1UP Token
1UP Token
As you can see on CoinMarketCap, one 1UP Token is currently worth $0,0066 which is a bit more than half a cent. If you compare it with Bitcoin or any other mainstream crypto, the price is really low but that shouldn't stop you. Quite the opposite - this low price could inspire you to research more about Uptrennd. And that could lead you to join the community.
Below you can see the monthly chart of 1UP Token price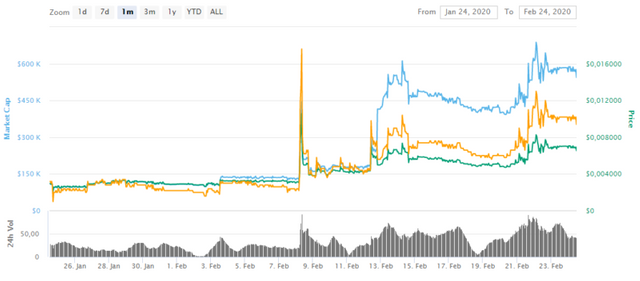 Doesn't it look impressive?
As long as I've been an Uptrenndian (two weeks), the price has been rising steadily. When I decided to level up, I bought 14000 1UPs for 0.29 ETH and increased my level to level 17th and it allows me to earn 2.6 points per upvote.
If I wanted to sell 14000 1UPs right now, I would get 0.385 ETH and it's a big gain.
Things you need to know before starting
There are levels
It's the number one reason why I leveled up at the beginning.
Each user has a level. The level you have affects how many points you get per upvote. To reach the next level, you must earn a certain amount of points and then spend them for a level (see the image below).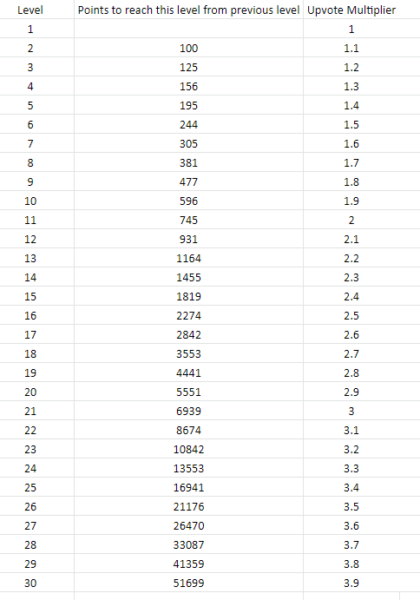 Here's a link to the full chart
There are limits
You can create three posts a day
You can upvote or downvote one person maximum of three times a day
You can post unlimited number of comments (don't spam or you'll get downvoted)
You can start inviting friends after you've been on the platform for two weeks (that's where BOI is right now)
The maximum level you can get is 100 and you would earn 10.9 points per vote (although I haven't seen anyone past 30 yet)
The mistake I made
As I said earlier, I wanted to have a head start here. I understood that it's better to earn more points per vote so I looked up ways to level up my account.
After going through the deposit page and the tutorial they have, I sent ETH to their deposit address. Only after I made the transaction, I understood the mistake I did. I should have sent 1UP tokens instead of ETH and now my funds were stuck.
Thankfully, admins at Uptrennd work very fast. They're also reliable and trustworthy. As soon as I found out what I did, I entered their Telegram support group and was helped instantly.
Even better because after this mistake I made a post about it on Uptrennd and it became my most upvoted post.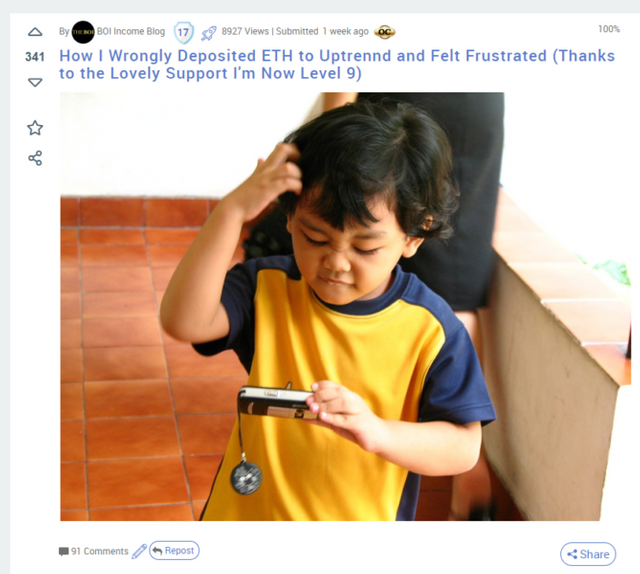 341 upvotes x 2.6 points = 866 1UP = 6$
How much you can earn?
It depends on what you do on the platform and also your level. To earn more - you must be consistent and create posts every day. You also have to comment on posts you can relate to for a better engagement rate (and also to earn with comments).
100$ per Month
Here's a post about of an Uptrennd user (Alberto Dionisio) who shared his experience. As you can see - he earned more than 800$ in about 8 months. Click on the image to read the whole post.
From this post, he earned 209 x 2.6 (level 17) = 543 1UPs = 3.6$ and it will increase because the post is recent.

BOI Math
I will show you how earning looks from my perspective. As you can see - I'm level 17th and it means I'm earning 2.6 points per upvote. In these two weeks on platform, I have earned 4049 points but I spent about 1000 points boosting my posts (you can boost your posts with the points you have - 1 point = 10 views) so it leaves me with about 3000 points (conversion calculator~19$)
I have made 23 posts, 273 comments, and gained 52 followers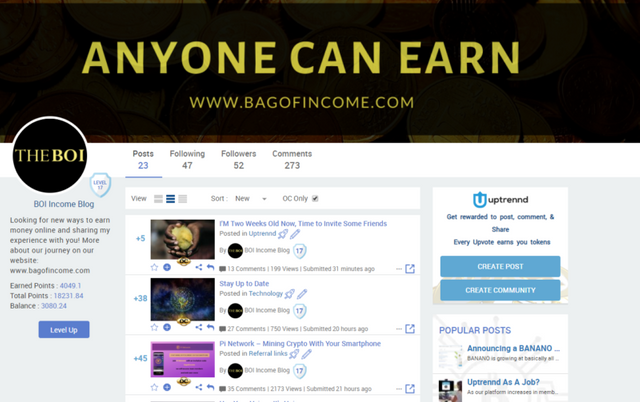 User Count
In the image below you can see how fast the Uptrennd was growing at the end of the last year. Right now - the user count is even bigger. It means only that the platform is rising! Just as the price of 1UP tokens.

Conclusion
As times are changing and cryptocurrencies become worth more, it's not too late to hop on the Uptrennd train and gain some 1UPs before this platform skyrockets! We can never know if it will truly happen but there's always a chance. It's better to start something now than to regret later that you never started.
Thank you for reading this post and have a productive day ahead!

PS. If you register on Uptrennd using my referral link, BOI gets 100 points for that.

---
Posted from my blog with SteemPress : https://www.bagofincome.com/what-is-uptrennd-why-its-exploding/
---