藏区骑行60日~「精美的古格王朝遗址」Riding in the Tibetan area for 60 days~Beautifully Guge Dynasty ruins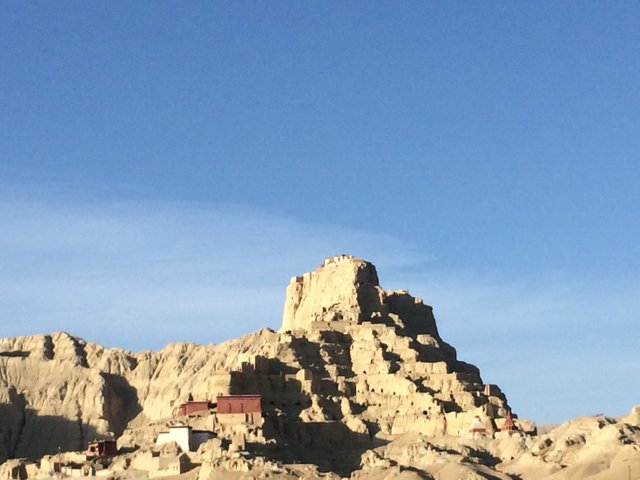 早餐起来就向着古格王朝走去,天很蓝,景区没啥人,我们去买门票的时候,景区管理员还在洗脸。古格王朝遗址建在一座土山上,从山麓建到山顶,据说房屋、佛塔和洞窟有600余座,真的是非常壮观。我们沿着路上去,旁边洞窟密布,景区管理员跟我们开了几个房屋,里面的佛像和雕塑甚是精美。寺内残留的泥塑佛像和彩色壁画反映了古格王朝的鼎盛,仿佛古格就在昨天。
When We got up, We walked toward the Guge Dynasty. The sky was very blue. There was no sorrow in the scenic spot. When we went to buy tickets, the scenic administrator was still washing her face. The site of the Guge Dynasty was built on a mountain hill. From the foothills to the top of the mountain, it is said that there are more than 600 houses, pagodas and caves. It is really spectacular. We walked along the road, next to the caves, the scenic area administrators opened several houses with us, and the Buddha statues and sculptures inside were very beautiful. The remains of clay sculptures and colored murals in the temple reflect the prosperity of the Guge dynasty, as if Guge was yesterday.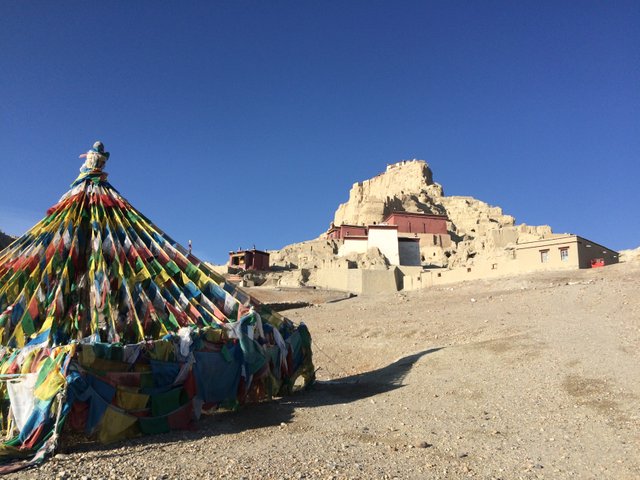 古格王朝遗址全景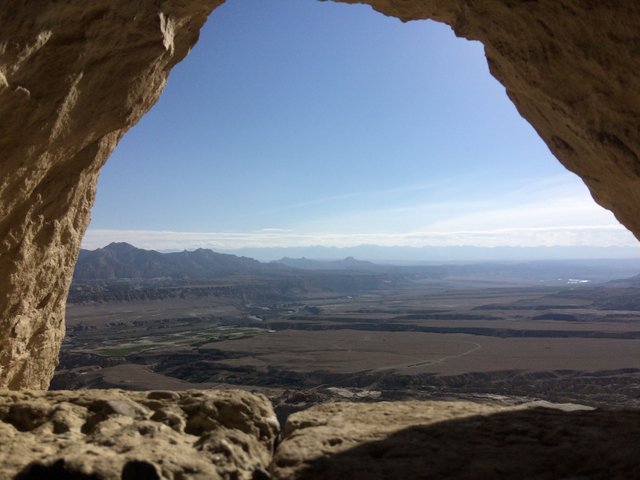 一洞见世界
古格王朝是吐蕃王朝的后裔所建,大概在10世纪前后,鼎盛时期统治整个阿里地区。古格偏居阿里达700余年,有20几位国王,最后被拉达克所灭亡,不过最后为后人留下了无数的文物和历史资料。沿着土石阶梯上去,古格的残破述说着这里的一切,到处都是残恒断壁,与扎达土林一起倒是应景。通往山顶建筑只有一条密道,很窄,不仔细去找很难发现,真是一夫当关万夫莫开。古格拥有者严格的等级制度,王宫高高在上,山下是奴隶的住所,中间的洞窟则是僧侣修行的地方。站在山顶宫殿之所,向远方看去,也是满目疮痍,就是这样的地方,孕育了这么伟大的文明,这里见证了藏族先民的劳动与智慧。
The Guge Dynasty was built by the descendants of the Tubo Kingdom, probably around the 10th century, and ruled the entire Ali area during its heyday. Guge lived in Arida for more than 700 years, and there were more than 20 kings. He was finally destroyed by Ladakh, but in the end he left countless cultural relics and historical materials for future generations. Going up the stairs of earth and stone, Guge's broken description of everything here is full of broken walls, and it is a scene with Zada ​​Tulin. There is only one secret road leading to the top of the building. It is very narrow. It is difficult to find it without looking carefully. It's really a good time to be a husband. Guge owners have a strict hierarchy, the palace is high, the mountain is the residence of slaves, and the cave in the middle is the place where monks practice. Standing on the top of the palace, looking into the distance, it is also full of devastation. It is such a place that gave birth to such a great civilization. It has witnessed the labor and wisdom of the Tibetan ancestors.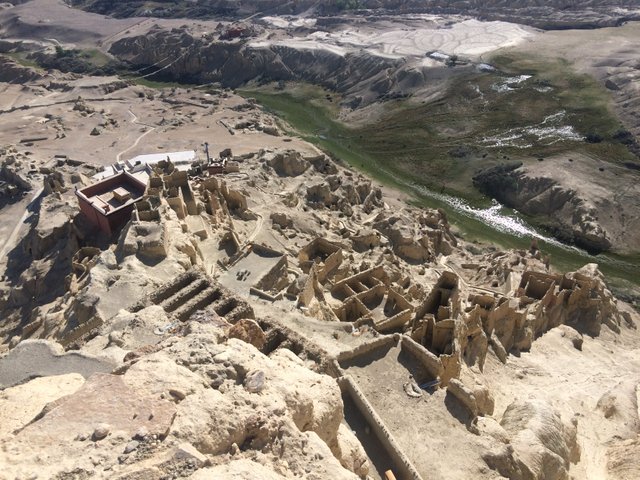 破败的宫殿居所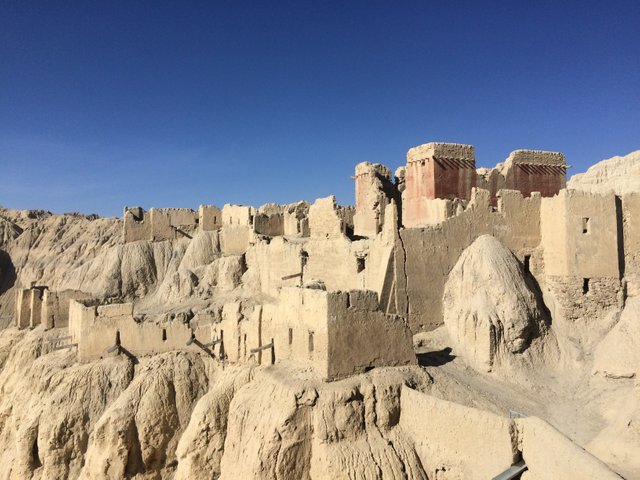 有点像黄土高坡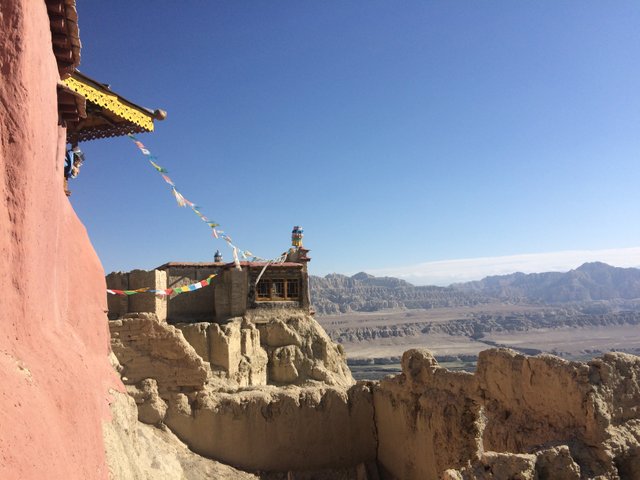 宫殿之上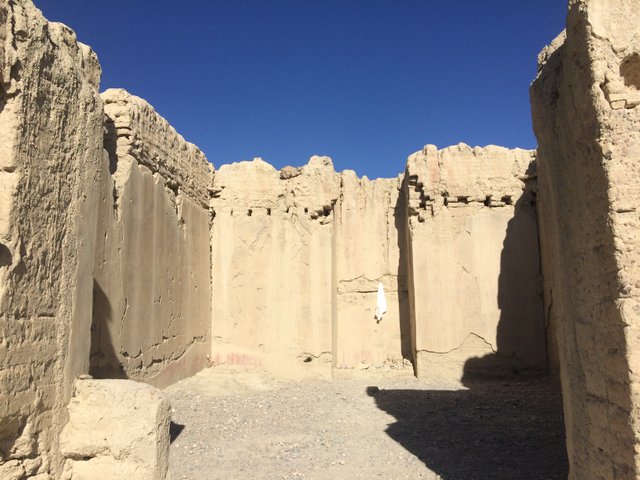 据说有一段故事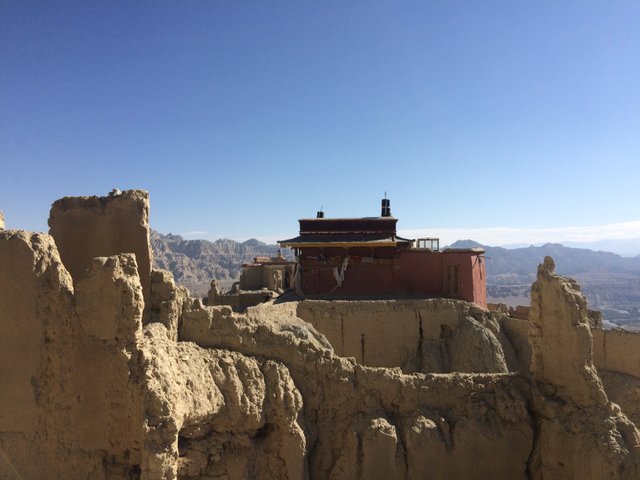 精美的宫殿
下午时分,我们就参观完了,开始往回走去往扎达县城。中午太阳很大,我们一路等待车将我们载至巴尔兵站。回到巴尔兵站,我们找到一处还在建设中的藏民居,跟旁边的藏民说好之后,就在里面开始搭帐篷。晚上,藏区风很大,如果条件合适,我们尽量找有遮蔽的地方度过黑夜。
In the afternoon, we finished the tour and began to go back to Zada ​​County. The sun was very big at noon, and we waited for the car to carry us to the Balb. Back at the Balbine Station, we found a Tibetan dwelling that is still under construction. After talking to the Tibetans nearby, we started to set up tents. In the evening, the Tibetan area is very windy. If the conditions are right, we try to find sheltered places to spend the night.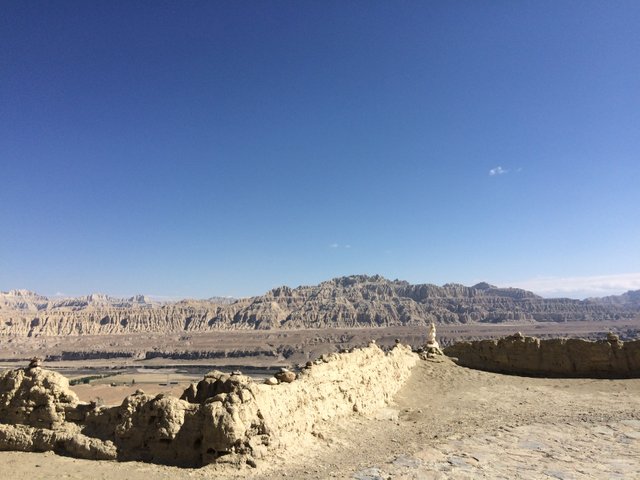 壮观的扎达土林

---
Posted from Steem中文社区 : http://cnstm.org/blog/2018/11/23/%e8%97%8f%e5%8c%ba%e9%aa%91%e8%a1%8c60%e6%97%a5%e3%80%8c%e7%b2%be%e7%be%8e%e7%9a%84%e5%8f%a4%e6%a0%bc%e7%8e%8b%e6%9c%9d%e9%81%97%e5%9d%80%e3%80%8driding-in-the-tibetan-area-for-60-daysbeautifully-gu/
---