Top 10 Affiliate Marketing Programs for 2020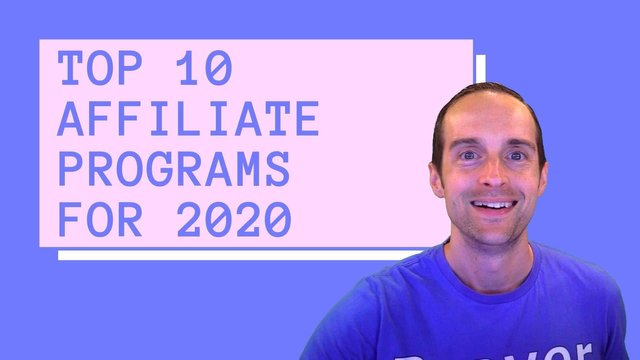 You are about to experience an awesome list of the top 10 affiliate marketing programs for 2020 based on my research, making money with all of these programs and testing hundreds of affiliate programs to see which ones are the best. I've developed strategies that are successful for each of these programs which I will suggest as I mention each one.
I'm grateful you're here today, I would love to hear what you have to say rather than a like or comment on the YourTube video, or you can go crazy and you wanna hit that subscribe button and see some more my amazing videos everyday.
Let's take a look at the top 10 list now, starting with number 10.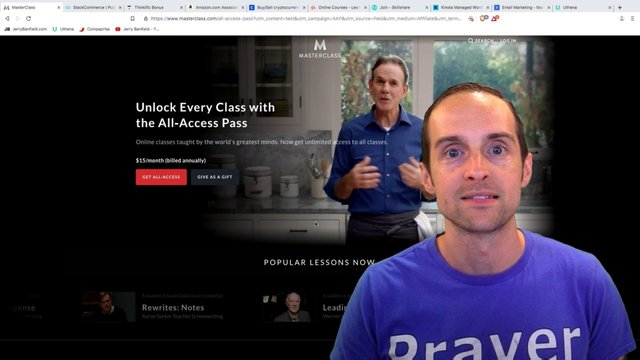 Number 10 is Masterclass. I love watching the classes on Masterclass and I highly recommend for any of these programs, you make sure to enjoy the program itself. For example, if you want to sell Masterclass, sign up for Masterclass, of course, I have all my links here that you can use and you'll feel good when you use them. The key to success of selling any of these is to use them yourself, it's really hard to sell anything that you don't use yourself and then you don't even feel good if you make sales because you don't even use it or believe in it. 
I love Masterclass, I've watched classes that have helped me learn music production, classes that have been fun, like learning how to do comedy. This is what I like to watch as a way to constantly learning and have a very high quality learning experience.
I've listed this as number 10 because the downside of Masterclass is the conversion rate, it is really low. My guess is that people just go download these illegally instead of buying them. It's  only $15 a month, billed annually, to have access to all the classes and there's outstanding quality instruction from people you've actually heard of like Samuel Jackson, like deadmouse5, classes that are just amazing and this is one you can direct sell to friends and family members, especially when you're using it in your listening, you are saying "Oh, you want to learn about music production, take this Masterclass" and then you get a good sale percentage out of every one of these all-access passes.
Each of the courses individually is $100, also offering a good commission if you sell one course. As long as you can explain to people why it's worth it and maybe even ignore the fact that you can go download these illegally, don't even mention that, when you're trying to tell them about the program.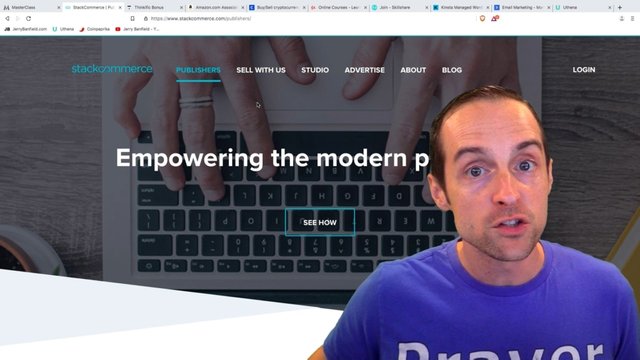 Number nine is StacksCommerce. This might have the most potential for you, however, this is limited to a very specific audience, you really need to have an established following online and if you do you might be able to make a lot of money with StacksCommerce. StacksCommerce offers the highest percentage at 80% for a sale, and publishers are then able to make a lot of money selling on StacksCommerce. There's a deep inventory of thousands of video courses, plus there's physical products on StacksCommerce.
What Stackscommerce does is build a store where you can make it look like it's your store. You really need your own website and your own audience for this to make it work. I sell as a vendor on Stackscommerce and I've earned hundreds of thousands selling as a vendor on Stackscommerce which means I've helped people make millions of dollars affiliate selling on Stackscommerce. Technically Stackscommerce has an affiliate program and a publishing program. That said, the publishing program is the only one you want to use.
The downside of this one also is that it's $99 to have your own store, which if you're cnn.com or entrepreneur.com and you can make tens if not hundreds of thousands a month that is well worth it. I've listed this at number nine because if you don't have an audience then this one is probably not going to be practical but if you do have an audience you might have a fortune waiting for you using StacksCommerce. If you have your own subdomain, for example, store.jerrybanfield.com is where I tested this at, then you can make 80% of whatever you sell there, making this a program that has a lot of potential. However, it might have zero for you which is why it's listed at nine.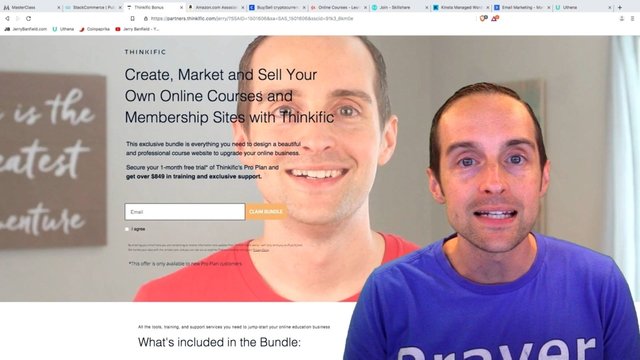 Number eight is Thinkific, Thinkific is what I use to host my video courses and this offers 20% recurring, lifetime commissions plus a bonus for initial sale. That said, if you don't know anybody that wants to teach online courses or is thinking about online courses it might be difficult to sell this at a big level. However, this commision with the 20% recurring income and as much is Thinkific plans cost, all you need to do is to find one, two, three, four, five people that want to make courses and you could be earning hundreds of dollars a month at a minimum, with a very small amount of people.
The key with Thinkific is to help people see that this could also be website hosting. If you hear a friend thinking about starting a business, one of the best business models right now is to teach video courses. If you use Thinkific you can skip building a website website entirely, just get Thinkific hosting, put up a website, put it on whatever you want your website to be, and then put your video courses on there and sell them all in one integrated platform. This has a lot of potential to sell directly, however, you can also sell the way I sell it. I put up video tutorials with the link in the description and I direct sell. All of these have great sales potential that I'm about to list, and the Masterclass one, all of these have great potential if you make video tutorials, showing the program and how to use the actual software or service, then ask people to go into link, just like I'm doing and convert from there. Especially if you can put all these together or put multiple programs together in one video, you can make huge commissions.
Having Thinkific as a part of your entire inventory helps you to make videos, where you can put three or four of these affiliate programs in the video and then really clean up the commissions on just one person plus provide a lot of value. If you are not providing value you are unlikely to succeed, you want to always provide value with  whatever you're doing. That covers number eight.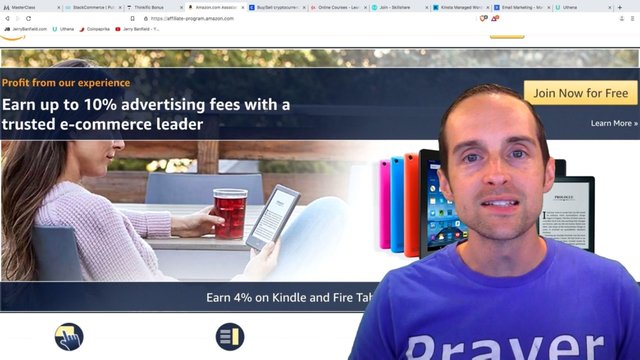 Number seven is the Amazon affiliate program and I've listed this under seven because the conversion is extremely disappointing with Amazon. I've put so many videos up about products i like on Amazon with affiliate links and the amount of commissions I've earned with Amazon affiliate program has been lower, relative to the effort I put in, than every single one of these other programs.
There's a vast inventory of products on Amazon, there's tons of opportunities to sell something as an affiliate that you already own, you already like, you already use. You've already bought it. The earnings, and I don't know if it's the tracking or rather people go back to Amazon from their buying habits or if Amazon is not allowing YouTube links to convert correctly or the mobile app, I don't know what it is but the conversion the percentage is just terrible and the amount of earnings is pretty low. If you can sell specific products and get people to buy through your link you could do really well with Amazon, however, if I could make a list of the top 10 most disappointing affiliate marketing programs, Amazon would absolutely be it.
I've put this number seven because maybe you can get this to work better than I've been able to get it to work. it seems like lots of other people are getting Amazon's affiliate program to work so well and I keep thinking "Well, why can't I do it, why do I make video after video, talk about products and nobody buys it." 
One of the big things with this is this only works on the country that you're in, for example, if I put up a link to the US store and someone's in a different country, 80 percent of my audience is not in the US, then I don't get anything from that I imagine that's why the Amazon affiliate program is so weak for me compared to these other programs that are global.
If you have a very country focused audience and you review products or even just message your friends, you might be able to do good an Amazon affiliate program.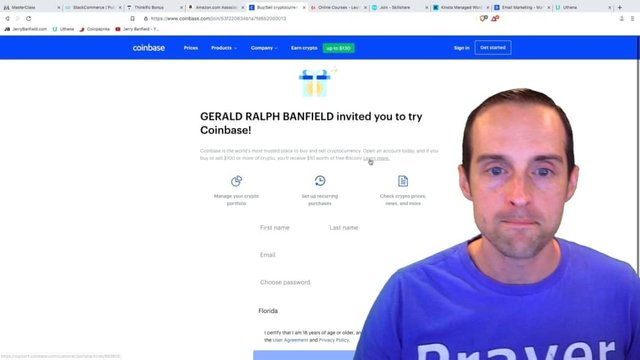 Next we are going over to Coinbase. Coinbase is my number six pick for an affiliate program. If you sign up for Coinbase or make a referral it looks like this. I've put in what the landing pages in most cases look like.
If you make a referral on this you'll see that you get $10 worth of Bitcoin or cryptocurrency when you bring in someone who not only opens an account but also buys or sells $100 or more on crypto. I've put this program as number six because I've earned a lot of money, a lot of Bitcoin, especially when you consider I've earned several bitcoins just on the Coinbase affiliate program by itself. That said, there's lots of other affiliate programs for other wallets out there. This was one of the earlier ones and it's very easy to get a signup and I think five to ten thousand people signed up for Coinbase using the links that I put in my videos.
What's awesome about Coinbase's referral program is that you can do video tutorials and blog posts and then do a link back to Coinbase and get that $10. 
Downside is you only get $10 for driving a sale compared to some of these, for example on Thinkific you could make thousands of dollars driving a single sale on Thinkific, on Stackcommerce,  you can make, it if sold for $100 you could make $80 on one sale on Masterclass and on Amazon you have higher earning potential per sale. The max of $10 on this makes it a bit limiting, however, you could easily bring in friends and family who are interested in crypto into this affiliate program and earn hundreds of dollars, even without a website. This program is number six.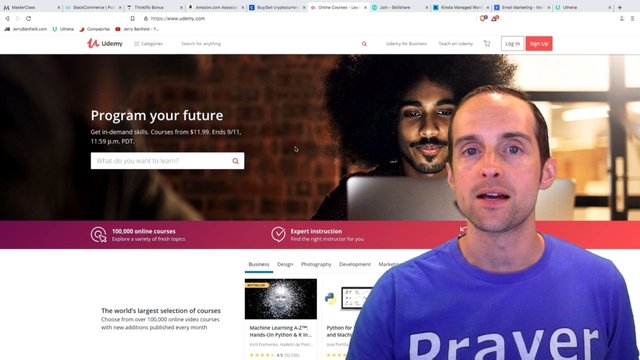 The number five affiliate program is the Udemy. This is the only one of these affiliate programs I am not a member of today and this is also, so far, the affiliate program I've earned the highest, I drove hundreds of thousands of dollars of sales with the Udemy affiliate program back when commission was at 50%. What I really like about the Udemy affiliate program is there are tons of video courses that are proven sellers and that have a very clear value. You send somebody to Udemy to go buy a video course and you understand that it can help them level up their earning potential. The Udemy program works really well globally and you get a seven day cookie on it which is not very good but if you send someone to Udemy and they buy any course you get only 12 to 20% now. This means you, generally, will need higher levels of visitors to make this worthwhile. One strategy you can do for this that's pretty sweet is to set up a free Udemy coupon page. I got it at jerrybanfield.com/freecourses, a list of free Udemy  coupons. You can literally rip my list of free coupons and put them into affiliate links, make your own list of free coupons and when people go redeem the coupons, if they happen to buy anything else on udemy.com you'll get an affiliate percentage.
As you can see I had a bunch of system setups to get Udemy affiliate commissions from sending people over free courses to re-marketing ads on my own courses and I was making as much as $27,000 a month was my highest level of earnings and they ended up removing me from the program after I left Udemy.  This program works really well for me at 50% commissions, however, your results may differ. Almost anyone can use video courses to level up their earning power, meaning there's a lot of potential here.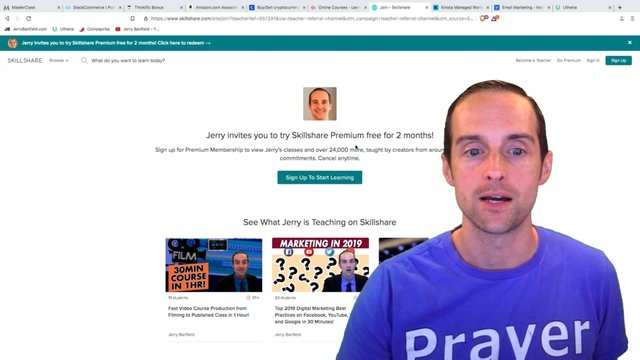 If you want to market an education based affiliate program, you might like Skillshare better. If you check out my affiliate link here you can see that Skillshare has a Skillshare premium and there are over 20,000 classes on Skillshare premium. There are over 100,000 on Udemy, by comparison. On Skillshare what is really cool is the 2 month free trial where you can invite someone, they can watch 24+ thousand classes free for two months and you get $10 even if they cancel. I have looked at my earnings, I make a referral almost everyday to Skillshare premium using my videos, talking about skill share. The downside is you only earn $10 once for a sign up, against something similar to my critique of the Coinbase program, it has very low upper earning potential, you have to constantly bring more people in to get some decent earnings. 
What you can do though is set up reviews of certain courses on Skillshare and then you can send an affiliate link into every single one of those courses. If you go and watch a bunch of courses and talk about the courses on Skillshare then you have a good chance to get organic traffic people searching and then you have a good chance to make affiliate sales every day like I do on Skillshare. 
The downside of the Skillshare affiliate program is, I've heard from other people that it's pretty easy to get banned, if you have anything irregular going on with it Skillshare has automated systems,  I don't recommend trying to exploit this. It looks like "Well, you get it free for two months, that should be easy to take advantage of."  I recommend you only do this if you have the intention to get it out there to people who are going to want to use it and enjoy it.
If you do get banned from the Skillshare affiliate program you get your whole Skillshare profile taken down, which means if you've got glasses on there you lose those and they don't pay you anything. I imagine the earlier you get started, in the relative percentages, it's easier, if there's anything weird going on, for you to have a problem. Once you have made a lot of referrals it seems to be just fine. 
Make sure you don't do anything sketchy with any of these affiliate programs, especially Skillshare. This is one of the possible concerns. I'll list the concerns because to me that makes an honest post. We went through the top ten of this, the top seven of ten, and now we get into some really high earning potential programs because all of these have recurring revenue and big commissions you can make on the first sale.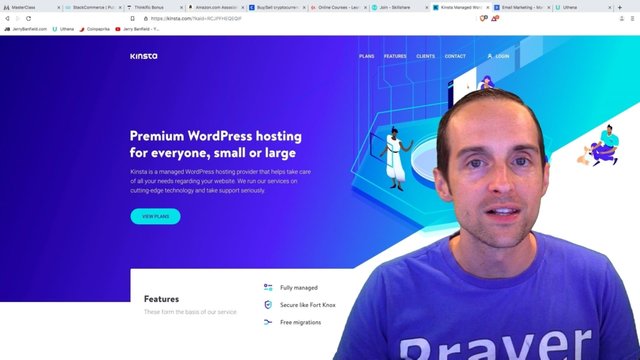 My number 3 is Kinsta. Kinsta is the WordPress hosting that I use, it allows my website to run super fast. What I really like about Kinsta and why I chose Kinsta before it had an affiliate program is that it is on the Google Cloud platform.
There are a lot of people that are affiliate  marketing website web hosting that is terrible. I say it because I've used it and verified that if you build up your website and get lots of people going to it, your website will crash. There's a lot of people who have audiences like me that promote affiliate programs that do not offer good quality hosting for an entrepreneur that truly has a vision of scaling their business, they offer hosting that will fail if you succeed and you will have to switch off of it or pay off of fortune.
What I love about Kinsta is that it's fully scalable. I joined and found Kinsta  after looking for Google Cloud platform hosting before it had an affiliate program and this is one of the very best options for hosting because you can handle an increase in traffic, especially a sudden increase in traffic. Let's say your website goes viral, Kinsta is ready to send you a bigger bill and keep your website running instead of cheap shared plans and even on a dedicated server, if you get a sudden spike in traffic your website will simply crash and your hosting provider will say "Sorry about that" and you'll miss out, as I've seen happened to entrepreneurs and it's happened to me. Your website works just fine until things go well at which point it crashes and you'll miss out on all that traffic you work so hard for and then whatever goes viral stops going viral because your website stopped working.
One of the best things you can do to help someone that has a website that doesn't load fast is get them on some good hosting like Kinsta.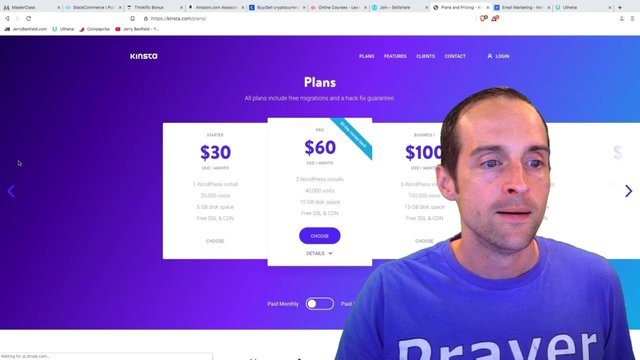 Kinsta has a 20% recurring commission, meaning when you bring somebody in on a 100 a month, which is one of the lower-level plans, you can see the starter plan 30 months, I am on a 400 a month or so I think, when you bring somebody in on a 100 a month you get $20 a month indefinitely. This is why people promote web hosting so much because you can make a lot of money and you don't need a bunch of people, you literally could know one person who could use a better web host and bring them in and you might be able to earn hundreds of dollars a year on that. With Kinsta you can also get a signup bonus when they join and you can do tutorials on website speeds, you can individually approach business owners that have slow websites and get them converted over to better hosting.
I love my hosting on Kinsta, it saves me a ridiculous amount of time. I've used several of the companies that affiliate marketing people who have business constantly send you over to and their hosting is very slow compared to Kinsta, when I hit publish my post it is almost instantly done. My website rips in speed and the only thing that has ever slowed it down is me doing things like putting huge images on pages and not being careful with the code on it. This is a very good affiliate program if you know anybody who could use a new website hosting and this is one where once you get a customer often people stick with it for years which makes it really good for earning and it's got a really good product. That is number eight out of ten, we are counting down.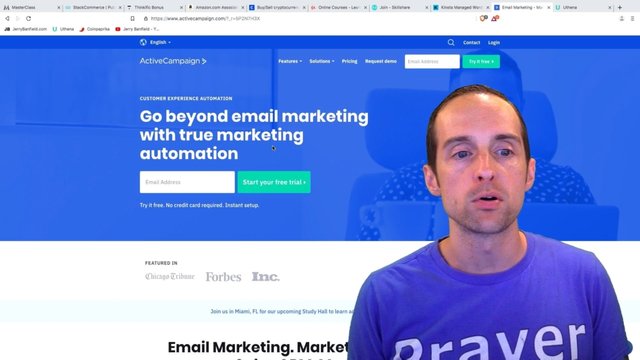 Now we move to number two. One of the biggest earnings growth that I've seen is with ActiveCampaign email marketing. There are so many business owners and even people that don't even have websites that are trying to build an email list. ActiveCampaign has 20% to 30% recurring commissions on sales plus a deep set of features that make it really good.
What I like about ActiveCampaign is you can literally make one referral, one friend and you can make hundreds if not thousands of dollars of your just referring one single person to ActiveCampaign email marketing. Now, that might be hard to do if you don't use it yourself. What ActiveCampaign has is a lot more features, it is a good balance between the highest level email marketing services that cost a fortune vs getting you into a deep set of features that you can scale with. ActiveCampaign has a very affordable $9 a  month basic plan, yes, it costs more than some of the other "star free" email providers. I can say from experience. I used the "star free" email providers and I literally ended up deleting my list because I was so tired of the lack of features and the lack of results with my email marketing and then on one of the "star free" providers I got banned when I set my first email with no explanation at all.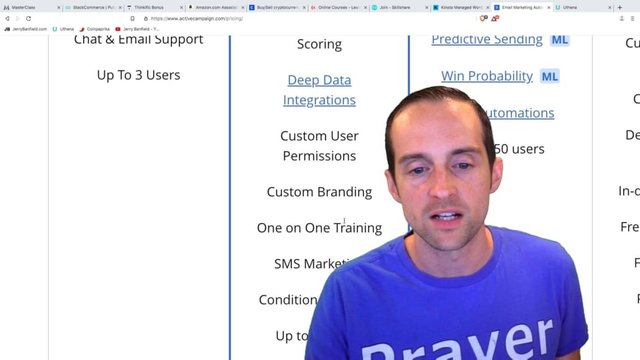 ActiveCampaign gives you a lot of flexibility on what you can do and you might think to start with "I'm not going to need custom user permissions and CRM with sales automation and custom branding and SMS, I'm not going to need all that." When you start a business don't you hope you're going to grow? What I need to do and the nice thing with ActiveCampaign is it's got deep features that you can grow with and stick with the same email marketing. It stinks hawing to convert from one of the "star free" providers into a more powerful set of features and learn a new email marketing system from scratch.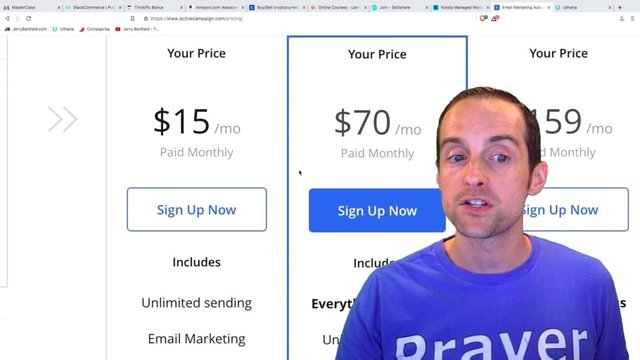 This program is bringing me money every single month because you don't need that many people to sign up for ActiveCampaign to get some good commissions. As you can see if you pay $15 a month the 20%, if I literally bring in one person in, I am getting three to almost 5 dollars a month from just one person paying $15 a month indefinitely. I've brought in an enterprise user to ActiveCampaign and my friend that brought me in has earned thousands of dollars from referring me single-handedly to ActiveCampaign. When you combine these together you get some really powerful results, for example, if you tell someone that is thinking about starting a business about using Thinkific to host their website and sell courses and then connect ActiveCampaign to it, you can see how you can make some big commissions by putting both of those together, especially since both of these are 20%. You might bring in someone who's only paying maybe $100 or $200 a month for something that can make them thousands a month and then you're getting $20+ dollars a month indefinitely off of their hosting. 
When you put all of this together you have the ability to do very well with recurring income and earning passive money online.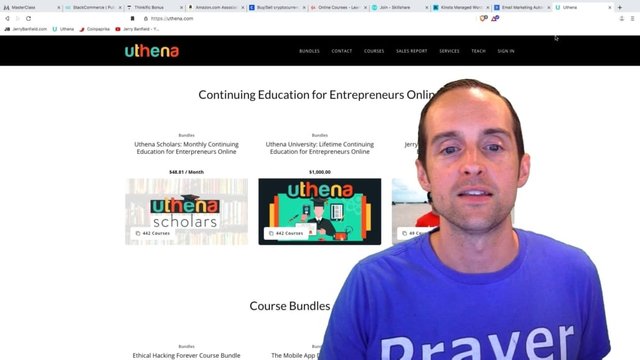 The final one, the number one, the best affiliate program that I am recommending is a brand new one from 2019. This is the highest affiliate earning for me currently, I earn money almost every day on this and some days I earn hundreds of dollars in affiliate marketing on this.
This is my own platform Uthena which gives it a very unique value proposition, we have a 50% lifetime affiliate earnings meaning when I sell somebody else's course I make 50% as the affiliate on it and I'm working to promote other people's courses because I make more money selling someone else's course than they make on it.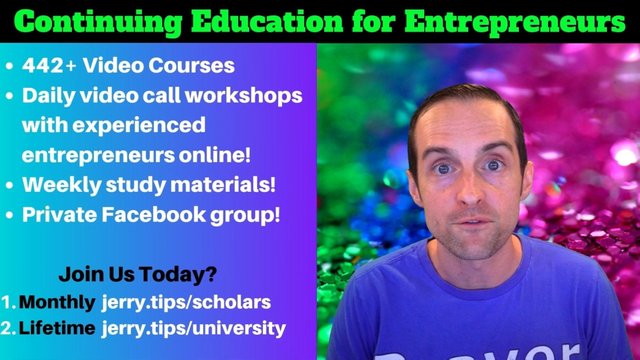 What I've got on Uthena now is a new continuing education program for entrepreneurs that is a very hot item you can sell because there's nothing just like this available online, you can see my exact setup and join us and get help with all of the affiliate marketing that we just talked about in here.
Once you see this, once it clicks you will be like "Oh my god, this amazing." Think about getting a 50% commission on selling something for $1,000, somebody just paid $1,000 just a couple of hours ago for what I'm telling you about now. I've got these three things that are very hot, this is it, I've got it and they're all for continuing education for entrepreneurs.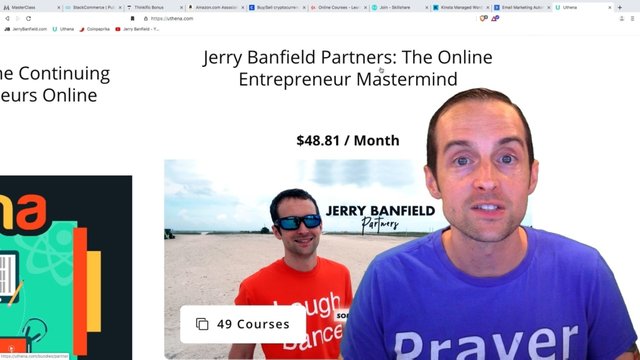 There is what's called Jerry Banfield Partners online entrepreneur mastermind where people get, if you are a partner, you get private label rights for all of my 150 video courses that I've got which have made millions of dollars in sales, you get access to a private Facebook group and you get weekly study materials and there's a daily video call workshop with me and or other experienced entrepreneurs online. Literally two of these were sold this morning, a couple of minutes ago, using my existing sales system. It's a very easy thing to do once you join it to bring other people because there's very little support for entrepreneurs online that offers, I haven't  seen anything else like this specifically that offers everything in one place.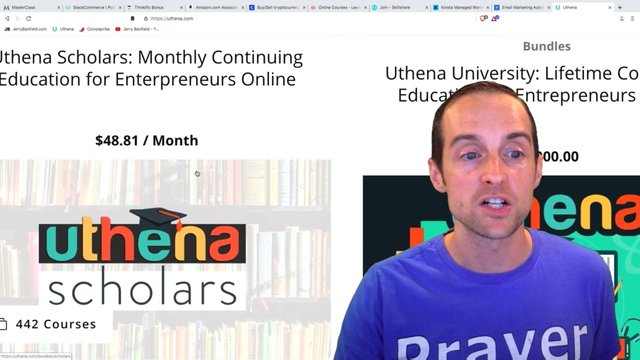 All of this is essentially the same, it's whatever the details are included in. These two, Uthena Scholars and Uthena University are basically my partner program combined with the video courses on Uthena, stripped of private label rights to my courses.
Uthena University offers a lifetime continuing education program for entrepreneurs online with new video courses added indefinitely at no extra cost, daily access to video calls and weekly study material in the private Facebook group. Uthena Scholars is the same thing except it's monthly instead of lifetime. You get 50% for life selling either of these and that means when you join yourself and see how valuable it is and get tips on how to do your own affiliate marketing, you would only need to bring in two other people to cover your cost and then you bring the third one in and now you're making a profit. I imagine this growing so much that you could easily bring in 5 or 10 other people because there's a huge need for this and up until yesterday when I launched this I don't see anything out there just like it, based on the cost of video courses and the community. I don't see anywhere else you can get daily video call workshops and hundreds and soon thousands of courses and have a 50% lifetime affiliate commission. I don't see anywhere else with those features which is why I've listed this as number one, my intention in creating this is to make a really good affiliate offer that, even when compared to all the rest of these I've set up. All of the other programs that have made me the most money when you look at this, compared to all the rest of them, to me this looks 10 times better. This is the kind of program lots of people sign up for just to be able to watch the courses alone or just to go to the workshops alone.
The one big downside compared to the other programs is in all of these other programs you can get into for free. I think for some of these you might need to join, I think you might need to have an ActiveCampaign account to do so. On this you must be a member, you are not able to join this one for free. I'm not interested in having affiliates that have never participated in the program, spamming links all over. That to me is not good affiliate marketing and given that this is my platform, affiliate marketing needs to be done responsibly and in accordance with the law. Therefore, you must join and be a member in order to get your affiliate marketing commissions with this program. That to me balances everything else out, the nice thing is there's no other approval for this affiliate marketing program whereas you have to have a website for some of these other ones or you may have to demonstrate that you've got people coming to your website, for there's no other approval, you join and you will get your affiliate links and be able to start making sales.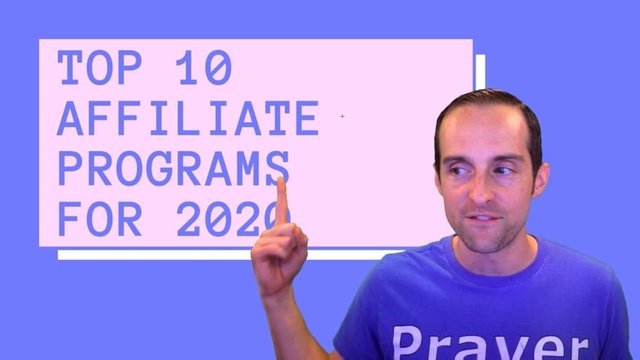 Thank you very much for going all the way to the end with the top 10 affiliate marketing programs for 2020, based on my experience making money and making sales in testing hundreds of other affiliate programs to give you the best one that I think will help you in 2020.
I appreciate you being here so much, I think you will love subscribing and seeing new videos I make on YouTube for you everyday to help you make more money online, reach your maximum potential, entertain you, inspire you. If you want to make sure you see the videos, make sure to turn those notifications on and check your subscriber feed. You can also follow me on Facebook, make sure you turn on "See first" so you get it in your news feed. If you have any questions go to jerrybanfield.com/contact if you want to contact me privately or just drop a comment on my Youtube video and I'll take a look at it. If you'd like to enjoy continuing your education with us on Uthena, join one of these links and I will see you at one of the Workshops soon.
Jerry Banfield
---
Posted from my blog with SteemPress : https://jerrybanfield.com/top-10-affiliate-marketing-programs-2020/
---