Ayo Ayo Backpacker's Inn and Art Cafe: A Japanese Home in Cebu City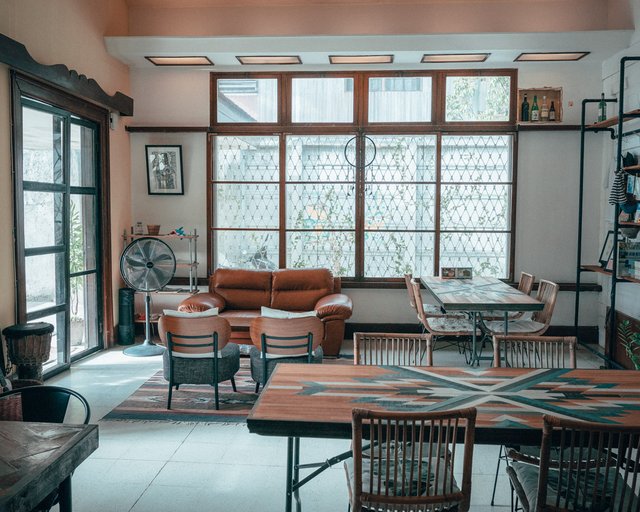 Two pure Japanese bachelors had turned an old ancestral home which was built on 1949 into a backpackers inn and even set up an art cafe where guests can dine in while staying within the house as well as welcomes outsiders.
The signboard at the front gate showed an Alibata or Baybayin writing which translates to Ayo-Ayo which literally means blessing or hello in the Cebuano dialect. That caught my attention and the next few days, James and I were already parking our motorcycle in an empty space of Ayo-Ayo Backpacker's Inn and Art Cafe.
The yellow-painted house looked very homey with its glass doors. The main door, in fact, has another sliding wooden door. A white circular lit up signboard contains the inn's name plus the Alibata or Baybayin characters too, we can't help but take photos of each other in that part as it also has a yellow-painted chair.
Being a Japanese owned restaurant, it was quite obvious that there will be Japanese items inside which was positive. But more importantly, there was more art than expected. Let me tour you around this homey cafe.
As we went in, a living room set up welcomed us as well as the staff who was attending. A red-brown leather couch on the left, a wooden center table and two comfortable chairs facing the couch. What I love about here were their tall and wide transparent glass windows. There's even a dream catcher too in the middle of it.
Behind the couch is a long table, wooden but with designs and this was another favorite spot because of the design pattern, then bamboo designed chairs and the DIY shelf at the back. After much investigation, I realized it had pipes as its foundation. Then the Japanese items are placed on the shelf. I noticed Ayo-Ayo Backpackers Inn and Art Cafe shirts, some framed notes from its previous customers and a lot of art posters as well.

A Japanese manga book collection lies at the center of the shelf. It was obviously cute and interesting but we both can't read Japanese so we just looked at the graphics inside. In the further area lies another set of table and chairs and three more which were good for two diners. Then the kitchen and bar area to the back where another huge glass window is located and some Japanese Calligraphy is posted on the dark wall facing the bar. It was interesting to find only a few Japanese items but it was just enough to beautify the place. In fact, I found the color combination interesting and not to mention that this is fully air-conditioned so there was proper ventilation and it was totally comfortable!
This place is actually a really good spot for a mini photoshoot, like an indoor engagement session or for lifestyle photography.
Ayo-Ayo Backpacker's Inn and Art Cafe has a bar with high chairs in them, I believe there were about five. Then there was a handmade menu on blackboards hanged on the top. Looking at the pricing, I could already tell that their pricing is not so pocket-friendly but it is okay as they are indeed Japanese foods, some options on the menu are Filipino food but were given Japanese kicks into it by their Chef Atsushi Okamura.
Seriously, I really want to get the salad but since I was very hungry, note it was a late lunch, I instead opted for the rice meal. James ordered one of their pork options while I went for the Chicken Teriyaki, a glass of iced brewed coffee for me and James requested the Calamansi juice.
When served, I liked the wooden plates, the arrangements of the food and the rest of the plating but I noticed that the serving is small. There's a side salad which was good and the chicken and pork were cooked just right. The drinks were also served in small glasses.
Overall, both James and I enjoyed the place, the art, the handmade furniture which I learned were made by the owner himself, the details and the Japanese feel but felt like the food was not what we expected for its price.
Again, this is a backpacker's inn so if you are interested in staying here, you can rent a room for Php 550 and Php 1100 respectively.
---
Address: 44 Emilio Osmeña Street, Guadalupe Cebu City 6000
Contact number: 3834493
!steemitworldmap 10.318517 lat 123.886550 long d3scr
---
Posted from my blog with SteemPress : https://stillsandmotion.blog/photography/ayo-ayo-backpackers-inn-and-art-cafe-a-japanese-home-in-cebu-city/
---